Regardless of the time, in urban or rural areas, land is always considered as an important asset, but Nguyen Huynh Thanh in Tan Dinh commune's Vuon Uom hamlet in North Tan Uyen district is ready to donate land, give cash support for the local authorities to build rural roads and many other cultural institutions
Volunteering, taking the lead
Coming to Tan Dinh commune's Vuon Uom hamlet, weaving through the green rubber gardens, we had the opportunity to visit the house of Nguyen Huynh Thanh (or called Tam Thanh). The first image is the fruit-laden orange and grapefruit orchard behind the house, which was formed from the rising spirit of an industrious farmer like Mr. Thanh. Coming to Vuon Uom hamlet to live since 1992, Mr. Tam Thanh established himself up in business with many difficulties; electricity and roads were not convenient to serve the needs of cultivation. But, with hard work, determination to change his life, Mr. Thanh has boldly applied science and technology advancements to production and change crops accordingly. And now, he has more than tens of hectares of rubber, orange and pomelo trees.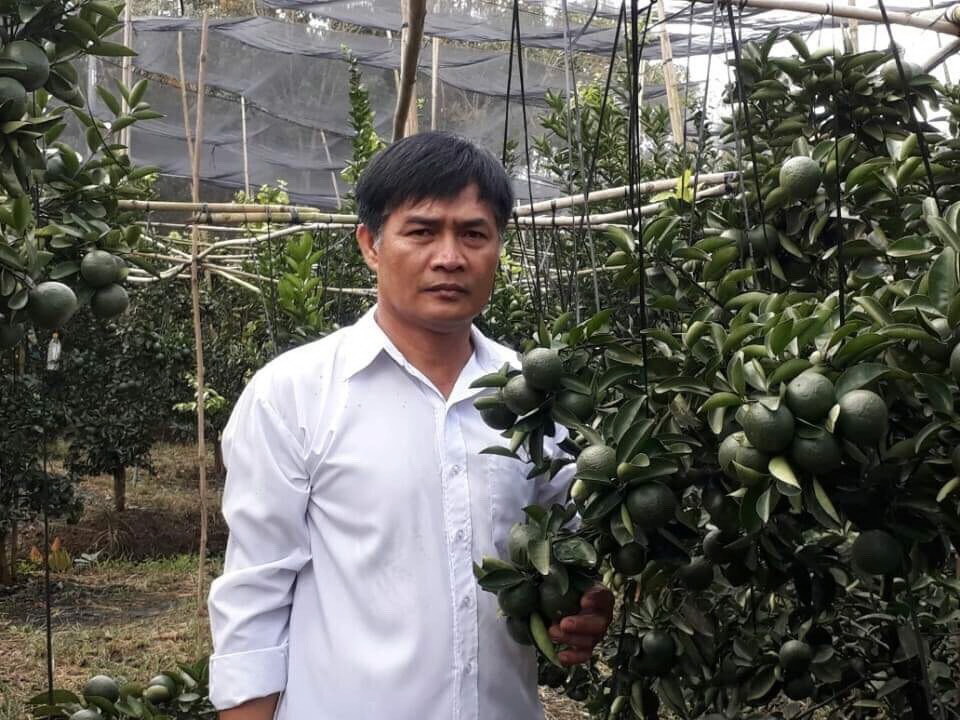 Nguyen Huynh Thanh, a typical example in the movement of donating land to building roads and new-style rural areas
Possibly speaking, Mr. Tam Thanh's family is one of the first households to volunteer and take the lead in donating land for road construction in Vuon Uom hamlet. His family has voluntarily spent a large amount of money on building roads many times. Thanks to the people's consent to donate land for making rural roads, Tan Dinh commune has got more thriving, contributing to bringing a bright, green, clean and beautiful appearance to this peaceful countryside.
Mr. Thanh said that at the beginning of his career, he planted rubber and then intercropped with cassava. After rubber latex depreciated, he switched to growing citrus fruits like pomelos and oranges. In 2011, when the State had a policy to build and expand rural roads to create more favorable conditions in serving people and transporting goods in the area, Mr. Tam Thanh did not hesitate to give VND 400 million for building a road with a total length of 6km. In 2015 and 2018, he continued spending more than VND 500 million on repairing inter-village roads…
Joining hands to build up a new-style countryside
Mr. Thanh said: "In addition to spending money on building roads, my family has donated more than 1.3 hectares of garden land to build rural roads, serving people. Realizing the benefits that people enjoy when building roads, my family has agreed with the task. In my opinion, there are many ways to take care of social welfare. And the voluntary contribution of money and land is also a way joining hands with the local government to take care of the people. Now, walking on the spacious, well-concreted roads, I am also happy and excited because contributing a small part of the effort in changing the local rural image.
As a member of Tan Dinh communal Fatherland Front Committee, Mr. Thanh has not only actively donated land and money to road construction, but also mobilized neighboring households to respond to this task, facilitating people's travelling and transportation of agricultural products. And thanks to that, many other roads have also been completed.
According to Vu Thi Hanh, Vice-Chairwoman of Tan Dinh communal Fatherland Front Committee, the commune's mobilization of land donation for new-style rural construction has been much more favorable. When public works in the commune are informed and consulted with the people for construction in the locality, most people have agreed and joined hands to implement the local advanced new-style rural program.
Not only taking the lead in the movement of joining hands to build a new-style rural region, Nguyen Huynh Thanh has also responded to many campaigns such as supporting Covid-19 prevention and control. Specifically, he and his family contributed over 1 ton of oranges, pomelos and many other necessities and cash to support Covid-19 prevention and control and support the local disadvantaged households.
"It can be said that unanimously implementing the policy of "The State and the people work together" in the works of expanding roads, over the past time, many households in the commune, including the family of Mr. Tam Thanh, voluntarily donated land and money to building the local roads. His enthusiasm, for the common benefits, has made great contributions to the completion of the local rural roads. His work is very commendable, really being a typical example in the "new-style rural construction" movement for many people to learn", added Mrs. Hanh.
"In addition to spending money on building roads, my family has donated more than 1.3 hectares of garden land to build rural roads, serving people. Realizing the benefits that people enjoy when building roads, my family has agreed with the task. In my opinion, there are many ways to take care of social welfare. And the voluntary contribution of money and land is also a way joining hands with the local government to take care of the people. Now, walking on the spacious, well-concreted roads, I am also happy and excited because contributing a small part of the effort in changing the local rural image". (Nguyen Huynh Thanh in Tan Dinh commune's Vuon Uom hamlet in North Tan Uyen district)
Reported by Huynh Thuy-Thao Nguyen-Translated by Kim Tin