Deputies of the 15th National Assembly (NA) are scheduled to question cabinet members and approve a resolution on the NA supervision programme for 2024 on June 8 during their ongoing fifth plenary session.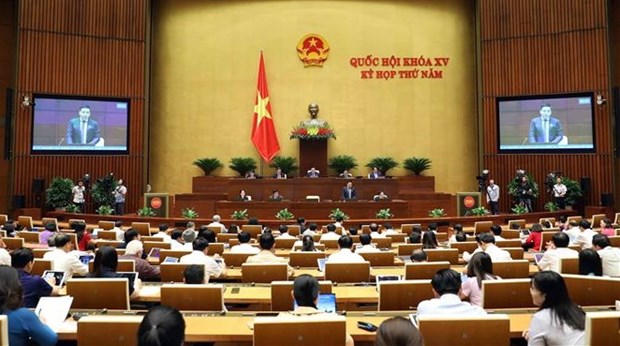 A discussion at the NA fifth session
The Minister of Transport and Deputy Prime Minister Le Minh Khai will answer the deputies' question regarding transport issues.
June 8 agenda also includes discussions on an NA draft resolution on the pilot of a number of special mechanisms and policies for the development of Ho Chi Minh City. The draft resolution comprises seven groups of mechanisms and policies with 44 specific contents.
Under the Government's proposal, if the city can increase its development investment from its local budget for its mid-term public investment, the city will be allowed to allocate in advance to new projects or add investment to its mid-term investment plan, laying the foundation for the annual allocation and report to the NA in the year-end session.
It will also be allowed to use the public investment capital from the local budget through the Vietnam Bank for Social Policies to provide loans for poverty reduction and employment.
The Government has raised proposals on the city's use of public investment capital sourced from the city budget and its pilot application of the urban development model towards Transit Oriented Development (TOD)./.
VNA