With the desire to build a start-up ecosystem of innovation, creativity and sustainable development, Green Energy Village has set goals to promote solutions in exploiting renewable energy, reducing CO2 emissions and using green, clean and efficient energy sources. The newly transferred technology is to create a connections heading towards green and sustainable growth.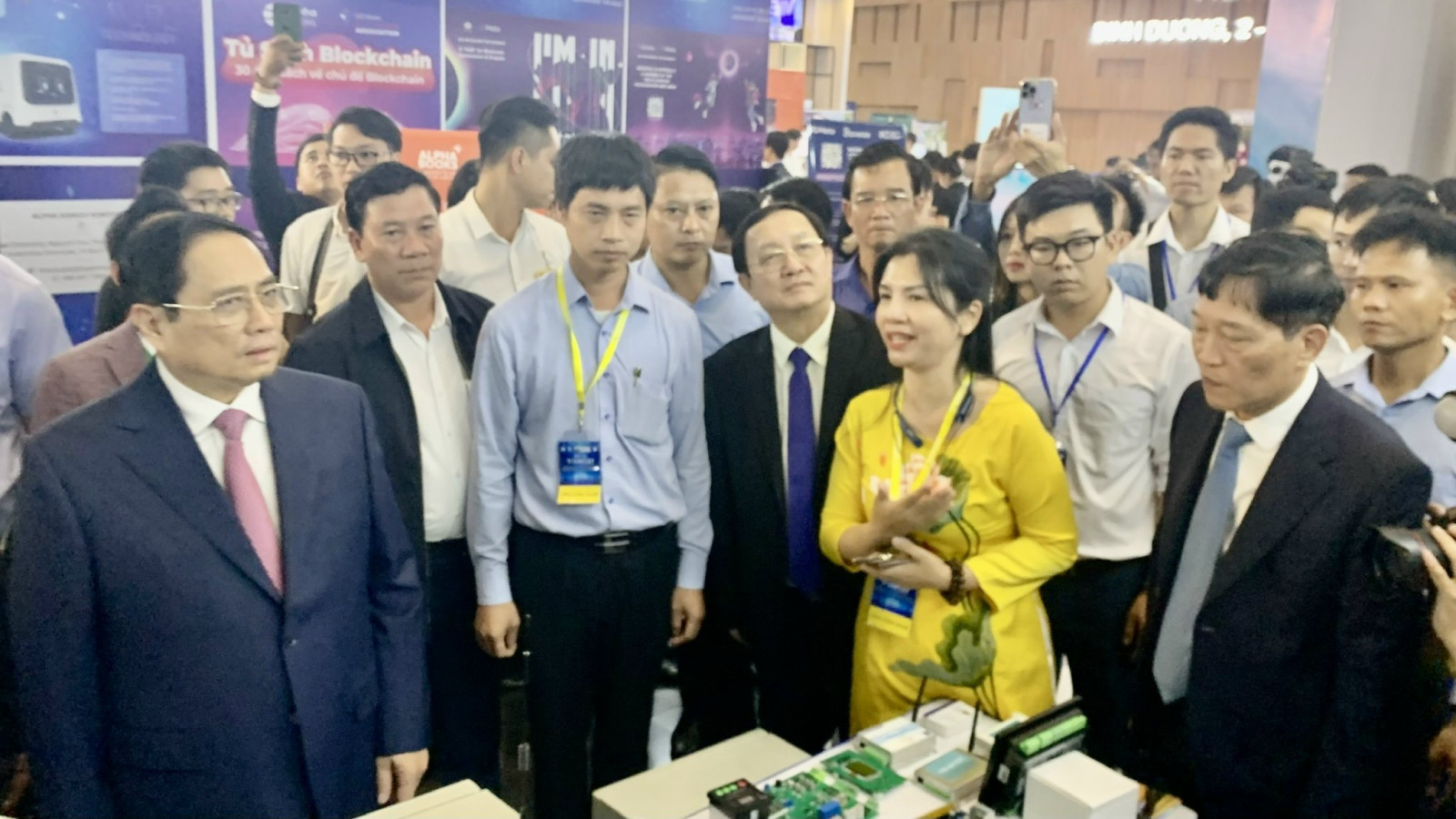 the Prime Minister visits the exhibition booth of Green Energy Village
To improve energy efficiency
At Techfest Vietnam 2022, TitaThy Nguyen - Head of Green Energy Village and Chief Representative of the World Energy Council in Vietnam, said that Vietnam, according to statistics, emits 272.7 million tons of CO2 out of the total emissions of Asia at 17,734 million tons and 33,884 million tons globally. By the goal of Net Zero by 2050, each year Vietnam needs to reduce on average about 30 million tons of CO2 to meet the committed requirements.
"The positive signals show that Vietnam's renewable energy development rate is currently ranked 4th in the world. As the economy is heavily dependent on carbon, it is necessary to resolve comprehensive and highly effective solutions," said TitaThy Nguyen. According to TitaThy Nguyen on agreeing with the government's determination, Green Energy Village has been aiming to promote innovative and creative solutions in exploiting renewable energy, reducing CO2 emissions by using clean and efficient energy sources in areas such as transport, agriculture and industry while transferring new technologies towards green growth.
"We are creating a playground to exchange technology for relevant units to develop the green economy, to increase training and to raise awareness about energy management in the world economy," said TitaThy Nguyen.
Attending and speaking at Techfest Vietnam 2022, Prime Minister Pham Minh Chinh also called on scientists, organizations, individuals, domestic and foreign businesses and investors to make more active contributions to the start-up and innovation of Vietnam. It is expected that through Techfest Vietnam 2022, managers, investors, scientists, Vietnamese creative start-up community and representatives of ministries, sectors and localities will receive valuable experiences and good lessons to learn the best support for the innovation startup ecosystem.
Technology based solutions
Green Energy Village has been searching and developing solutions towards the latest technologies to replace fossil fuel-powered vehicles with clean energy as well as developing control technologies to improve the energy efficiency of existing equipment. Specifically, solutions will focus on electric buses, to develop urban and long-distance electric railways, and develop charging station infrastructure for electric cars.
Agricultural sector, according to TitaThy Nguyen, is a field with high emissions and the processing process without the participation of appropriate technologies will cause environmental pollution. Therefore, Green Energy Village aims to develop environmentally friendly agriculture which is sustainable agriculture, and at the same time develop solutions for processing agricultural, forestry and fishery products, utilizing and exploiting by-products to reduce waste and energy recovery.
In the industrial sector, Green Energy Village focuses on building solutions to manage and use energy efficiently; business transformation to a circular economy. In particular, the generator management solution allows to manage thousands of generators operating automatically to be reliably and efficiently. In addition, plant energy management aims to achieve world-class electrical elasticity. Renewable energy is an available strength of Vietnam such as wind energy, solar energy, biogas, Vietnam continues to take advantage and promote such potentials. At Techfest Vietnam 2022, Green Energy Village also exhibited some results achieved in the field of energy management and efficient use such as solutions to monitor generators of member companies in the village, solutions of IoT and AI.
The solutions have been deployed at thousands of points of Vietnam's telecommunications network, giving great efficiency in saving human resources, improving reliability and efficiency in telecommunications system management. Biogas generators connected to the grid with control devices allow efficient exploitation of gas resources in agriculture would minimize impact on the environment. The equipment installed on the locomotive improves the working efficiency of the vehicle, contributing to the reduction of emissions.
Reported by Minh Duy – Translated by Vi Bao