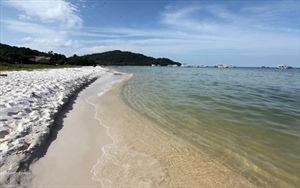 A beach in Phu Quoc island (Source: VNA)
To-be-opened air routes linking southern Phu Quoc Island with international destinations are hoped to smooth the way for tourists as well as investment to the place dubbed " Pearl Island ".
The People's Committee of the Mekong Delta province of Kien Giang agreed to the Vietnam Airlines Corporation's plan on the opening of routes connecting Phu Quoc International Airport with Singapore and Siem Reap ( Cambodia ).
The service is planned to begin from November 1, 2014 with two flights per week on the Phu Quoc – Singapore route and three flights per week on the other.
Recently, the Korean Air Lines Co., Ltd. made a fact-finding visit to the island to plan a route from the Republic of Korea 's Incheon Airport . Relevant agencies of both countries are drawing up steps to soon put it into operation.
Phu Quoc Airport is now handling six flights per month from and to Russia . The flight number is expected to increase to 10 per month to serve Russian tourists in their winter, Christmas and New Year holidays.
In 2013, the airport served nearly 700,000 passengers, up 39 percent from the previous year.
It catered for some 450,000 passengers in the first half of this year, representing 60.8 percent of its yearly plan and a 34.1 percent increase against the same period of 2013.
At the same time, the airport handled 836 tonnes of goods, fufilling 86.6 percent of the annual target and rising by 101.2 percent from a year earlier.
VNA