Thailand announced 4,887 new COVID-19 cases on May 13– the highest-ever number recorded in a single day in the Southeast Asian country.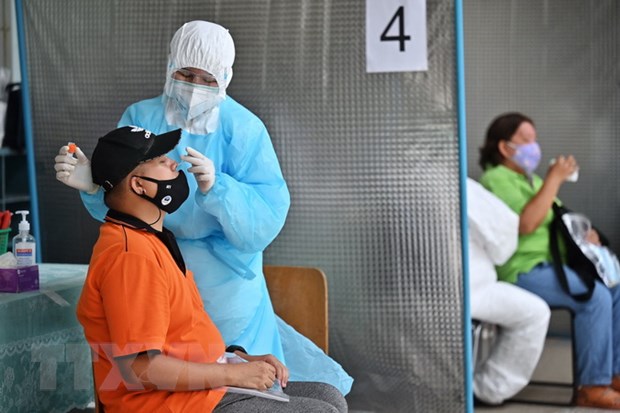 Taking samples for COVID-19 testing
Among the new cases, 2,052 were transmitted in the community, and the remaining in prisons.
The figures brought the country's total number of infections to 93,794. Meanwhile, additional 32 fatalities recorded on the day raised the tally to 518.
Meanwhile, Malaysia recorded its highest daily death toll from COVID-19 on May 12, as the country entered another national lockdown amid a third wave of infections.
It reported a record 39 new COVID-19 fatalities, bringing the national death toll to 1,761.
Daily COVID-19 infections rose by 4,765, taking the total number of cases to 453,222.
Up to 80 percent of the population (about 800,000 people) living in red zones with high risks of COVID-19 infection in Cambodia's Phnom Penh capital city have been given the first vaccine shot, said Eth Sarath, the RCAF's Chief of Joint Staffs.
The military will begin offering the second shot from May 15./.
VNA