In mid-September, residents of An Son commune in Thuan An city have been in the new normal condition. An Son has become a "green area", each resident is joining hands with local authorities to gradually restore production, develop the economy, strive to achieve the highest level of socio-economic development in 2021.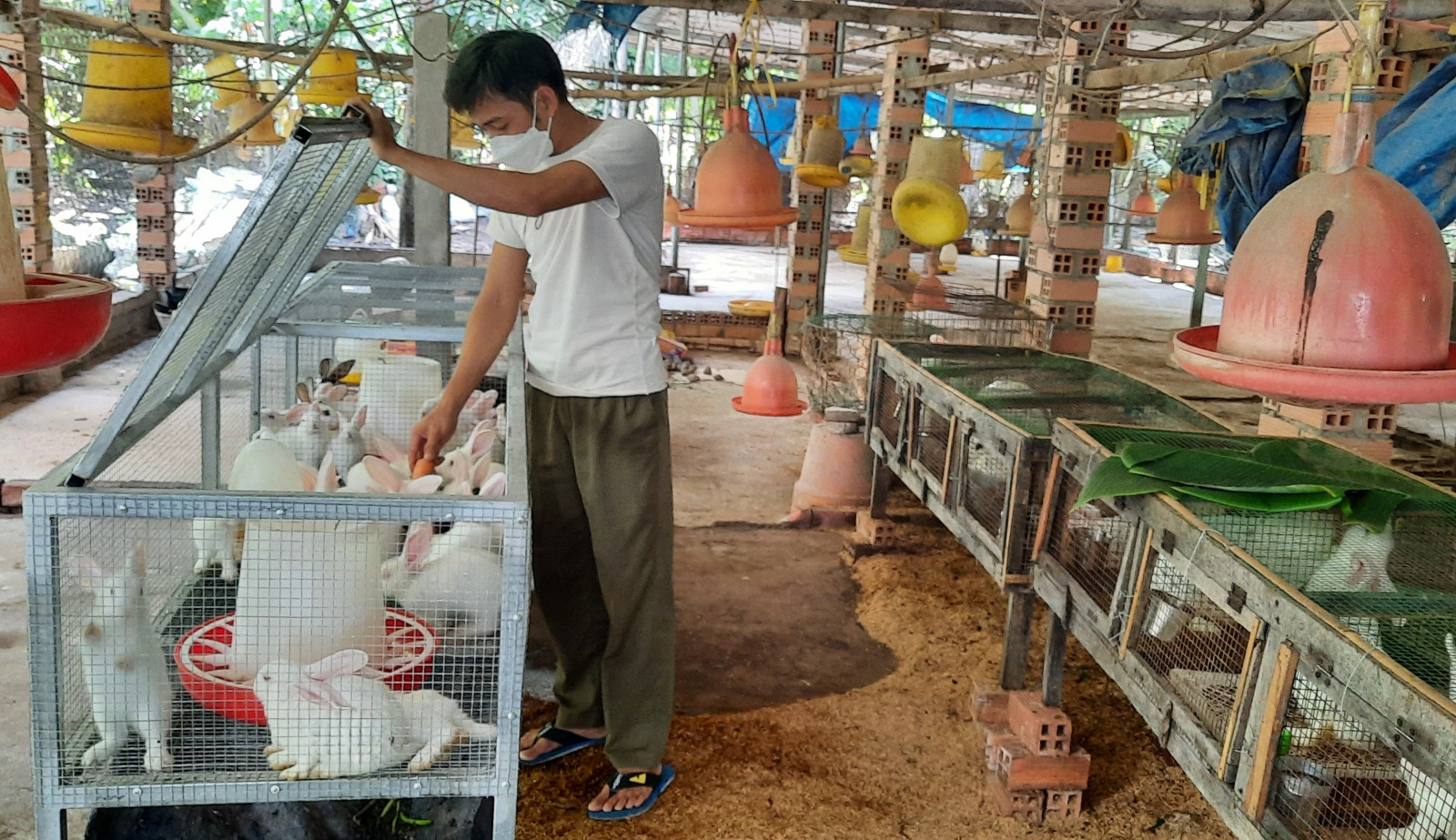 An Son people are happy as resuming their production activities. In photo: Example farmer Nguyen Hoang Tien in An My hamlet and his rabbit farm.
People are exhilarated
Passing Thu Dau Mot city to An Son commune, through quarantine checkpoints on Ho Van Men street, there was a market opened in An Son countryside. Not as crowded as the days before the implementation of Directive 16 of the Prime Minister on social distancing, people came to An Son market, and lined up to buy goods, all seriously complied with the "5K" message.
At An Son market, barricades were erected around, leaving only one entrance. In the market, the number of retailers was also small, stalls were arranged in order to ensure a fix distance from one another and had barriers to keep the distance from buyers. In front of each stall is disinfectant spray. Although there are not many stalls reopened, but the food sold were diverse and fresh. Phan Thi Hoa Trang, a retailer at An Son market, said: "We are very happy when the market is allowed to reopen. Most items have not increased in price much. All retailers participating in the market were vaccinated with the first dose and perform the Covid-19 rapid test every 3 days. Everyone raised awareness of disease prevention and control." Nguyen Thi Ha, 56 years old, a resident of An Phu hamlet, said: "These days, as going to the market, we have to keep fix distance, wear face mask, and disinfect hands, but everyone do these things happily to control the disease. Everyone is cheerful, because this area has been recognized as a "green area", residents are allowed to go to markets to choose and buy fresh delicious foods, ensuring food safety and hygiene."
Since Sep 12, An Son commune has returned to the "new normal" state. Ha Minh Tuan, Chairman of An Son commune People's Committee, said: "People's Committee of the commune has allowed An Son market to reopen but must guarantee fix distance and strict control over the supply of goods. Business households and stores of food, essential goods, and catering services to serve people's needs are allowed to operate (only for take-away products),when they have a business plan that ensures the prevention and control of Covid-19 according to the rules of Ministry of Health and must have the consent of the Commune People's Committee".
To develop production
On An Son 02 street, there is a mangosteen orchard and rabbit farm of Nguyen Hoang Tien in An My hamlet. An My is the first "green" hamlet of An Son commune, with an area of nearly 80 hectares of orchards, such as mangosteen, durian, jackfruit... In order to join hands with local government to recover production, right after the social distance was eased, Tien dredged ditches, weeded, and fertilized his garden to keep up with the crop.
Tien shared: "The next lunar December is the time when bamboo shoots and durians bloom, so I have to take care of and fertilize the trees. In addition, this is also the time to plant Tet flowers, I will prepare ashes and seedlings for planting in time to serve the demand on Lunar New Year." Tien said that, as a member of An My hamlet's management board, he and other members went to each house to propagate information about the preservation of orchards, carry out scientific care, and apply advanced production processes to improve the quality of fruit trees. The Covid-19 is still raging, but the locality has loosened the social distance when becoming a "green zone", and people need to quickly resume production, besides ensuring safety to prevent and control the disease.
Tien was delighted about that and said: "At the end of May, I started a model of raising rabbits for meat. Initially, only 12 mother rabbits were raised, so far there have been nearly 70 rabbits. Rabbits of about 20 days will be sold. However, I will expand this model. Therefore, I am currently preparing the barn as well as learning more about effective rabbit raising techniques."
. An Son develops mainly in terms of agricultural production, with the strength and potential of orchards associated with eco-tourism. Ha Minh Tuan, Chairman of An Son commune People's Committee, said: "In order to carry out economic recovery, gradually bring people's lives back to the "new normal" state, the Commune People's Committee continues to implement the local socio-economic development plan, gradually recover and speed up the progress, to the set targets". Tuan added that, in order to bring about high production efficiency, in the coming time, the commune would develop urban agriculture by applying advanced technology; focus on agricultural extension, technical consulting services for farmers, especially introducing new varieties with high yield, adapting to local soil conditions, contributing to increase productivity and quality of products. In addition, An Som commune strives to create more jobs for idle and part-time workers, supporting family economic development.
Following the direction of People's Committee of Thuan An City on ensuring "dual goal" of both disease prevention and control and socio-economic development, the Commune People's Committee directed and implemented seriously and closely plans to ensure disease control prevention while continuing to sustain and develop the economy. Specifically, for businesses in the commune, especially An Son Port, the Commune People's Committee creates favorable conditions for freight transport in and out of the commune on the principle of strictly observing the rules of Ministry of Health and regulations of the Directorate for Roads of Vietnam. To ensure the supply of food and necessities for people in the commune, the Commune People's Committee cooperates with Aeon Binh Duong Supermarket to supply daily goods to people while ensuring good implementation of social distancing. In addition, households may place online orders through Covid-19 groups.
Reported by Phuong An, T.An - Translated by Ngoc Huynh