That was the statement of Nguyen Van Loi, Member of the Party Central Committee, Secretary of Binh Duong Provincial Party Committee, Head of Provincial National Assembly's Delegation, during the survey and inspection of the Covid-19 epidemic prevention control in Di An and Thuan An cities. At the working sessions, Nguyen Van Loi and the delegation of Provincial Party Committee learned about the situation, gave directions to solve difficulties and obstacles of the cities in order to create favorable conditions for the localities to implement synchronous and drastic measures.
Localities make efforts to stamp out the epidemic
According to Bui Thanh Nhan, Member of Provincial Party Standing Committee, Secretary of Di An City Party Committee, said that since beginning of the 4th wave, Di An city had carried out rapid tests and taken Realtime-PCR samples of about 414,000/480,000 residents, accounting for 80% of the total population of the city. Currently, the city is focusing on zoning control, stopping the outbreak and stamping out the disease in high-risk areas, blockade areas and isolation areas; at the same time, launched campaigns to quickly test for Covid-19 antigens and take samples for large-scale testing in high-risk areas. According to Nhan, despite widespread propagation and communication, the number of companies participating in the "3 on-site" and "1 road, 2 destinations" production models was quite small. Furthermore, there are some businesses that have not yet strictly followed the methods, thus there have been a number of new outbreaks recently.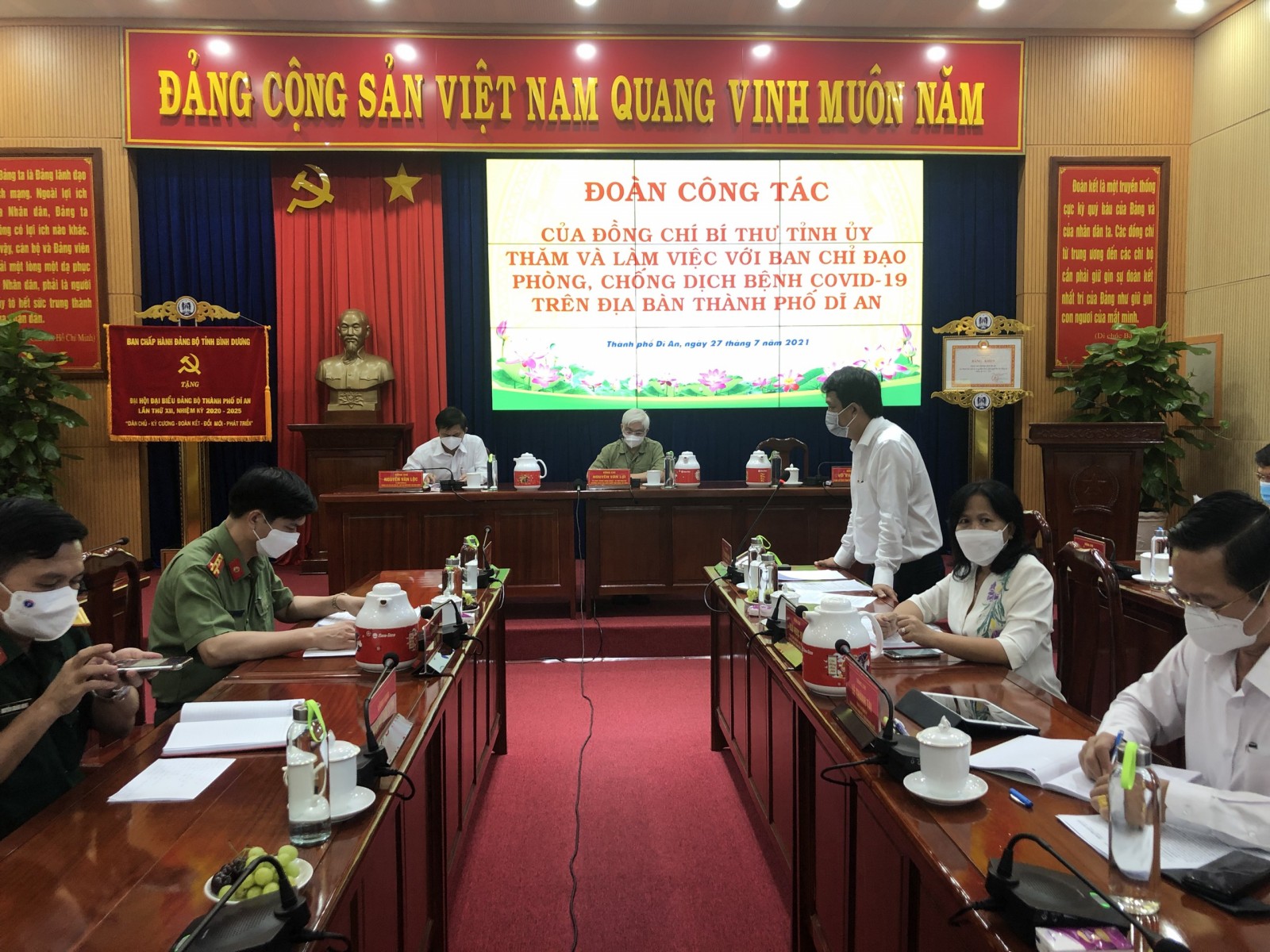 Nguyen Van Loi, Member of the Party Central Committee, Secretary of the Provincial Party Committee, Head of the Provincial National Assembly's Delegation, chaired a working session with Di An City on disease prevention and control.
Meanwhile, in Thuan An city, with the comprehensive and drastic implementation of disease prevention control measures, the epidemic situation in the area in recent days has been basically controlled at a stable level. By the afternoon of July 27, the whole city recorded a total of 3,282 positive cases of SARS-CoV-2 virus. The number of new cases recorded is on a significant downward trend after the city implemented a large-scale screening campaign. With experienced medical staff and modern equipment, Thuan An City Medical Center has become an effective on-site Covid-19 treatment center. So far, 287 patients have been cured and returned home to continue isolation and health monitoring.
Leaders of Thuan An City and Di An City also proposed provincial leadership to strengthen support of human and material resources to implement synchronously and drastically anti-Covid-19 measures. Di An city requested 40 more emergency doctors, 40 internal medicine doctors and 120 nurses to serve the treatment and rescue works. The city also asked for an additional 100,000 quick test kits for Covid-19 antigens, 50,000 test kits, 400,000 cotton swabs, 100 oxygen tanks, 100 oxygen meters, and a fund to equip treatment area at the dormitory of HCMC Vietnam National University.
To create maximum conditions for the localities to fight against the pandemic
Speaking at the meeting with Di An City and Thuan An City, Nguyen Van Loi agreed with the proposals and recommendations of the two localities for more human and material support. However, regarding the time and quantity of additional support, provincial leaders will assign specialized departments and branches to counsel and carry out works. Regarding human resources and medical equipment, provincial leaders assigned Department of Health to actively advise to come up with appropriate strengthening plans for localities; to endeavor to ensure sufficient resources for effective disease prevention control work.
Regarding the production of enterprises, he asserted that the province's point of view is to require businesses to strictly implement "3 on-site" and "1 road, 2 destinations" production method. A business where this method is done correctly and effectively, the business is allowed to operate, otherwise, it will be forced to stop. As deciding to stop business operations, local administrations and Management Board of provincial industrial parks must coordinate with businesses to conduct screening and testing to ensure that the output workers is "clean", avoid bringing virus out to the community.
With a determination to stop the outbreak and stamp out the disease in the peak time, the Party Secretary agreed with the proposal of Provincial Police on establishing control measures and improving the application of Directive 16 (Directive 16+). Regarding specific time and implementation measures, the province's leaders will soon have guiding and directing documents. In addition to the implementation of measures to improve social distancing solution, local administrations also need to perform well the screening and isolation of F0, F1 cases; must be done quickly, timely and comprehensively to bring the best effect. The treatment of Covid-19 patients at the dormitory of HCMC Vietnam National University must be guaranteed according to the "3-layer tower" method.
Along with the effective implementation of the Covid-19 disease prevention control model according to the principle of "4 onsite", the province has also deployed and put into operation the No. 1 Field Hospital at World Trade Center Binh Duong New City (WTC BDNC) with a capacity of 1,500 beds; at the same time continued to urgently build other field hospitals in neighboring areas. In addition, on the afternoon of July 28, Ministry of Health transferred equipment and professional medical teams to support Binh Duong.
To continue strictly control of areas
Also on the afternoon of July 27, Nguyen Van Loi chaired a video conference with the Provincial Party Committee, Provincial People's Committee and localities to listen to feedback on COVID-19 prevention work in localities. During the meeting, localities quickly reported on the implementation of Directive 16 on social distancing for the COVID-19 prevention control.
After listening to the feedback of localities, provincial leaders asked local administrations to actively cooperate and use local professional forces and reinforced forces more effectively; Realtime-PCR test specimens in Tan Uyen Town and Phu Giao District must be redirected to Testing Center in Ben Cat Town to ensure that the process of returning test results is quick, timely and accurately. Localities that have not been equipped with Realtime-PCR testing machines need to send teams for training and field trips, and then devise specific plan.
The province continues to improve treatment capacity to about 20,000 beds for Covid-19 patients; survey and put into operation more concentrated isolation facilities for F0, F1 cases, and to be ready to deal with the worst possible situations.
Localities need to have stricter control over areas where extensive screening has been carried out; do not allow subjective conditions leading to infection or re-infection in cleaned areas; restructure the system of medical staff at the request of the Ministry of Health to ensure more effective sample collection and treatment; distancing and moving of population need to be carefully discussed. Localities must take good care of the health and lives of residents and workers, so that when the disease is controlled, workers will still come to Binh Duong.
During the working sessions on the afternoon of July 27, Nguyen Van Loi, Member of the Party Central Committee, Secretary of Binh Duong Provincial Party Committee, Head of Provincial National Assembly's Delegation, emphasized that along with the reinforcement of human and material resources, Thuan An and Di An cities must maintain social distancing rules in accordance with directions of the Prime Minister and the province, avoid large outbreaks from the inside.
Reported by Dinh Thang - Translated by Ngoc Huynh