Since the beginning of 2022, leaders of North Tan Uyen District have directed functional branches, commune and town administrations to accelerate the progress of projects to improve the disbursement volume. In addition, the district is also preparing for new projects to stimulate socio-economic development and improve people's living standards.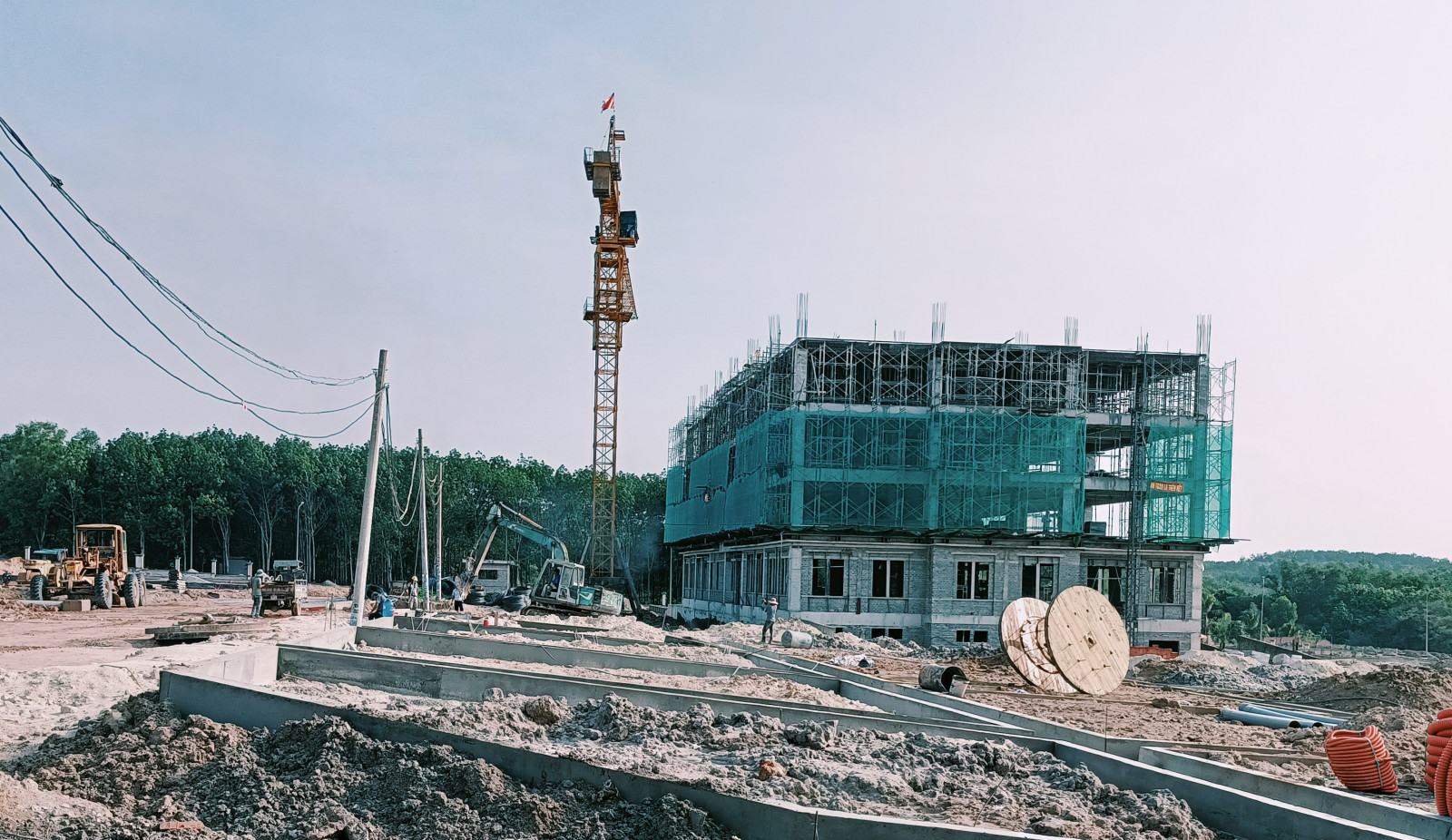 The construction project of the District Administrative Center is sped up.
To solve difficulties
In 2022, the total public investment capital of North Tan Uyen district is more than VND 530 billion, with 77 works (is preparing for 10 new works, commenced 11 new works, transitioned 56 works). According to the District Construction Investment Projects' Management Board, over the first 4 months of 2022, the disbursement volume was over VND 99 billion, reaching nearly 17% of the allocated capital plan.
The disbursement rate of public investment capital in the area is not high, thus investors urge contractors to accelerate the progress and complete procedures of payment in time. Accordingly, many works and projects completed construction investment, were put into operation; the check and taking over, settlement work were also completed in accordance with regulations. For example, the projects of Tan My and Hoa Phong Lan kindergartens drew balance sheet, Tan My Commune Cultural Center (phase 2) is preparing the final settlement dossier, Tan My 3 Street is audited, DH415 Street completed audit, the Center for Culture and Community Learning of Lac An commune (phase 1) is preparing the finalization dossier...
In addition, in order for the capital to be effective, and at the same time for more works soon to be completed to serve people's lives, the district has made efforts to synchronously implement solutions to solve difficulties, accelerate the disbursement of capital. As a result, many construction projects reached a high rate, such as: Tan Binh High School with a total progress of 88%, Tan Dinh market with a total progress of 63%, Tan Lap Commune Cultural, Sports - Community Learning Center (phase 2) total progress reached 87%, Cultural, Sports - Community Learning Center of Hieu Liem commune (phase 2) total progress of 50%, building a road from Tan Thanh to Tam Lap Bridge (Tan Dinh commune) in the North Tan Uyen - Phu Giáo - Bau Bang route with a total progress of 64%...
To speed up the progress
According to the district leaders, because real estate market prices often fluctuated, land compensation work was affected, making the progress of a few works and projects slow. In order to accelerate the progress, the site compensation and clearance is carried out regularly and continuously. In addition, the district resolutely implemented administrative measures to recover land in cases, where the compensation regime was fully done but have not agreed to move, affecting the implementation progress.
At this time, at many construction sites, constructors are speeding up the progress. Besides key projects, such as the North Tan Uyen - Phu Giáo - Bau Bang route, schools, and cultural centers, the district Administrative Center is being accelerated, agencies and district offices are being completed. These works will contribute to a spacious appearance for the home district, facilitating the socio-economic development.
In addition to allocating public investment capital to key projects, transitional works, the district also commenced a number of new projects to continue to invest in and complete infrastructure, such as Binh My Commune Health Station, Dat Cuoc Commune Health Station, welcoming gate of district People's Committee, sidewalk of DH436 Street, DH415 Street... According to Nguyen Duy My, Director of the District Construction Investment Projects' Management Board, in the second quarter, the district will continue to coordinate with provincial departments and branches to accelerate the implementation of projects; at the same time, speed up the construction and disbursement of new projects, transitional projects, draw balance sheet...
Thai Thanh Binh, Secretary of the District Party Committee, Chairman of the District People's Committee, said that the district mobilized investment resources to develop the planned infrastructure system, increasingly better serving demands of the people and creating favorable conditions for socio-economic development. Leverage projects are being executed, such as Belt Road 4, North Tan Uyen - Phu Giáo - Bau Bang Road, Ho Chi Minh City - Thu Dau Mot - Chon Thanh Expressway... and projects prepared for implementation such as: Road No. 746, VSIP 3, Tan Lap 1, will be a great motivation for socio-economic development.
Reported by Tien Hanh – Translated by Ngoc Huynh