The pandemic is basically under control, and the 2022 Lunar New Year is approaching, it is forecast that people's demand for shopping would increase. Therefore, North Tan Uyen district urgently set up a plan to prepare the source of Tet goods to guarantee adequate and abundant goods on the market.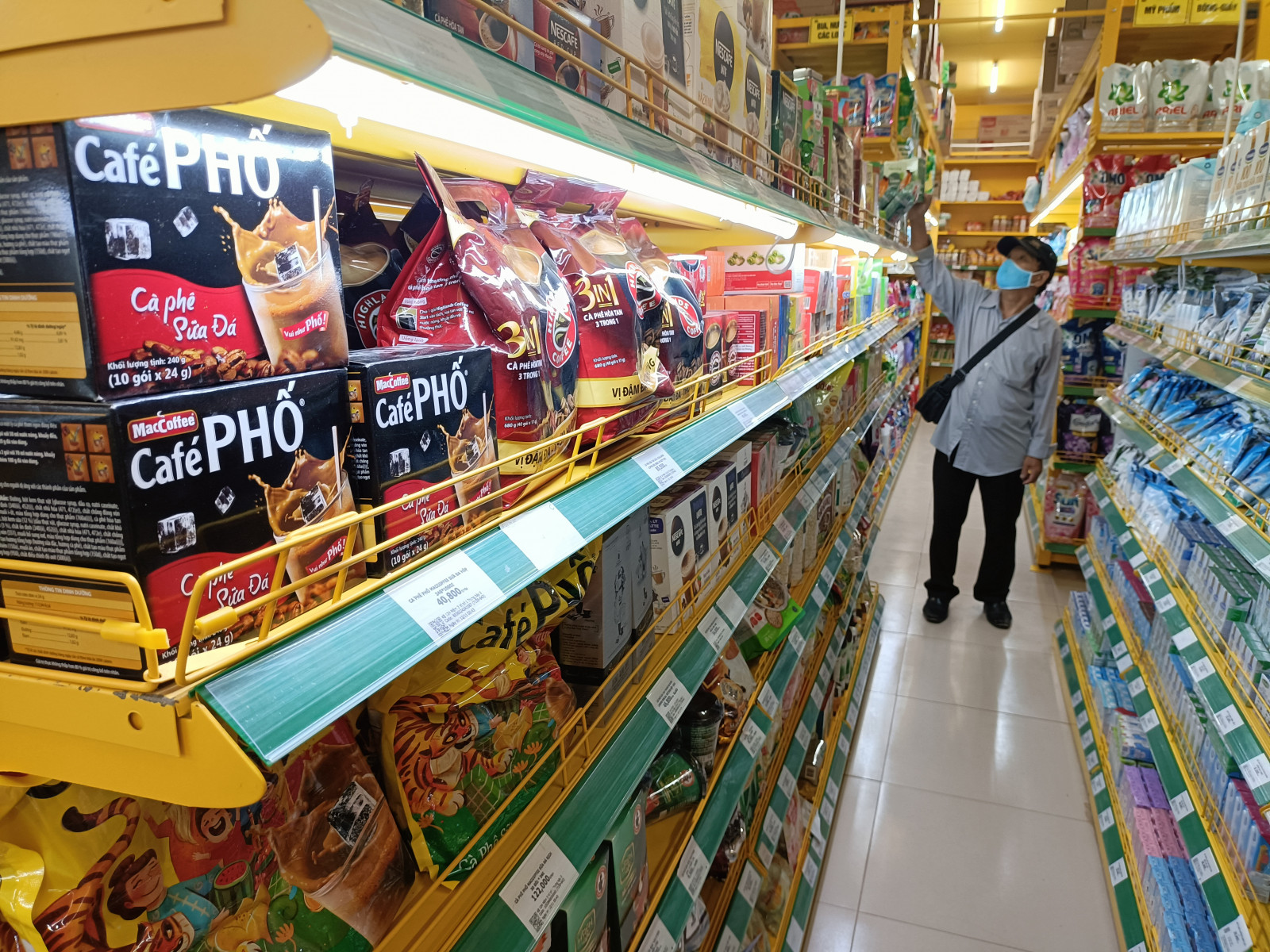 North Tan Uyen district ensures stable supply and demand of goods in all disease situations as well as meet the shopping demand of the upcoming Tet holiday. In photo: People shop at a convenience store in the district.
A trend of practicing thrift
At present, Tet goods are not displayed and sold much in North Tan Uyen district. Convenience stores, conventional markets in the district have not changed much in terms of products, mainly increased beverage products.
Nguyen Thi Hong Chung, a grocery owner in Tan Thanh market, Tan Thanh town, said: "At this time in previous years, many Tet products were introduced to us, while this year we have not seen any. I have not stockpiled goods, because at this time people still have not been interested in shopping. This year, I also do not stockpile goods massively because I believe the purchasing power would decrease." Similarly, Nguyen Thi Trang, owner of a grocery shop on DH411 Street, also reserves goods in moderation. She said: "From now until the Lunar New Year, if the shopping demand increases, I would go to the wholesale market to supply enough goods to customers, not stockpile much goods. Up to now, my shop has only stocked a few soft drinks and confectionery products.
At Tan Thanh market, Dat Cuoc market, the number of footwear and clothing stalls increases, product designs are also more diverse, but shoppers are still sparse. Nguyen Khanh Linh, a customer buying clothes at Dat Cuoc market (Dat Cuoc commune), said: "This year, I also only buy necessary items such as fruits for display, confectionary... Food is also not much stocked, because usually on the Tet first days the market opens again. Moreover, this year the pandemic is complicated, our income is reduced, hence my family does not want to buy too much."
It can be seen that the commodity market as well as the purchasing power this year was not as dynamic and high as in previous years. However, in order to ensure the supply for people on workdays as well as the approaching Lunar New Year holiday, North Tan Uyen district has planned to reserve goods in the light of not excluding the possibility that the pandemic could rage again.
To guarantee adequate stock
Up to now, the stockpile of goods and market stabilization for the 2022 Lunar New Year in North Tan Uyen district is being well implemented. Namely, necessity items serving the people, including food, processed food, and fresh food, receive attention. Products are supplied from businesses and arranged by Department of Industry and Trade to bring goods to rural areas meet the shopping demand of the people.
Currently, there are 3 convenience stores in the district (Bach Hoa Xanh). Due to the impact of the Covid-19, it is expected that consumer goods would decrease but not much, about 2-5% compared to 2021. For conventional markets, essential items to serve people before, during and after the Lunar New Year 2022 were expected to include 69 tons of food, 52 tons of processed food, 77 tons of fresh food, worth about 10.5 billion VND.
According to Economic Office of the district, from now until Tet holiday, fuel prices are forecasted to have unpredictable developments. Accordingly, the price of construction materials could increase due to investment demand when the economy is recovered; prices of food and beverage items would also increase. The price increases in general, not due to the fact that goods were hoarding to create goods scarcity and raise prices from small businesses as well as business households.
According to Nguyen Thanh Hoai, Deputy Head of Economic Office of North Tan Uyen district, the development of Covid-19 in 2021 affected business activities and services. Many businesses faced difficulties with maintaining production, many workers lost their jobs, and people's incomes in general decrease. Therefore, purchasing power is predicted to decrease compared to the previous year (about 2-5%), mainly focusing on foodstuffs, essential goods serving daily consumption needs and on Lunar New Year Year 2022.
"Because the pandemic could still have unpredicted developments, the district will not hold the annual market days of Vietnamese goods at the end of this year. However, in addition to assigning People's Committees of communes and towns to arrange for households to do business in markets to ensure meeting shopping demand of people before, during and after Tet. The District People's Committee proposed Department of Industry and Trade to arrange businesses and supermarkets to supply Tet goods to people in communes and towns: Dat Cuoc, Tan Thanh, Tan Dinh, Binh My, Tan Binh, Lac An", Hoai added.
Reported by Tien Hanh - Translated by Ngoc Huynh