With the potential and advantages of agricultural products, along with supporting mechanisms and policies of the province, the program "One commune one product" (OCOP) helps to effectively exploit the strengths of each area. Besides, it helps to improve competitiveness, meet market demands in the increasingly deepening economic integration, as well as effectively implement criteria group of "economy and production organization" in national criteria for new rural construction.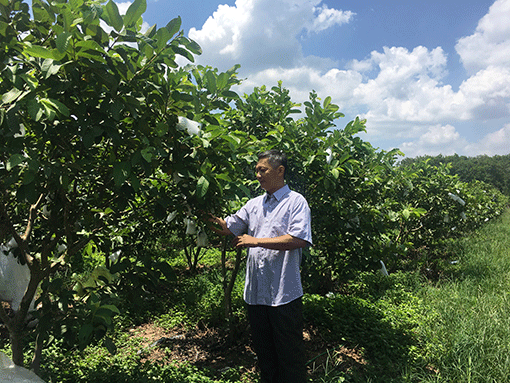 A model of organic guava planting of Thanh Kien Cooperative (Phu Giao district).
An inevitable direction
OCOP program encourages each commune to create at least one or more key products that have comparative advantages, move towards branding, develop linkage to expand production and consumption. Currently, the program is being actively implemented by municipalities, creating a momentum for agriculture, rural areas and farmers.
Immediate task is that each district, town and city directs 1-2 projects to support key product development according to value chain, selects 2-3 most advantageous products for product standardization support towards expanding production scale, improving quality, perfecting designs, packaging, designs, labels of products in order to evaluate according to regulations. To proactively integrate fund from local budgets to support economic organizations participating in the program.
Currently, the OCOP program is implemented in 4 districts and towns: North Tan Uyen, Ben Cat, Phu Giao, Bau Bang districts. The result is there are 37 potential products, including 14 products with 4-star potential, 23 products with 3-star potential. For example, North Tan Uyen district issued a decision to establish a council for OCOP evaluation and classification. On that basis, the district organized grading for 30 products participating in the OCOP program. The result had 23 products, including: Orange, grapefruit, tangerine, melon, abalone mushroom, black beans, roasted coffee, bread reached standards of potential products at provincial level (3 stars). Currently, the Assessment Council is cooperating with the participants to complete dossiers for provincial level. For products that have not yet been potential products for provincial-level examination, the Council will review and complete the dossiers to participate in the evaluation and classification in the future.
Van Phuoc Hau, Deputy Director of Rural Development Sub-Department, said the classification of products was based on results of product evaluation according to criteria. The total rating for each product is a maximum of 100 points and is divided into 5 star categories. In particular, 5-star rated product is a national product, which can be exported; 3- and 4-star product is a provincial product; 2-star product does not meet standards, 1-star class product is the starting product to participate in the program. The evaluation and classification of OCOP products is divided into 3 levels: District, provincial and central levels. All OCOP products are required to participate in the evaluation and rating. Through this rating, people will understand clearly product standards. to examine, develop or improve products to be ranked higher. On the other hand, this is the basis for management agencies at all levels to advise and support economic organizations, to implement the OCOP cycle of product branding, trade promotion...
There are still many challenges
Cooperatives, businesses and individuals in the province all identified OCOP as a challenge but also a great opportunity to brand their name and make a good impression on domestic and export markets. Nguyen Hong Quyet, Director of Kim Long High-Tech Agricultural Cooperative, said that participation in the program was very necessary. If their cooperative's products are recognized as OCOP products, they will have a good reputation, be able to take part in the product promotion trade system, and have opportunities to expand their market.
Nguyen Van Long, Deputy Head of Economic Office of Phu Giao district, said that one strict criterion of OCOP required farmers to be more professional in production. In return, as obtaining OCOP stars, the agricultural products have the opportunity to reach out. However, some difficulties in the implementation process are that some products have not yet obtained certificates, business establishments have not satisfied food safety conditions, no label, trade promotion is limited.
Vuong Phuoc Hau, said that the province initially focused on building OCOP product system based on products, goods and services originating from the localities, especially traditional specialties, products with competitive advantages, are produced by small and medium enterprises, collective economic organizations, craft villages, and registered business households. Based on the list of competitive products, products of OCOP program are concentrated in 6 main product groups (food; beverage; medicine; fabric and garment; decoration, furniture, souvenir; tourist services and tourist attractions).
To overcome the shortcomings and awaken the potential available in localities, the province is actively implementing solutions to fulfill the planned objectives. Vang Phuoc Hau said that the OCOP program had gained good initial results. To achieve the set objectives, the agricultural sector continues to advise Provincial People's Committee to promulgate appropriate mechanisms and policies to support OCOP participants; to introduce capable consulting units to support localities as well as program participants; to provide training for managers, professional staff directly involved in guiding and training producers.
The OCOP program in the province has been implemented with the expectation that potential products would form a closed value chain from production and processing tied to product consumption markets. From there, to improve production efficiency, productivity and product value, restructure the agricultural sector, develop the rural economy towards internal development and value addition, gradually heighten income of people in rural areas, contributing to the success of the national target program on new rural construction.
Reported by Thoai Phuong - Translated by Ngoc Huynh