On the afternoon of October 22, provincial People's Committee coordinated with the State Bank of Vietnam (SBV) to organize an online conference to connect banks with enterprises to find solutions to support production and business recovery. Vo Van Minh, Vice-Secretary of provincial Party Committee, Chairman of provincial People's Committee chaired the conference in Binh Duong. Whilst, Dao Minh Tu, Permanent Deputy Governor of the SBV chaired the event in Hanoi.
Practical support
As a fulcrum of the economy, province-based credit institutions shared difficulties with clients by their financial capacity in accordance with very practical support packages in the first nine months of 2021. They carried out on restructuring repayment term, keeping the debt group unchanged for 4,760 clients with a total debt value of more than VND10 trillion; realized interest exemption and reduction, keeping the debt group unchanged for 10,241 clients with the interest amount exempted and reduced by VND 5.8 billion. The total outstanding loans of clients that were not transferred to bad debt group and remained unchanged at the end of the term were VND15.62trillion with 1,537 clients.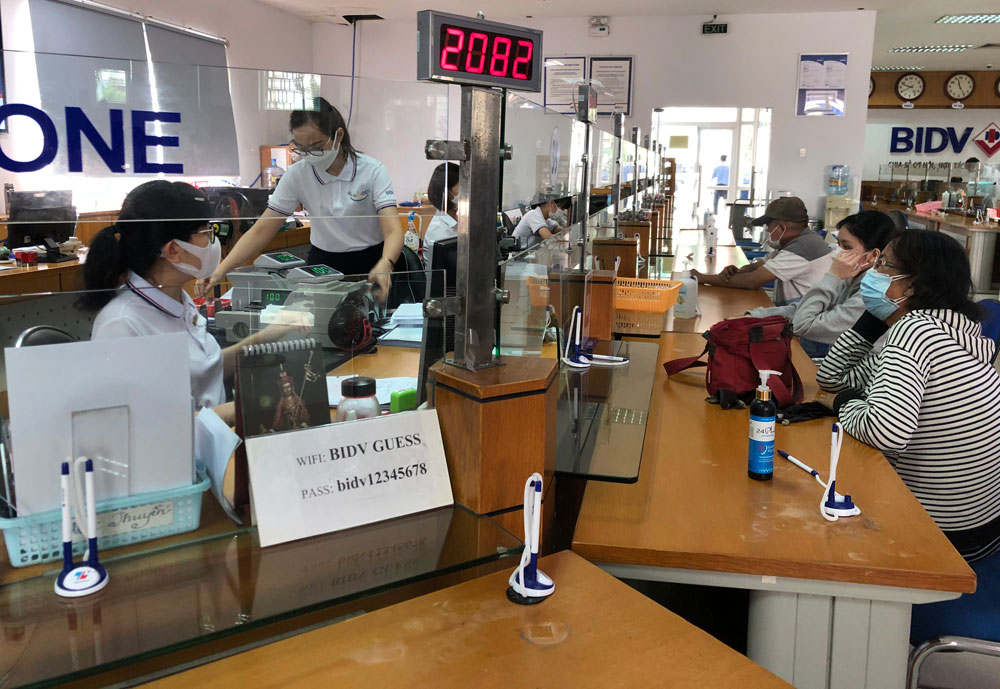 Province-based credit institutions continue supporting enterprises after the pandemic. In picture: Clients make transactions at BIDV's Binh Duong branch
The whole province has more than VND 93.91trillion of outstanding loans affected by the pandemic, accounting for about 38.9% of the total outstanding of the whole system. Since January, new loans to support clients to overcome difficulties have amounted to more than VND 223 trillion with 13,307 clients. In addition, credit policies for 5 priority areas increased by 23% compared to the beginning of the year, with the maximum short-term lending interest rate in VND at 4.5%/year. Provincial Bank for Social Policies disbursed VND2.7billion in loan for 17 employers to pay salary for laborers stopping work, due to the pandemic.
In addition, province-based credit institutions implemented support policies with the total outstanding loans applied with interest rate reduction at VND 130.19 trillion with 69,281 clients. In addition, they provided loans with preferential interest rates that were lower than the usual level from 0.5 - 2.5%/year during the 4th pandemic wave, with a loan turnover of more than VND 1.62 billion with 106 clients.
Symbiotic relationship
At the conference, Tran Thanh Trong, Chairman of provincial Electromechanical Association said that province-based enterprises are receiving support from credit institutions. However, they need to receive more support policies from credit institutions. Besides, credit institutions need to speed up the progress of providing loans for employers to pay salaries for employees, keep collateral assets, not to realize mortgage for transport enterprises, expand the right to asset mortgage...
Vu Van Thanh, Deputy General Director of Hoa Sen Group said: "In addition to further realizing support packages and reducing lending interest rates, the SBV needs to quickly deploy an interest rate support package for enterprises with a large scale of about US$2 billion (accounting for about 0.5% of GDP). With this credit capital, we can have enough financial support to help enterprises recover their production and business activities after the pandemic." Also according to Mr. Thanh, the connection between banks and enterprises is vital for the economy because the capital of the economy relies on bank loans, the vitality of banks is based on lending. Therefore, banks and enterprises are a symbiotic relationship, which is the benefit of the two sides.
Speaking at the conference, Mr. Tu said that enterprises are still facing many difficulties, due to the pandemic. Therefore, 2021 still needs more active and responsible support from banks in further restructuring debts and supporting interest rates. He emphasized that all activities of the banking sector must harmonize between the two goals of supporting enterprises and supporting the economy to overcome difficulties while still ensuring safety for the banking system and for each credit institution, which is not only implemented in the short term. Commercial banks need to satisfactorily resolve petitions by enterprises at the conference to reach a long connection and develop together.
*Vo Van Minh, Vice-Secretary of provincial Party Committee, Chairman of provincial People's Committee: The province's functional sectors need to acknowledge petitions by enterprises, urgently helping them remove difficulties in the directive spirit of provincial Party Committee and People's Committee. The SBV's Binh Duong branch and banking system need to secure capital for economic development, further innovate lending procedures, create favorable conditions for clients to improve their ability of getting access to capital; focus on quickly implementing support policies for enterprises pertaining to loan structure, interest rate policy, etc.
*Dao Minh Tu, Pernament Deputy Governor of the State Bank of Vietnam: Binh Duong is one of the country's top localities in industrial manufacture and services with total capital mobilized over the past 9 months of more than VND261trillion, total outstanding loans of more than VND245 trillion. With this basis, the State Bank of Vietnam as well as commercial banking system will further pay attention to the implementation of policies to support the local economy, including enterprises for stable development. Especially, the State Bank of Vietnam will research and implement policies to remove difficulties, support the locality as well as enterprises to recover, stabilize production-business activities and continue developing.
*Tran Ngoc Linh, Director of BIDI's Binh Duong branch: The branch has known all the difficulties of people, enterprises and wanted to share with them. Bases on each case, the branch will make transactions with individual clients and enterprises in the most convenient and satisfactory way under the law.
Reported by Thanh Hong-Translated by Kim Tin