Binh Duong has raised the bar of values, creating conditions for investors to effectively promote new generation capital, establishing a sustainable "playground", promoting harmonious development.
Attraction from investment climate
In 2022, the province's total FDI capital was US$3.13 billion, or 118% over the same period in 2021. Particularly, province-based industrial parks absorbed US$ 2.16 billion, or 135% over the same period in 2021 and 67% of the province's total FDI capital. The province lured more than US$ 1 billion in FDI capita from projects outside industrial parks, or 93% compared to the same period and 33% of the province's total FDI capital.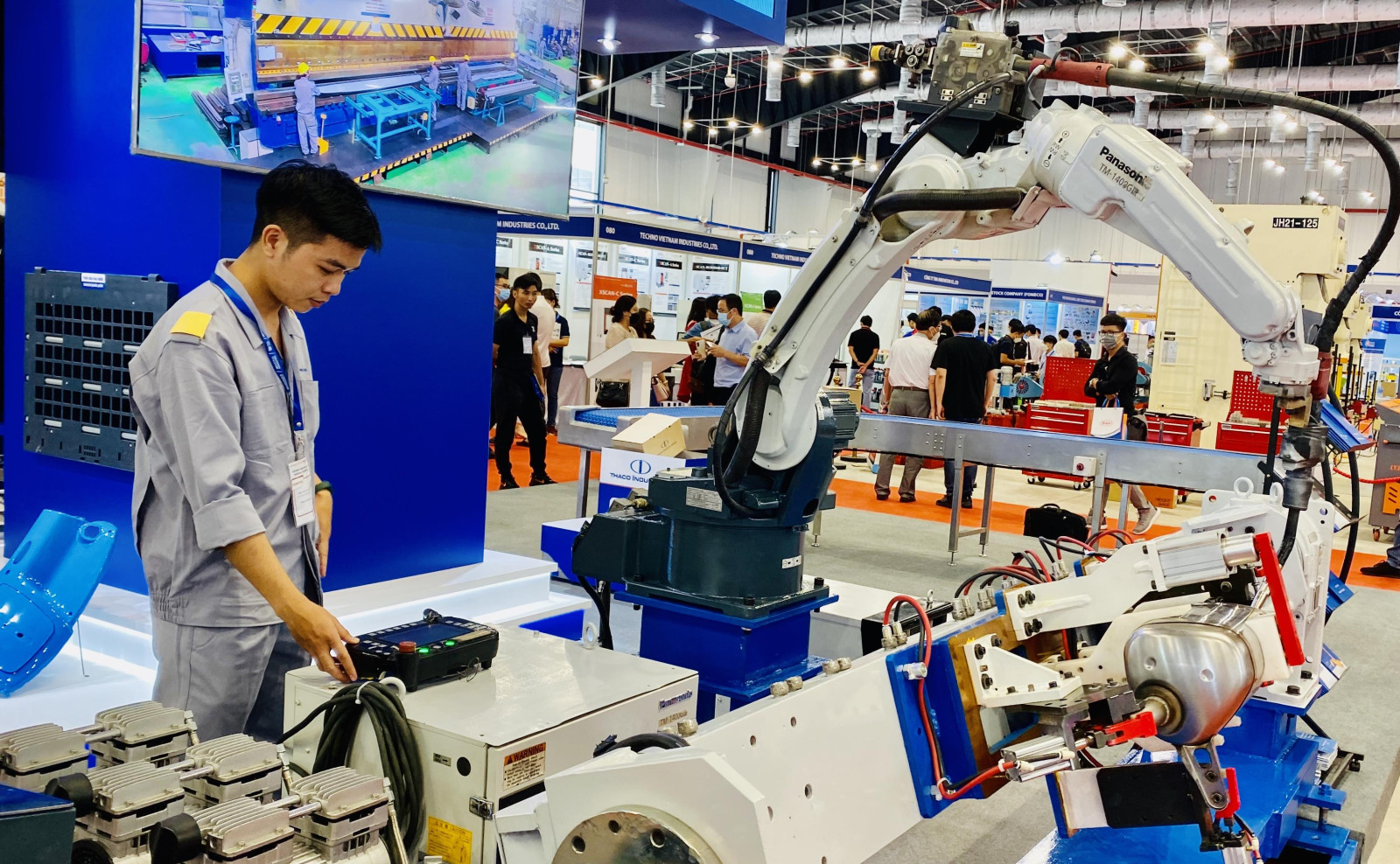 Thaco Industries expects the auxiliary industrial park deployed in Binh Duong to contribute to creating a "playground" for domestic and foreign investors for trade and cooperation. In picture: Thaco Industries booth at the 2022 mechanical machinery exhibition held in Binh Duong province
Prospects open up as the province's processing and manufacturing industry continued attracting the attention of foreign investors with 52 newly registered investment projects, 21 capital adjustment projects and 118 projects registering for capital contribution, share purchase with total capital of nearly US$ 2 billion, accounting for 63.38% of total registered investment capital. Real estate business ranked second with total registered investment capital of US$ 1.12 billion, accounting for 35.88% of total registered investment capital…
In 2022, there were 25 countries and territories having investment projects in Binh Duong. Among them, Denmark ranked first with total investment capital of US$ 1.34 billion, accounting for 43% of the province's total registered investment capital. It was followed by the Netherlands with total investment capital of more than US$ 609 million, China with total investment capital of US$ 274.6 million, accounting for 19.4% and 8.8% of the province's total registered investment capital, respectively...
Lai Wen Shu, General Director of Teco Vietnam Electromechanical Company in the My Phuoc 3 Industrial Park said: "After the Covid-19 pandemic, Binh Duong province's government has given all its support for businesses to stabilize production, creating an open investment climate. Teco Vietnam has also just received the Taiwan Excellence Award - an annual award, honoring businesses that have made excellent strides in research, development and production. This is an opportunity for Teco Vietnam to get access to more partners and be promoted more."
Also according to him, when investing in Binh Duong, he has also oriented the production of "green motor products" leading the industry, developing super high-efficiency motors, reducing energy consumption. The company's products comply with international standards and have passed multinational tests. This is a testament for the effective investment climate in Binh Duong. Preben Enef, General Director of Lego Vietnam Technology Co., Ltd., has expressed his commitment to put the factory into operation in June 2024 on schedule to create jobs for thousands of workers in Binh Duong. He believes that the factory in Binh Duong will come into operation effectively while wanting provincial leaders to further create all conditions for development.
Sustainability and feasibility
In order to uphold internal resources, creating conditions for the new generation investment capital, provincial People's Committee has constantly made efforts in creating favorable conditions for investors in all fields such as supply chain development, logistics, green development in accordance with the orientation of the province.
Do Minh Tam, General Director of Mechanics and Supporting Industries Corporation (THACO Industries) said that provincial People's Committee has just signed a memorandum of understanding with Truong Hai Joint Stock Company (THACO) to build an auxiliary mechanical industrial park with investment capital estimated at about VND 26 trillion (equivalent to more than US$ 1 billion). This project is expected to create a "playground" for investors to trade and cooperate, and attract more high-quality foreign capital. It is expected that this will be an industrial park specializing in auxiliary industries, meeting the needs of investors and promoting the strong development of the supply chain.
Vo Van Minh, Vice-Secretary of provincial Party Committee, Chairman of provincial People's Committee affirmed that in the coming time, the province will further restructure the local industrial network, upgrade existing industrial parks into the smart ones, focus more on modernizing existing industries, developing auxiliary industries to increase the localization rate, creating conditions to promote the resources of the whole society to participate in the local development process, build a regional transport system by investing in the development of key projects, capable of meeting the "weight" of the economy.
The province will also select and give priority to investors with vision, quality, and strong application of high technology in production and business in association with environmental protection to create a harmony between socio-economic development and green growth, contributing to building Binh Duong smart city.
Trinh Hoang Tuan Anh, Deputy Director of provincial Department of Planning and Investment: To ensure sustainability and feasibility in the local plan on socio-economic development, Binh Duong is removing and resetting manufacturing enterprises into planned areas to expand development space, establish ecosystems of specialized industrial parks and compounds, avoid concentrated urban areas and reduce the risks of environmental pollution. Particularly, the province will focus on relocating production facilities in the southern region around urban areas to the northern region. From the relocation, it will be possible to create the next revolution of Binh Duong when the northern region really transforms into a new industrial - science and technology center and the southern region transforms into the center of high-quality urban areas.
Reported by Tieu My-Translated by Kim Tin