Binh Duong provincial Department of Science and Technology (BDDST) has just launched various activities to elevate values and competitiveness of products and commodities within the project of origin tracing system application, management and implementation in Binh Duong province in 2020-2025 with orientation to 2030.
The effective implementation
Aiming for effective project implementation, BDDST in 2019 coordinated with National Center for Codes and Barcodes to organize a workshop of guiding the origin traceability on products and commodities in Binh Duong province with participation of nearly 170 representatives of departments, sectors and enterprises. Besides, BDDST directed its Division of Standards and Measurements to coordinate with National Center for Codes and Barcodes to do a survey on the needs of product and commodity origin traceabilities and the related matters in Q4 of 2019 against U&I Agriculture JSC and Thien Duoc Pharmaceutical JSC.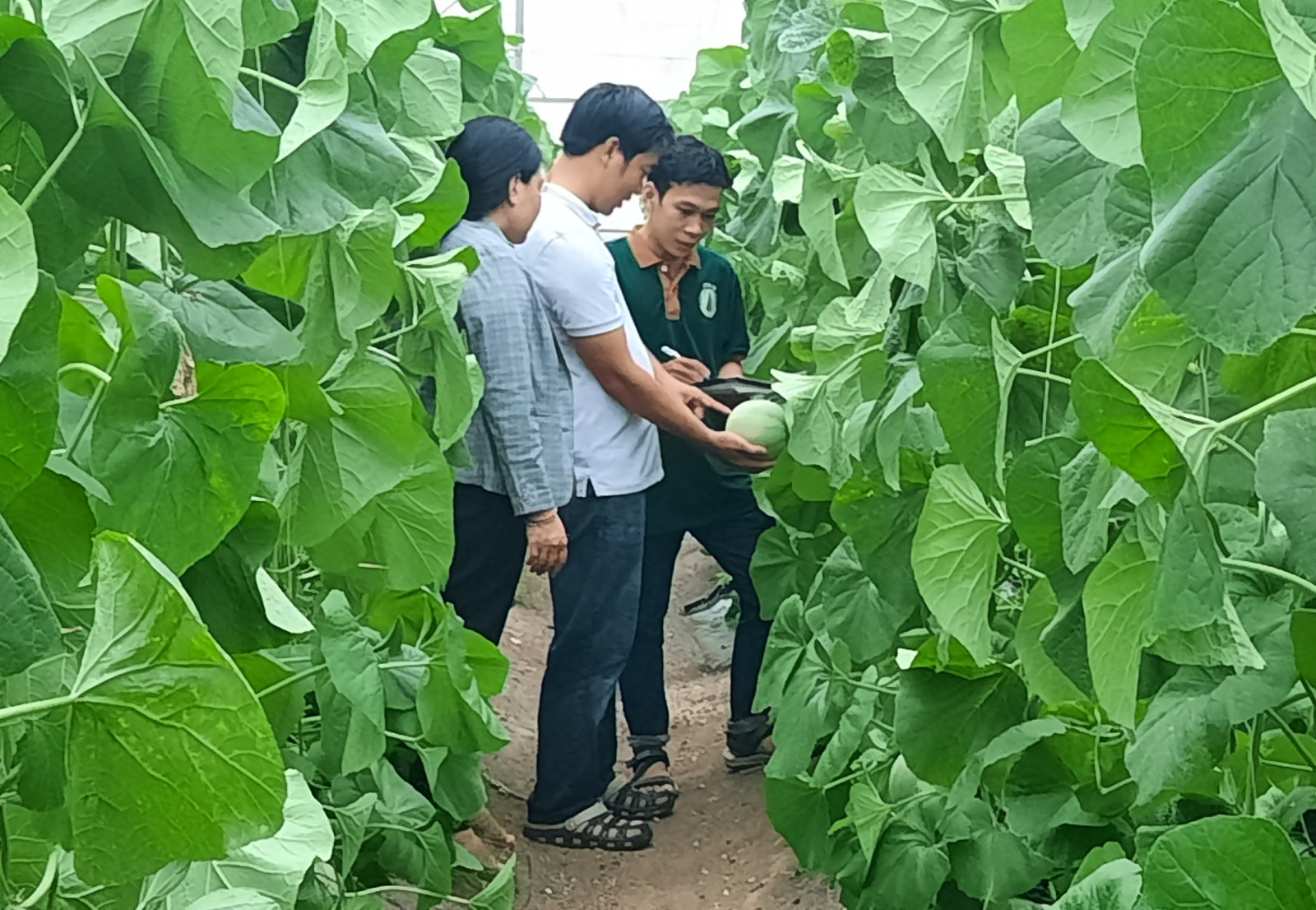 Cantaloupes grown by Kim Long High-tech Agricultural Cooperative are under the steps of tracing product origin
In addition, BDDST organized 2 sessions to disseminate the Plan No. 3338/KH-UBND dated July 14, 2020 of the provincial People's Committee on training regulations on codes, barcodes and QR codes for traceability in production and consumption in the markets of Phu Giao and Bac Tan Uyen districts. The provincial science and technology tasks with the topic of pilot research and application of tracing system for some key agricultural products of Binh Duong province was in charge by National Center for Codes and Barcodes at a total cost of more than VND 600 million. BDDST coordinated with the People's Committees of Bac Tan Uyen district, Phu Giao district, Ben Cat town and the National Center for Codes and Barcodes to organize a training conference on knowledge of codes, barcodes and origin traceability of commodities and products, mainly at cooperatives, by farmers, production enterprises, farms, Farmers' Associations and agricultural officers.
Thanks to the application of science and technology in production, in 2021, cantaloupe of Kim Long Hi-tech Agricultural Cooperative at An Binh commune in Phu Giao district were recognized by the provincial People's Committee to meet the 3-star OCOP standard, which affirmed its position in the domestic and foreign markets. On average, the cooperative now harvests 30 tons a crop, averaging at more than 1,000 tons a year to gain the profit of over VND 100 million a year. In order to improve product quality, expand markets and enhance competitiveness, the cooperative has registered to implement the origin tracing system. Mr. Nguyen Hong Quyet, Director of Kim Long Hi-tech Agricultural Cooperative, said: "On registering for product traceability, the cooperative has received the drastic support of BDDST from registration procedures and diaries to implementing processes. Up to now, the cooperative has had the first batches of cantaloupe following the origin traceability process."
During the initial implementation of the project, organizations and individuals in the province were aware of the importance of origin traceability activities to improve the value of their products and commodities. The guidelines, orientations, regulations of the central government and the system of national standards on origin traceability are increasingly being improved.
Management competence enhanced
Due to the prolonged impact of the COVID-19 epidemic, the propaganda and dissemination activities to apply the origin tracing system during the year have not been guaranteed as planned. The state management of traceability is still inexperienced, so it is hard to guide organizations and individuals in the province how to apply origin traceability. In addition, the national product and goods origin traceability website has not been completed.
In order to facilitate the implementation of the project, and to achieve results as well as contribute to improving the efficiency of state management in operations, BDDST has proposed to the Ministry of Science and Technology to soon promulgate regulations on management and national standards of the origin traceability of products and commodities against each industry or field. The General Department of Standards, Metrology and Quality should direct functional units to regularly organize training courses in their localities to build and complete the national product and goods traceability website at the soonest.
Reported by Phuong Le – Quang Tri