The August Revolution 1945 retrieving the authority and giving birth to Democratic Republic of Vietnam was an event of greatness in our people's history. Upholding the glory in 75 years, Binh Duong provincial Party Committee, authority, and people have overcome hardship and challenges to gain great achievements, positioning the province in the national leader of reforms, in-depth international integration, and construction of a more and more beautiful and civilized home land.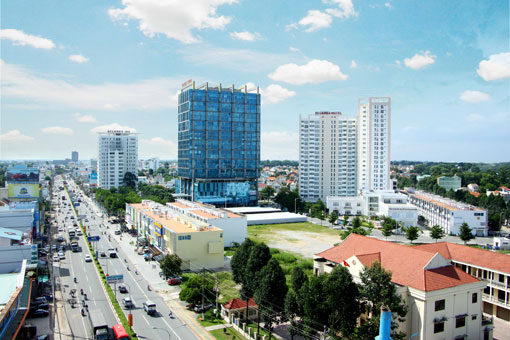 Along with socio-economic development, the provincial authority has taken care of planning and investment for urban delopment in active and creative manner. In this photo: Thu Dau Mot city has become a type-1 urban region and a city under provincial government. Photo: Quoc Chien
Upholding the glory
The victorious revolution 75 years ago was a cornerstone opening up new era for Vietnamese people – the era of people's unity and socialism. For people in Thu Dau Mot and Binh Duong, August 25, 1945 was a major historical day marking the liberation of our home land and the nation construction in response to the general revolution that had encouraged generations after generations in the cause of nation protection and construction.
The historic meeting at Phu Cuong Hall was marked by the speech of Van Cong Khai, the Secretary of the then Party Committee and Head of the Revolutionary Board, announcing the people's authority before the long run of nation protection, defense and liberation. Through 30 straight years of struggle, loss, and sacrifice, local people and armed force of Thu Dau Mot-Song Be-Binh Duong by leadership of the Party were determined to defense and liberate the homeland from the enemies. By the names of glories, local people and armed force had contributed greatly to the cause of liberation and unification as well as the construction and protection of Socialist Republic of Vietnam.
Outreaching to development
Inheriting the spirit of August Revolution, in 75 years, local Party Committee, authority and people have overcome difficulties and challenges to achieve great results, making up rapid and all-aspect development of a province. Particularly after 35 years of reforms by CPV's guideline and 23 years of provincial re-establishment, local Party Committee and people have promoted revolutionary tradition, unity, activeness, creativity, and barrier-overcoming effort to sustain development of the province towards major and relatively comprehensive achievements.
Up to date, Binh Duong has become the only province to eradicate poverty status of households by central poverty line. Binh Duong province, from a purely agricultural province, has emerged as a top province of developed industry in the nation, evidenced by tens of industrial hubs and zones attracting tens of thousands of domestic and foreign investment projects that offer jobs to hundreds of thousands of people. All local communes have been standardized as new rural areas. Political security and social orders have been maintained, contributing to the construction of clear, advantageous and safe investment environment. The socio-economic breakthroughs of Binh Duong are the awards in the cause of constructing and developing the province.
Provincial authority, along with socio-economic development duties, has paid good attention to planning and developing urban zones by proactive and creative steps suitable for local reality and regional connection. As Di An and Thuan An were approved as new cities under a province, Binh Duong now has 3 cities, 2 towns, and 4 districts. Of the localities, Thu Dau Mot City is a type-1 urban area.
Ever since 2016, Binh Duong Provincial People's Committee has been pursuing the project of a smart city. In 5 years of the project, Binh Duong has gained major achievements. Up to date, Binh Duong has been named the first ever locality in Vietnam to become a member of the world's smart community and one of 21 cities and regions of model smart city development strategies in the world as a member of World Technopolis Association (WTA).
Besides, the province successfully host the 20th anniversary of WTA and Horasis – an economic cooperation forum. Tran Thanh Liem, Deputy Secretary of Provincial Party Committee cum Chairman of Provincial People's Committee asserted that the major events have become significant momentum for Binh Duong to step up the construction of a smart city and to practice integration and sustainable development.
The achievements through time are thanks to determination and efforts of all-level authorities, departments, enterprise community, and local people. Such achievements firmed sustainable foundation for Binh Duong to be on the voyage of 'establishing a new level and position' as put by Assoc. Prof. Ph.D. Tran Dinh Thien, the former Director of Vietnamese Economic Institution on talking about outreaching desire of Binh Duong.
Provincial Party Committee, authority, and people in August's historic days have been making all-out efforts for awards welcoming all-level Party Congress, heading towards the 13th National Party Congress. The spirit and vitality of August Revolution join up the strength and stir up the spirit of unity and determination overcoming hardship and challenges to eradicate pandemics, recover and develop the economy and society, visualizing the desire for constructing a strongly developed nation in the future.
Reported by Tri Dung – Translated by Vi Bao