The Standing Board of the Association of Farmers of Tan Uyen Town has just held a conference to review the midterms of the implementation of the Resolution of the town Association of Farmers Congress for the 2018-2023 tenure to summarize the movement of farmers and to emulate production, doing good business in 2019-2021 while summarizing the activities of the association and farmer's movement in 2021 and implementing the direction and tasks in 2022.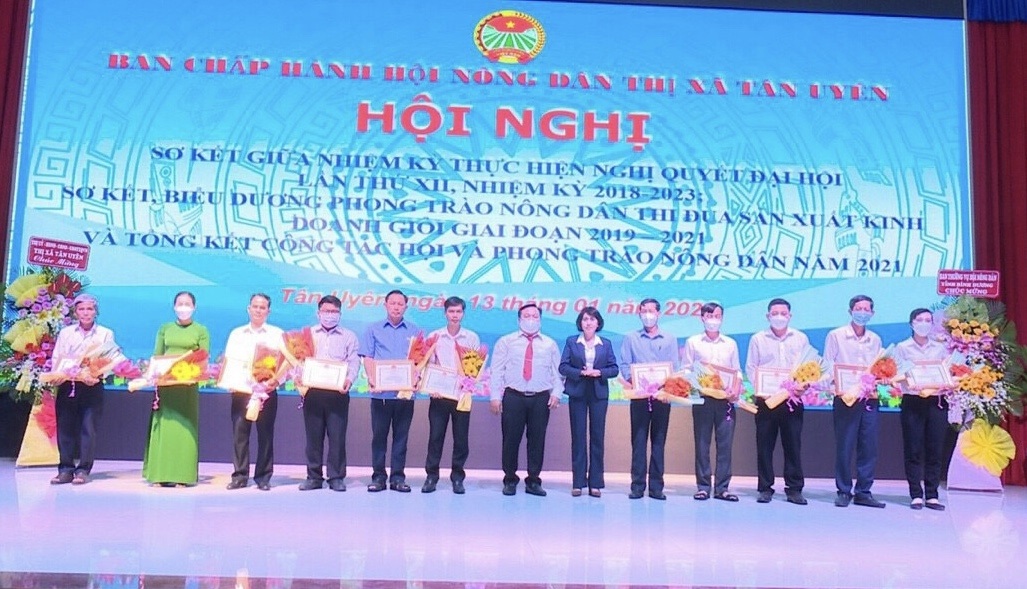 Tan Uyen town Association of Farmers award merit certificates to model individuals in association activities and movements of 2021
Up to the middle of the term, every year, more than 80% of farming households have achieved the title of "good farmer in production and business operations". The members have helped one another by donations, working days, financial support for agricultural materials, and seedlings to help disadvantaged households. Thereby, the association has helped 6 farmer households get out of poverty. In addition, the funds from the Farmers Supporting Fund have contributed to meeting practical needs and helped farmers to invest in production in a timely and effective manner and improve their lives. Thereon, farmers have been very excited and actively participated in association movements such as the movement of farmers emulating production doing good business and the movement to build a new countryside.
At the conference, the delegates also discussed the contents of the movement of farmers in good production and business associated with the construction and establishment of agricultural cooperatives, coordinated propaganda and mobilization of farmers' members and people to participate in the prevention and control of the Covid-19 epidemic and the advanced building new rural areas.
On this occasion, the town Association of Farmers awarded the medal of "For the Vietnamese peasant class" of the Central Committee of the Vietnamese Association of Farmers to 5 individuals, awarded certificates of merit from the Central Committee of the Vietnamese Farmers to 1 collective and 2 individuals with outstanding achievements in the association's activities and the farmer's movement in 2019-2020. In addition, the association also awarded rewards from the provincial Association of Farmers' Union and the Town Farmers' Committee to 47 individuals and 17 collectives in the association work and farmer movement in 2021.
Reported by Nhu Y – Translated by Vi Bao