Park 1: We will go home soon!
Temporarily putting aside the nostalgia for family, relatives, nurses and doctors in the isolation treatment areas for F0 cases together with relevant forces who have sacrificed silently, selflessly to treat and care for patients. They all want their patients to quickly recover in order to return their families soon.
Working tirelessly
In the last days of July, we had a "surveillance" visit to the isolation treatment facility for Covid-19 patients at the old headquarters of Thu Dau Mot city's Military Command in Hiep Thanh ward when the whole province was implementing social distancing under the Prime Minister's Directive No.16. It took more than 15 minutes for us to carry out strict procedures on Covid-19 prevention and control before being allowed to enter the "red zone" - a place for more than 83 Covid-19 patients with mild symptoms.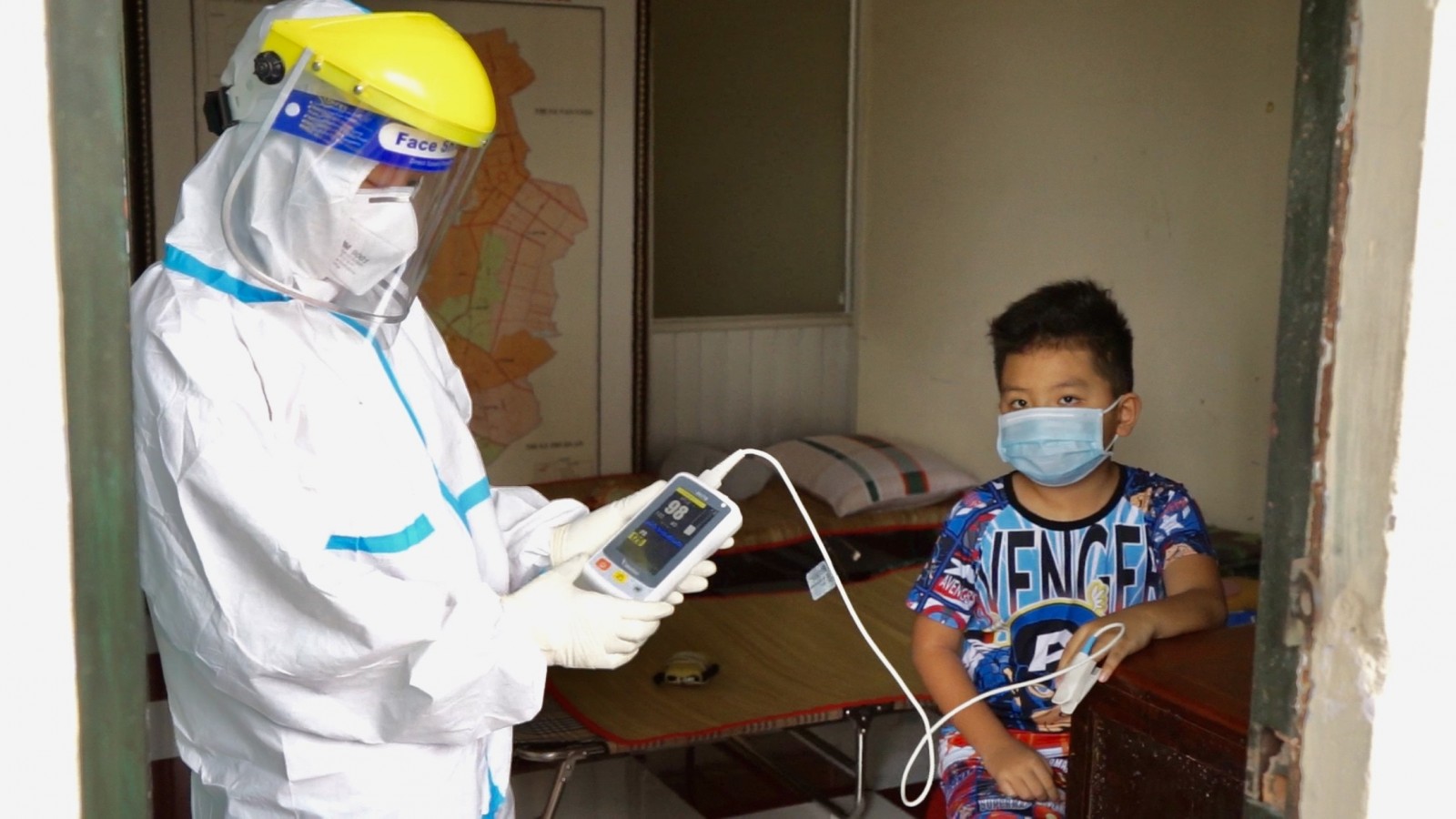 A Covid-19 child patient with mild symptoms is under medical examination at the facility
The first person we talked to was Major Le Pham Tuan Long, Political Assistant of Thu Dau Mot city's Military Command, Commander of the isolation treatment facility. He said: "The military force is coordinating with Hiep Thanh ward's police force to ensure security and order outside. The military and militia forces are responsible for ensuring security and order inside, creating the most comfortable living conditions for patients during the isolation treatment period. Medical staff here visit and perform health check-up for patients twice a day. The military forces and volunteer students from Binh Duong Medical College have given enthusiastic support in terms of living-eating conditions for patients here.
The conversation between us and the facility commander was temporarily interrupted when it was time to visit and examine patients. With permission, we quickly put on protective clothes, with 2 layers of anti-droplet protection glasses, 2 layers of gloves under the guidance of doctors and nurses before entering the journey to approach F0 cases. In less than 15 minutes, we felt the heat rise with sweat drenched our bodies. As explained by the doctors and nurses here, all protective clothes in the area reach safety standards at level 1. Therefore, it was very uncomfortable for "apprentices" like us.
Wearing protective clothes is hot and uncomfortable. With such clothes, medical workers are easy to be exhausted if moving a lot. According to doctors and nurses here, they must wear protective clothes from 4 to 5 hours to visit and examine patients twice a day. When experiencing hours of wearing protective clothes, we have actually felt the energy of doctors and nurses who are working tirelessly to take care of and treat patients…
Let's overcome difficulties together
On the way to the isolation treatment area, sharing about the time of receiving the assignment, Doctor Nguyen Thi Yen Nhi, working at Thu Dau Mot city's Medical Center confided that she has had "seniority" of 7 years against epidemic diseases, but this is the first time she has participated in the frontline to treat and care for Covid-19 patients, so she has lots of indescribable feelings. 30 days at this center is the longest working trip away from home for doctor Nhi and her colleagues. The anxiety and trust in each patient's eyes is the motivation for medical workers here to try their best, wholeheartedly taking care of and helping patients.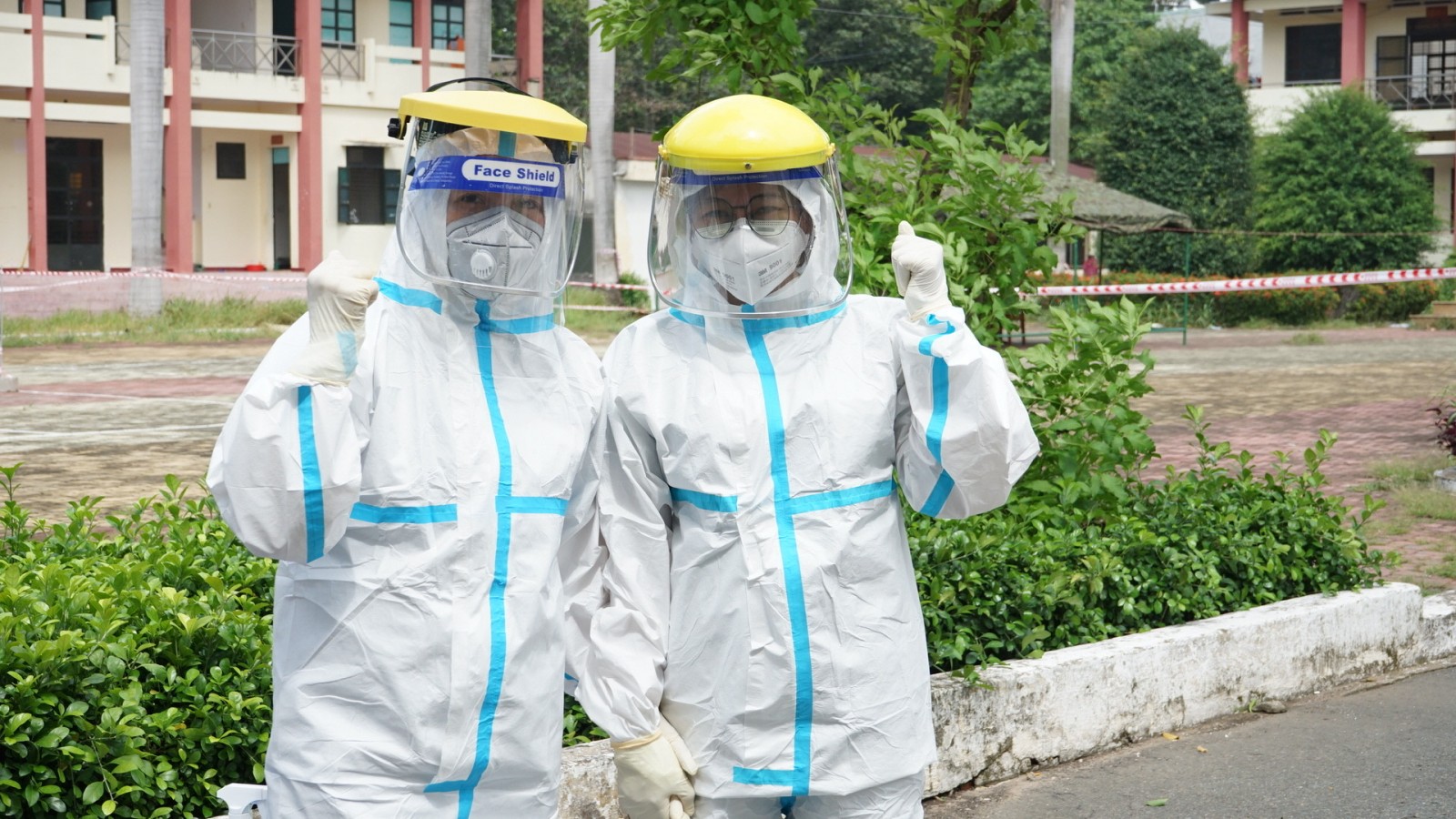 Leaving behind nostalgia for family and relatives, frontline doctors and nurses have raised their sense of responsibility and medical ethics in treating Covid-19 patients
"When just being transferred here, Covid-19 patients thought that their health was normal and there must be confusion in the test results while some showed signs of panic, anxiety, and harshness... But when being explained, these fresh patients knew the danger of the pandemic from Delta variant. Hence, they gradually cooperated with medical workers here", said doctor Nhi.
Also being present at the facility to support care and treatment for Covid-19 patients with mild symptoms, Do Thi Tu, from Thu Dau Mot city's Medical Center shared that she has also been at the facility for 3 weeks. She said that there are now many changes in taking care of F1 cases compared to the previous period. The task requires more efforts from doctors, nurses and forces on duty at the facility. The full implementation of procedures to both protect themselves and prevent cross-infection during the process of visiting and examining cases is a top priority. The spirit of dedication and devotion to treating patients with all abilities from doctors, nurses here has created faith and optimism for patients, helping them to have more energy to improve their health and get recovery soon.
At more than 11 a.m., amid the sweltering heat of a summer day, in protective clothing, two female doctors moved through each area to visit and examine each patient. Meanwhile, with the same clothing, we were almost exhausted and secretly admired the will of doctors and nurses here. Following each step of the doctors and nurses going to each area, we saw freshness on each patient's face. The patients also said that their health condition were improving. Perhaps, in each face hidden by masks, doctors here will also smile kindly when hearing their patients say so. (to be continued)
Here, we consider the facility as our second family and patients are also our relatives. Every day, we seem to be give strength and energy in order to try their best when seeing that their health status has been improved together with sincere thanks from them. We wish all patients psychological stability for treatment to get recovery soon and return home together." (Doctor Nguyen Thi Yen Nhi)
Reported by Minh Duy-Translated by K.T