Binh Duong is keeping on to improve investment quality by choosing high-tech, environmentally friendly, and less labor-intensive industries while creating high added value in order to meet the strategic vision and to develop industrial and urban areas in the direction of civilization and modernity in 2021-2025 with an orientation to 2025-2030. Currently, Binh Duong focuses on investment and development of infrastructure of industrial parks in a modern and synchronous manner to take advantage of opportunities to attract effective and quality investments.
The positive capital flow
In the first half of 2022, Binh Duong is the leading locality in terms of foreign direct investment (FDI) into Vietnam with a total registered capital of USD 2.5 billion in the province, increasing by 99% over the same period, and exceeding the 2022 planning for USD 1.8 billion. Accumulated up to now, the province has 4,048 foreign-invested projects with a total capital of USD 39.5 billion, which is an encouraging result for the province's constant efforts in proactively, creatively promoting and receiving investment in the right form even during the peak of the COVID-19 pandemic.
Not only did it increase quantity, 2022 marks the transformation of FDI inflows into the province in more and more quality, greener and smarter manner. Many projects in the fields of technology, processing, manufacturing, and energy rose to the top to gradually replace the previously low-value-added projects.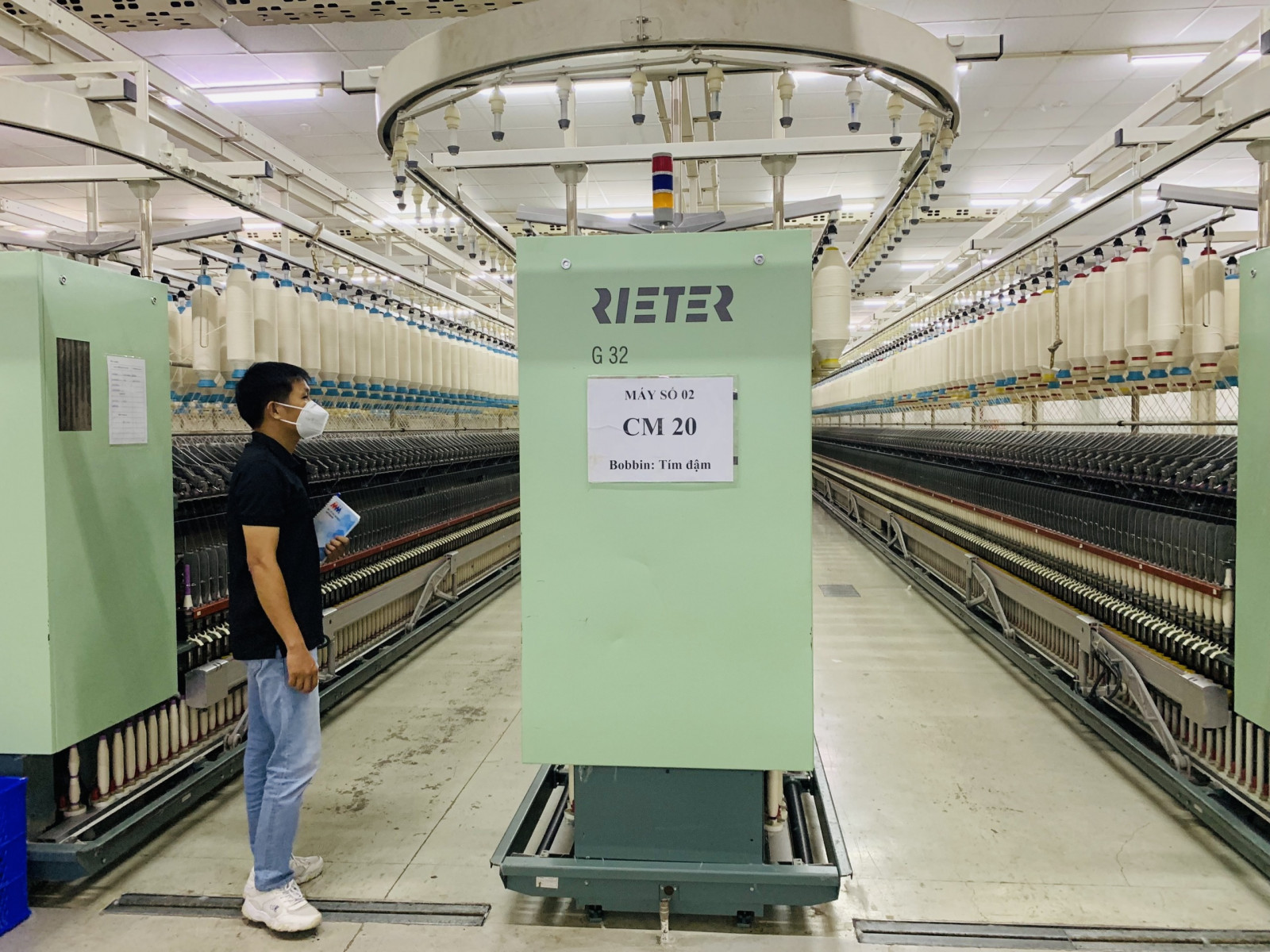 Industrial zones of the province with synchronous and modern infrastructure have well met the needs of large enterprises and multinational corporations. In the photo: Less labor intensive production line at Kyungbang Vietnam Co. Ltd. of Bau Bang Industrial Park is in place. Photo: Xuan Thi
Notably, most of the projects that were awarded investment registration certificates at the beginning of the year were large-scale. Typically, the project of manufacturing plastic toys, toy parts, molds, and mold parts with an investment capital of USD 1.3 billion USD at the VSIP III Industrial Park of Lego Group from Denmark. The project promises to bring 4,000 job opportunities over the next 15 years. The factory is expected to start construction in the second half of 2022 and come into operation in 2024. According to the plan, this is Lego's first carbon-neutral factory, partly invested in solar energy production to ensure no environmental pollution, dust and waste is incurred.
Recently, Pandora Group, a Danish jewelry brand, signed an agreement to build a new jewelry processing facility in VSIP III Industrial Park with a total investment of over USD 100 million for the first production facility in Vietnam that supply 60 million jewelry products each year and create jobs for more than 6,000 people. The project is expected to start construction in early 2023 and start production by the end of 2024. This is Pandora's 3rd facility in the world and the first production facility built outside of Thailand.
According to Mr. Kim Hojlund Christense, Danish Ambassador to Vietnam, the construction of Pandora's first manufacturing facility in Vietnam will contribute to expanding and further strengthening Denmark's close cooperation relationship with South of Vietnam in the green transition of the economy through high-quality foreign investment projects with valuable manufacturing plants and highly skilled jobs. The project once again affirms the position of Binh Duong province as one of the localities of most attention by Danish companies.
Towards a new industrial ecosystem
Mr. Nguyen Van Hung, Chairman of the Board of Directors of Becamex IDC, said that based on the experience of the Vietnam-Singapore Industrial Park (VSIP) joint venture model, Binh Duong found that it is perfectly suitable for the province to expand and develop industrial zones of green standards, spacious and sustainable far from the center while ensuring sustainable development, and at the same time, contributing to the consolidation and embellishment of Binh Duong's urban areas in the direction of modern and methodical planning interwoven with other urban areas.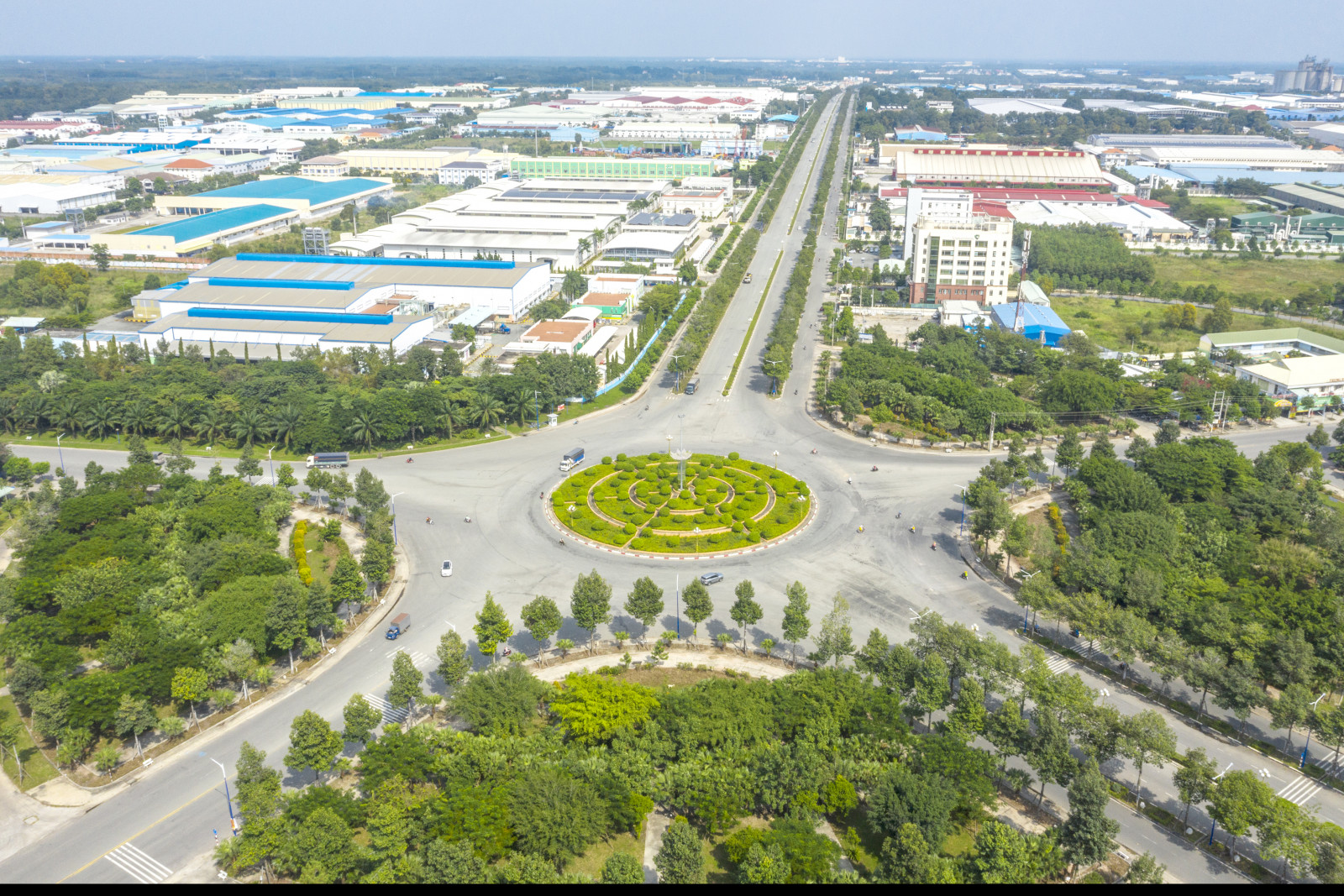 A corner of today's My Phuoc 2 Industrial Park. Photo: Tran Duy Tinh
Binh Duong has also built a model of the Industrial - Service - Urban Complex as a pilot model for integrated development including urban areas, industrial zones, commercial and service areas, high-quality entertainment services, residential areas, and resettlement for people. The Complex is a bold, breakthrough idea and a major undertaking to change the whole way of attracting and calling for investments. The Complex includes 7 surrounding industrial zones formed with a high occupancy rate, create leverage and bridge the shift of industrial development from the south to the middle and north of the province. After forming an industrial complex, it has created a stepping stone for the development of new industrial zones to the north such as My Phuoc 1, 2, 3, 4 industrial zones and beyond, Bau Bang urban - industrial zone, Bau Bang expansion and now VSIP 3 of the newly started construction.
Mr. Mai Hung Dung, Standing Deputy Chairman of the provincial People's Committee, said that the outstanding results in attracting FDI to the province since the first months of the year have been pervasive, significantly contributing to the overall economic growth of the province. The province will continue to make more efforts to invite more high-quality projects, and at the same time, create the best conditions for investors. In order to develop sustainable industry, the province has developed the project of "Innovation Zone" and Science and Technology Industrial Park. (To be continued)
Reported by Ngoc Thanh – Translated by Vi Bao