From October 22, Binh Duong has implemented temporary measures to adapt safely, flexibly, and effectively control the Covid-19 in the province. Accordingly, socio-economic activities are reopened in the "new normal" state. However, in order to maintain the anti-epidemic good results, restaurants, food services and people need to continue strictly observing disease prevention control measures, especially the "5K" message of the Ministry of Health.
People are exhilarated
In the first days as the province is implementing temporary guidance on safe, flexible adaptation measures, and effective control of the Covid-19, people in the province resumed production and business activities in happiness and confidence.
Le Van Hat, owner of Hat Viet Cafe on Huynh Van Luy street (Phu My ward, Thu Dau Mot city), said that over nearly five months of temporarily closing the shop to control the Covid-19, his family's income was greatly affected. With a monthly rental price of 10 million VND/month and living expenses for the whole family of four members, they spent all their saving during the past five months. Currently, his coffee shop is allowed to reopen, he feels very excited. "In the first days after the re-opening, the number of visitors was also lower than before, I think it would take a week to have the same number of visitors back. We continue to strictly comply with regulations on disease prevention and control at the cafe. When customers come to drink coffee, I always remind them to keep a fixed distance, scan QR code to declare health information", Hat said.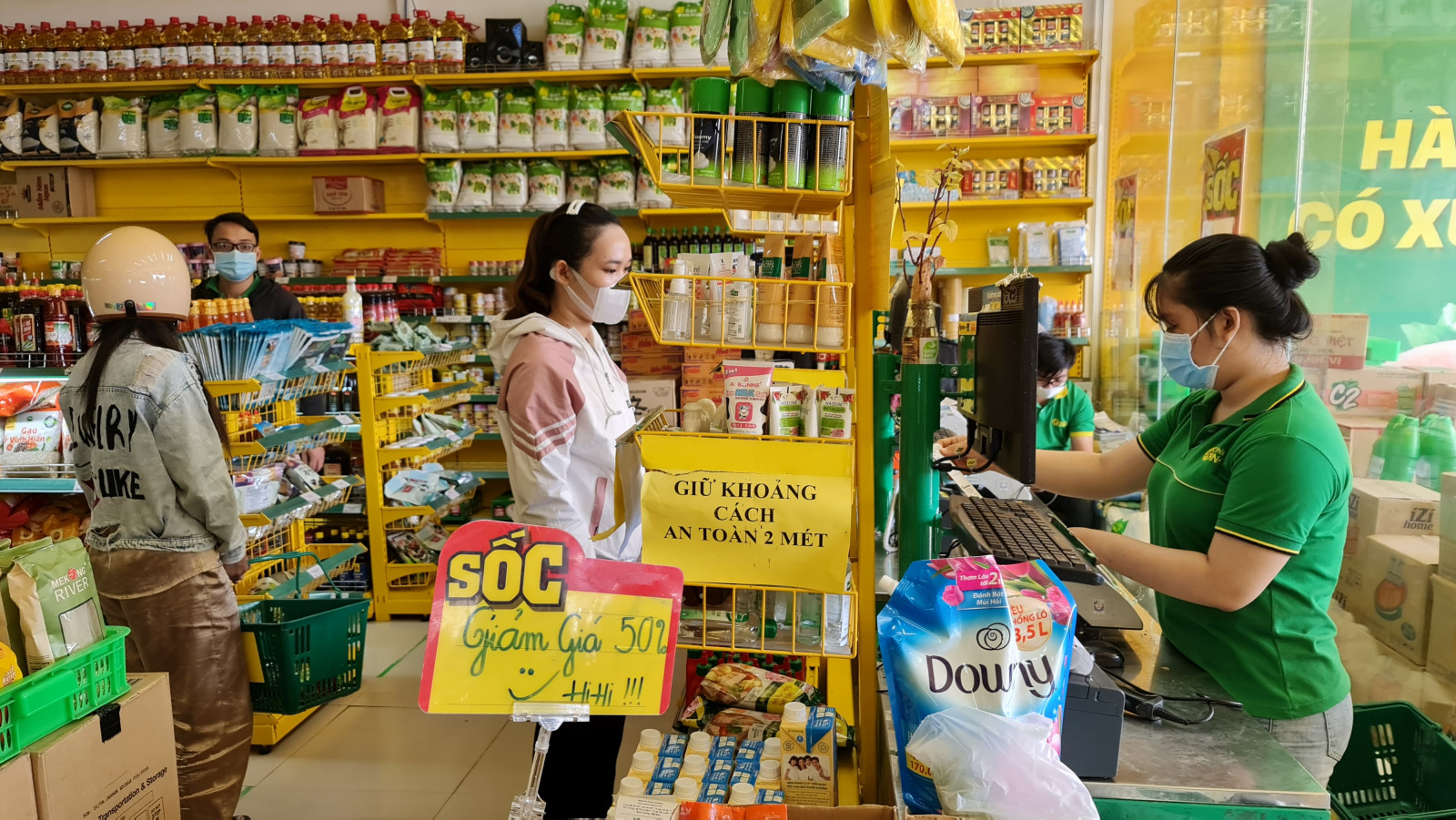 People buy goods at stores and comply with Covid-19 prevention control measures, such as scanning QR codes, keeping a safe distance, and wearing masks.
Although they have to comply with disease prevention regulations, such as keeping a distance, not sitting in crowds... but many people do not think it is troublesome but seriously comply. Le Hoang Phong, a regular customer of Hat Viet cafe, said that the reopening of service facilities, cafes, restaurants, markets etc. enable people to choose their favorite food. According to Phong, sipping a cup of coffee at coffee shop still has a much better taste than a take-away drink. Joining hands with the government and service businesses, he seriously follows the "5K" recommendations of the Ministry of Health.
Similarly, Nguyen Thi Thom, the owner of a "Phở" restaurant on 30-4 Street (Phu Hoa Ward, Thu Dau Mot City), said that after several months of temporarily closing to fight the pandemic, the reopening, on-site service is the desire of many restaurants and eateries. To continue ensuring the prevention control of the Covid-19, her restaurant has also posted a QR code for customers to scan and declare health information, each table has only two chairs instead of four as before, bottles of hand sanitizer are placed at entrance, easy to see and use. Nguyen Thi Hien, owner of a fruit and vegetable shop in Binh Quoi A quarter (Binh Chuan ward, Thuan An city), said she was also excited when the disease was under control, all social activities have returned to the "new normal". This makes their business more convenient. "For many months of closure, many service establishments lost their income. Now that we are back to work, everyone is very happy and trying to make up for the months against the pandemic.
To heighten disease fighting spirit
During the first days of temporary measures to adapt safely, flexibly, and effectively control the Covid-19 in the province, the majority of people, businesses, services etc. are all very happy and exhilarated, but continue to strictly implement disease prevention and control measures, such as seriously implementing the "5K" message (mask - keeping distance - health declaration - disinfection - do not gather in large numbers) of the Ministry of Health, scan QR codes at destinations...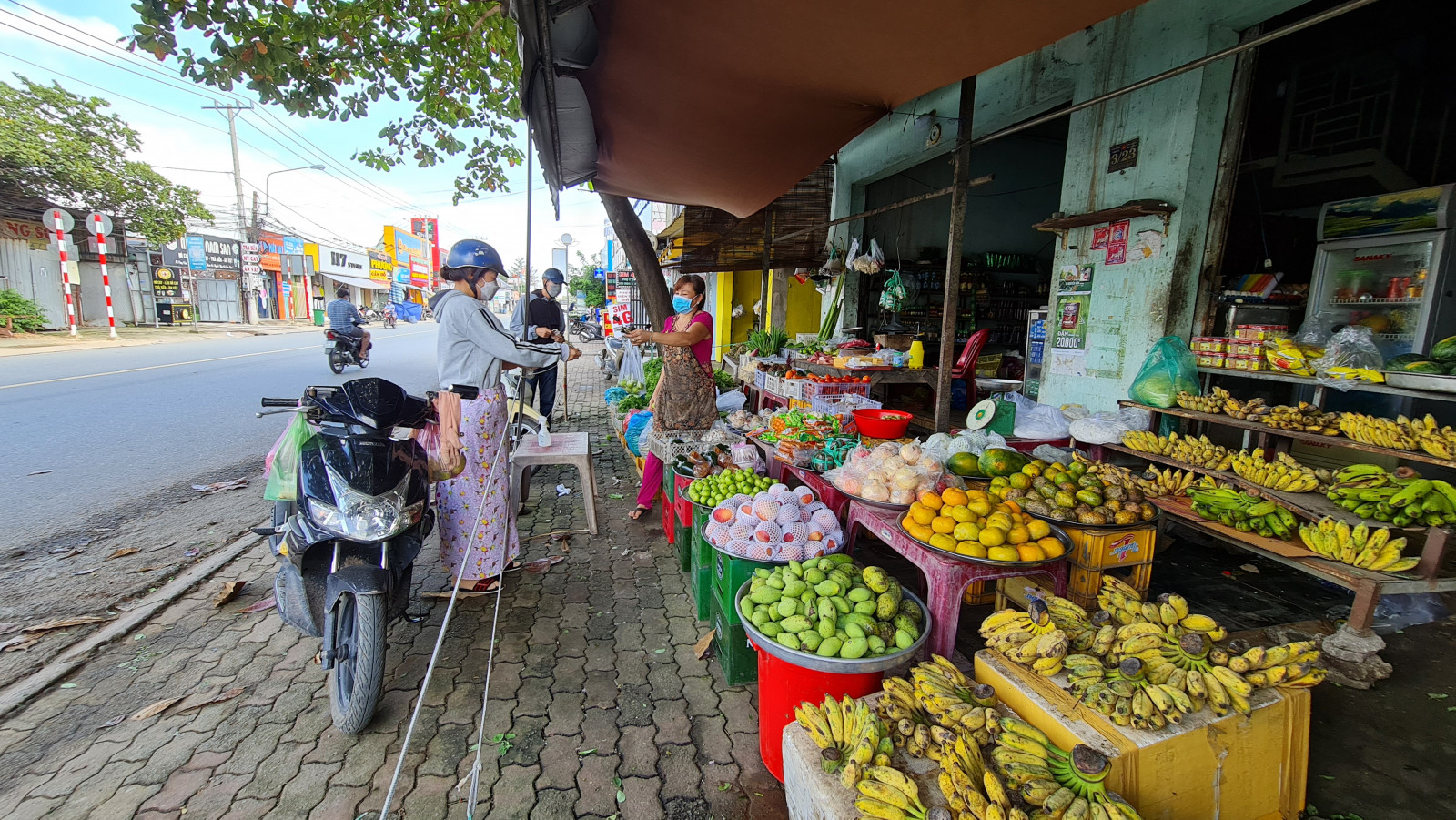 Fruit and vegetable shops still maintain Covid-19 prevention measures in the "new normal" state.
At Cho Moi area in Tan Vinh Hiep ward, Tan Uyen town, there are mainly stalls selling fresh food, vegetables and fruits. People's purchases and sales in the past few days here have become more bustling, but everyone always adheres to disease prevention measures such as keeping distance, wearing masks... At supermarkets and Bach Hoa Xanh stores in the province, people who come to buy goods are required to make a medical declaration by declaration paper or scan a QR code, wear masks, and keep a safe distance… In some places, although anti-Covid regulations have been loosened, people are hesitant to conduct transactions or go to crowded places because of fear of the disease.
According to Vo Van Minh, Chairman of the Provincial People's Committee, as implementing solutions to safely adapt, flexibly, and effectively control the Covid-19 in the province, the province continues to strictly follow instructions of the Government, the Prime Minister, the National Steering Committee for Covid-19 Prevention and Control, the guidance of the Ministry of Health, and the direction of Provincial Party Committee, Provincial Steering Committee for Covid-19 Prevention Control. In addition, the province is narrowing, tightening control of "red zones", expanding and protecting "green zones", controlling and preventing sources of infection, new chains of infection to bring Binh Duong back to the state " new normal" condition; strengthen coordination with central ministries, branches and other provinces, cities to resume production supply chains and labor supply chains.
The province implements new regulations step by step cautiously, strictly and surely; closely follow the actual situation to check and consider measures at a "higher" level, "earlier" and not "slower" when handling the situation or easing social distancing appropriately. The province continues to control and adjust measures to prevent and control the pandemic, gradually loosen social distance according to the plan corresponding to the disease situation in the province and assessment results of safety level according to the guidance of the Ministry of Health; in which, the loosening of social distance must be cautious, step by step carried out; promptly handle possible outbreaks...
Reported by Do Trong - Translated by Ngoc Huynh