Together with the whole nation, Binh Duong has been transitioning to a state of safe, flexible, adaptive, and effective control of the COVID-19 epidemic. People's response, consensus and good observance of regulations on COVID-19 prevention and control are decisive factors for success in prevention and control. Victory over the epidemic is the victory of the people.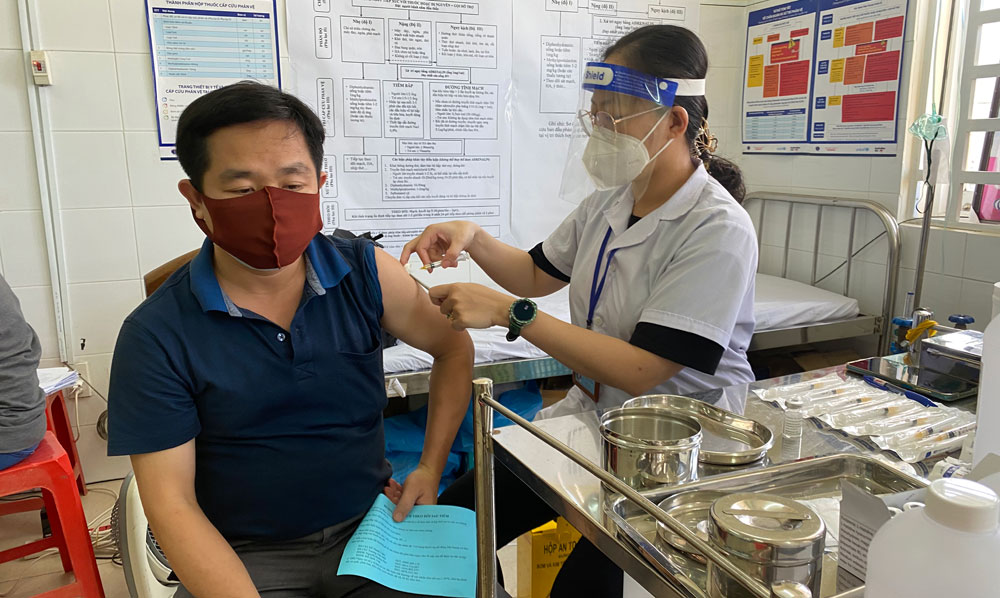 Those not vaccinated should immediately visit medical centers for vaccination against COVID-19
Tight surveillance of infection
In order to avoid overcrowding of people with COVID-19 at medical examination and treatment facilities and to improve the quality of caring and treatment as well comfortability for F0 to quickly recover, the province has deployed a network of health stations for monitoring F0 treatment at home. Statistics show that more than 11,400 patients are being treated in the province, but more than 8,600 are being treated at home. The records showed that some cases of F0 have been treated at home but did not strictly follow the regulations.
Dr. Nguyen Hong Chuong, Director of Department of Health, said that people who perform medical quarantine at home must strictly abide by the regulations on the time of medical quarantine at home; they should commit to local authorities not to leave the quarantine room during the quarantine and not to contact family members as well as other people, to always follow the "5K" message of Ministry of Health and other measures for COVID-19 prevention and control that not comply with the regulations should be severely dealt with.
Previously, to control F0 for quarantine and treatment at home, the provincial People's Committee asked localities in the province to implement guidelines for medical quarantine at home and accommodation for people. The organization must be closely monitored to regularly check and strictly handle organizations and individuals that violate the regulations on quarantine at home and accommodation. In case the quarantined person does not comply with the regulations, a transfer to concentrated isolation must be requested. Heads of local steering committees for COVID-19 prevention and control are responsible for managing F0 quarantined at home. In addition, the provincial People's Committee also requested wards, communes and towns to issue decisions to apply medical quarantine measures and issue certificates of completion of medical quarantine for F0 who have recovered from the disease and F1 who are quarantined at home.
Through the hotline, people have complained about self-testing and was found positive but could not contact the health station of wards, communes and towns for advice and distribution of COVID-19 treatment bags, the Department of Health requested the directors of health centers of districts, towns and cities to strengthen the dissemination, inspection and supervision of caring activities and management of F0 quarantined at home for wards and commune health stations, towns and mobile medical stations. All F0 cases are being quarantined at home and local quarantine facilities must be issued with a Covid-19 treatment bags within 24 hours of receipt. The COVID-19 treatment bag at home must have the correct ingredients according to the instructions of Department of Health to comply with the indications and dispense Mulnopiravir according to the instructions of Ministry of Health.
All medical stations in wards, communes, towns and mobile medical stations must be assigned a 24/7 hotline for F0 to consult and provide medical examination and treatment at home; to receive the F0 list, which is declared by moving places or people after self-testing and having positive results for SARS-CoV-2. Department of Health will set up inspection teams to take care of and manage F0 at home in the area, operate mobile medical stations in wards, communes and towns to record good models, replicate, and develop detect, correct and strictly sanction individuals who do not comply with regulations.
Responsibility of the people
In recent days, the number of F0 cases has tended to increase on average, recording more than 600 cases per day. According to the health sector's forecast, the epidemic situation in the area is still complicated, the province is gradually "new normal", opening activities, so the number of positive cases tends to increase. More than ever, each citizen is still a subject and a soldier participating in disease prevention and control. Dr. Nguyen Hong Chuong said that in the "new normal", people need to strictly follow epidemic prevention and control measures, adhere to the "5K" principle of the Ministry of Health, absolutely not be subjective, negligent, lethargic; to propagandize and mobilize relatives, family and people around to well implement regulations on COVID-19 prevention and control; to protect their own health, family, community and the society.
The "new normal" does not mean that it is absolutely safe, but on the contrary, when facing directly with the SARS-CoV-2 virus, each citizen must adapt flexibly to "live safely" with the new normal epidemic because the virus is still latent in society, infections continue to occur in the community. Vaccination is still one of the effective solutions to protect people's lives and health. However, people must not be subjective or lose vigilance when being vaccinated against Covid-19.
One of the central tasks of the province now is to soon return to normal life according to the plan of safe, flexible adaptation and effective COVID-19 control. Accordingly, the health sector is responsible for advising and performing well its functions and tasks to speed up the progress of COVID-19 vaccination, ignoring a number of unnecessary cumbersome procedures. Health experts say that the current vaccination process can be shortened to increase capacity and still ensure safety more quickly.
Reported by Kim Ha – Translated by Vi Bao