Consistent to the dual target for both economic development and effective disease prevention and control, the provincial health sector advocates strengthening measures to control infection in health facilities; in which, focusing on controlling, checking, and screening people in and out while diversifying and isolating suspected Covid-19 infection cases.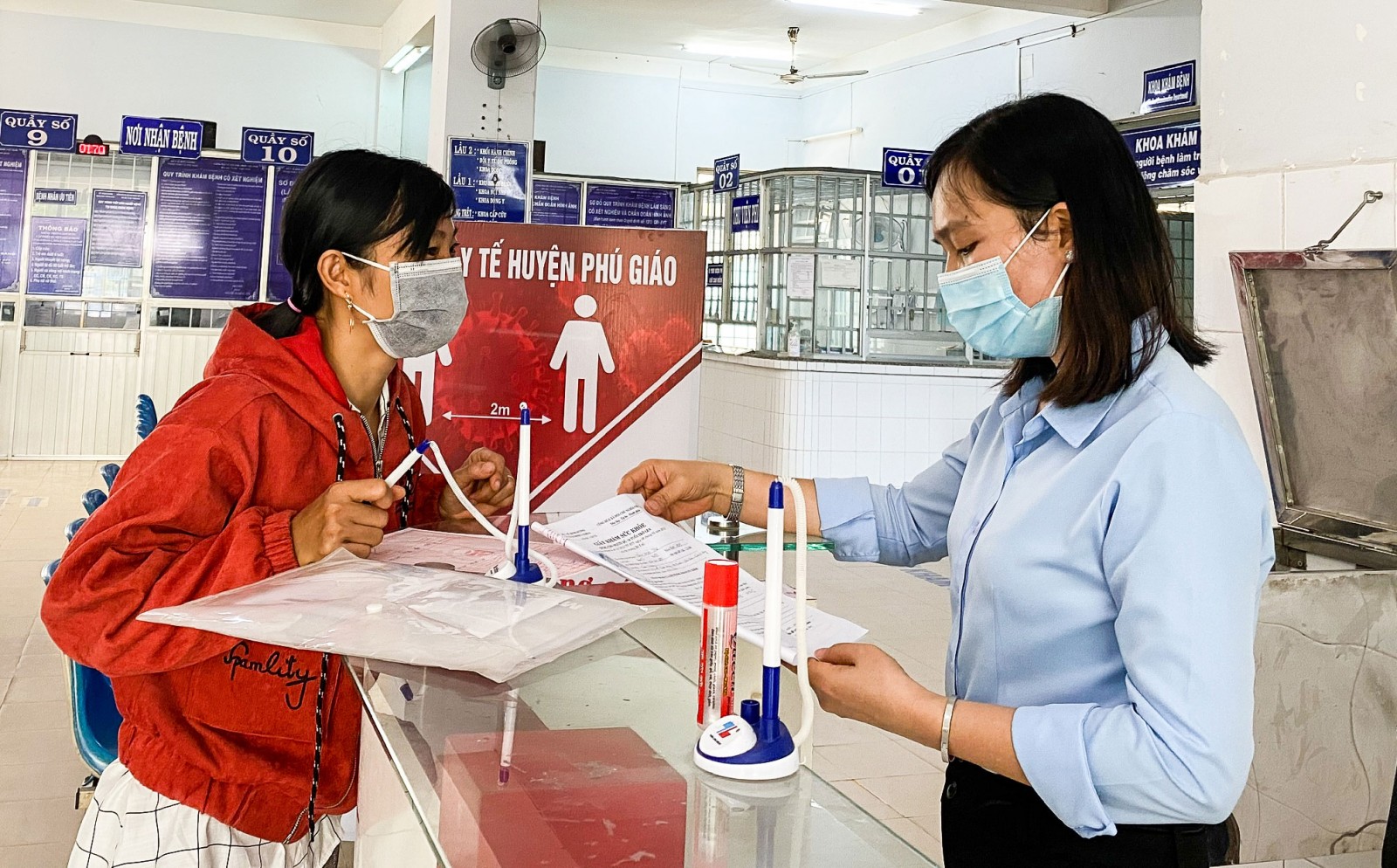 Binh Duong provincial medical facilities are promoting screening and medical declaration of visiting patients
To be proactive in epidemic prevention and control
Currently, the Covid-19 epidemic in the world is getting complicated. To ensure the safety of hospital criteria under the guidance of Ministry of Health, hospital leaders pay top attention to the assurance of such criteria. As reported, most hospitals have planned and fully prepared necessary means and materials for disease prevention and control including regular check and evaluation of the safety of Covid-19 prevention and control.
Specialist Doctor Huynh Thi Nguyet Phuong, Director of Medical Center of Thuan An city, said that now all the center's staff always uphold their sense of responsibility tostrictly follow the instructions and guidance on the implementation of measures to prevent and control Covid-19 epidemic. The unit also implements and evaluates the hospital criteria for the safety of Covid-19 disease prevention and control and acute respiratory infections extended by the Ministry of Health, based on that review of unsafe issues and potential dangers to prepare plan to overcome and promptly intervene solutions.
Binh Duong provincial health sector has just organized the inspection of medical facilities to organize screening of people entering and leaving by dividing and isolating suspected Covid-19 infection cases. By the examination, the facilities have implemented a number of activities in the prevention and control of Covid-19, establishing a steering committee for disease prevention and control and assigned responsibilities to each professional group. Basically, health facilities have plans to meet the level of epidemics and prepare material foundations, equipment, drugs, medical supplies, and protective equipment for disease prevention and controland develop patient reception procedures at the medical examination departments,set up a table to check body temperature and quickly disinfect hands at the hospital entrances.
However, a number of hospitals currently implementing activities of categorizing and screening patients for medical examination and treatment have not met the guidance of the Ministry of Health while the situation of not making medical declarations for patients remains. The signboard system is incomplete; the patient and the patient's family do not wear masks; the contact distance is not ensured; and the location of fast hand sanitizer is limited.
To enhance measures of infection control
Talking about infection control solutions in medical units in the province, Dr. Nguyen Hong Chuong, Director of Department of Health, said the department had asked private health facilities to seriously implement the instructions of Ministry of Health on screening and segmentation of patients to thoroughly control patients coming for medical examination and treatment; to exploit the epidemiological history of all patients; to screen all patients with signs of cough, fever, sore throat, shortness of breath; to arrange in private clinic of Covid-19 screening. When detecting a patient with the above signs, health workers directly take the patient along his / her own path to Covid-19 screening clinic; they absolutely must not do joint examination with other patients and record full information of the patient and immediately report to the local medical center.
In the event that establishments that receive notification of Covid-19 positive cases have come for medical examination and treatment, the sector will require such establishments to immediately stop medical examination and treatment and conduct disinfection spraying and implement disease prevention and control measures according to the regulations. For medical staff and employees in direct contact with a Covid-19 positive patient, they must stay in place, do not stay in contact with other people; people in close contact with patients of Covid-19 must separate themselves at home in accordance with the regulations. Medical centers of districts, towns and cities, upon receiving notification from private medical establishments, must immediately assign staff or direct medical stations to send staff to directly deliver and guide the patients to temporarily stay at home. Health workers are responsible for contacting the local authorities and community Covid-19 team to hand over and strictly manage patients.
Dr. Chuong added that in order to be more strict, the district, town and city health centers have instructed private health facilities to comply with the direction of Ministry of Health; to strengthen supervision and inspection of the implementation of the prevention and control of Covid-19; to advise to suspend the operation of unsafe private medical establishments and violate regulations on disease prevention and control.
Reported by Kim Ha – Translated by Vi Bao