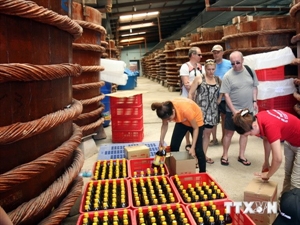 Foreigners visit a fish sauce producing establishment in An Thoi township
Phu Quoc island district, the Mekong Delta province of Kien Giang, on July 14 kicked off a festival to promote its fish sauce specialty.
The event is part of a communication week of Phu Quoc fish sauce from July 15 – 22 held by the provincial Department of Science and Technology, the Phu Quoc Fish Sauce Association, and the Ministry of Industry and Trade .
It is attracting a large number of fish sauce producers and sellers as this is a platform for them to further publicise economic and cultural values as well as the making of their hometown specialty.
Phu Quoc, the biggest island of Kien Giang, has long been well known for its fish sauce. The manufacturing of the product has a history of more than 200 years.
The island currently has 80 fish sauce processing businesses which provide about 20 million litres per year.
In August 2013, Phu Quoc fish sauce was granted the Protected Designation of Origin certificate by the European Union, becoming the first product of Vietnam to get the status.
The country exports 800,000 litres of Phu Quoc fish sauce to the EU each year, while its total annual export volume is about 1.5 million litres.
VNA