It is the largest island in the country at 590,000sq.km, almost the same size as the city-state Singapore, and is known for white-sand beaches and resorts, mostly located along its palm-lined southwestern coast.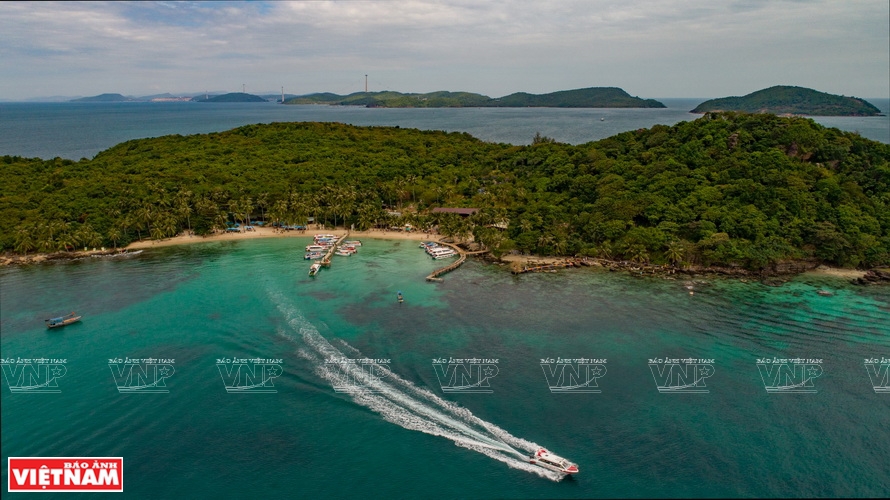 Phu Quoc is truly a tourism paradise
The Phu Quoc National Park, with mountains, dense tropical jungle, hiking trails and wildlife, covers more than half of the island.
Apart from the natural beauty, tourists are also attracted by the island's luxury resorts, golf courses, animal safari, and casinos.
The island is geographically close to other parts of Southeast Asia and near several international freight routes, and can be reached in less than two hours by air from major cities in the region.
The island has worked to facilitate economic development, and called strategic investors such as VinGroup, SunGroup, BIMgroup and CEOgroup, among others.
Chairman of the city People's Committee Huynh Quang Hung said that investors have registered some 16 billion USD in 328 projects in the city, stressing tourism projects have cast a new look to the "pearl" island.
The city has focus resources to develop socio-economic infrastructure, several of works were completed and put into completion such as An Thoi international port, Duong Dong port and south-north highway.
According to Secretary of the island city's Party Committee Tong Phuoc Truong, Phu Quoc envisages to become a high-end tourism and service hub, as well as a sci-tech centre of the nation and region.
The island city is working towards sustainable development in tandem with historical and cultural preservation, and national security protection, he added./.
VNA