Facing with the fact that Ho Chi Minh city has recorded 3 cases of Omicron coronavirus variant in the community related to immigrants, Binh Duong has quickly activated response plans. Currently, localities are monitoring and managing imported cases in the province, coordinating with units to proactively take samples and send them to the Pasteur Institute in Ho Chi Minh city for testing and gene sequencing.
Rechecking and controlling over entries
Early January 20, localities in the province stepped up the review of cases entering Binh Duong, especially on 2 flights VN5409 and VN1345 related to Omicron mutant infections. As of now, the province's medical surveillance system has not recorded any cases related to the flight VN5409 from Korea to Cam Ranh International Airport on January 7. However, the local health system has still strengthened supervision, actively contacted relevant sectors to review the list and investigate cases related to the two flights. Provincial Center for Disease Control has cooperated with the health centers of districts, towns and cities to send the samples of imported cases to the Pasteur Institute in Ho Chi Minh city for testing and gene sequencing.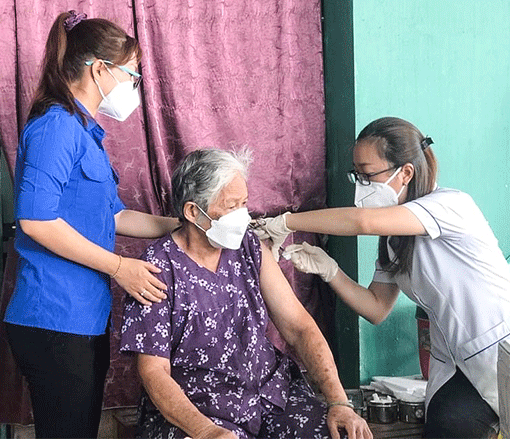 An oldie in TDM city gets a Covid-19 vaccine shot at home
Pham Van Bay, Vice-Chairman of Di An city's People's Committee said: "The city's Steering Committee for Covid-19 prevention and control has requested sectors and localities to be vigilant and take timely measures to detect suspected cases of Covid-19 related to imported people. The city has called for people and business community to join hands in contributing, upholding the sense of responsibility in Covid-19 prevention and control; unanimously support the local policies and measures on pandemic prevention and control; regularly remind their relatives to strictly abide by regulations on pandemic prevention and control".
The province is welcoming foreign experts for working. According to statistics, the whole province has so far received 4,385 foreign experts via Tan Son Nhat airport in HCM city and Moc Bai border gate in Tay Ninh province. In order to ensure the health and safety for people's lives, but not to disrupt economy, provincial Department of Health, along with other departments, sectors and localities has continued implementing Covid-19 prevention and control measures under the direction of the Ministry of Health.
Provincial Department of Foreign Affairs, Department of Labor - Invalids and Social Affairs, Police Agency, Industrial Parks' Management Board have advised provincial People's Committee to decide experts who will be allowed to work for agencies and organizations to send the list of these experts to the Immigration Department under the Ministry of Public Security for consideration and settlement. The health sector is responsible for assisting enterprises to ensure strict medical supervision, creating conditions for experts to strictly comply with the Government's requirements for isolation. This will contribute to ensuring the health of experts while helping enterprises effectively use human resources to promote production and business activities.
Response plans activated
Talking to reporters, Dr. Nguyen Hong Chuong, Director of provincial Department of Health said: "Currently, the province's health sector has determined to organize comprehensive treatment, stratify treatment, minimize severe cases and deaths, which is seen as the top priority. The local medical examination and treatment facilities need to perform classification, medical declaration, body temperature check while medical staff, departments with high risk need to be vigilant, strictly implement procedures for screening and classifying patients to prevent the risk of infection at medical facilities. Due to the unstable rate of severe Covid-19 patients and deaths, provincial Department of Health has directed medical facilities to strengthen their treatment system for Covid-19 patients…".
Dr. Nguyen Hong Chuong added that the department has required localities to set up a coordination group to grasp the situation of the pandemic, hospital beds, human resources, medical supplies... to overcome shortages and overloads in each medical facility. Localities need to build a typical model for community healthcare, counseling in terms of psychological, nutrition, and physical training for Covid-19 patients under home treatment; strengthen inspection, supervision and management of F0 cases in the community. In addition, the sector has accelerated the progress of vaccination against Covid-19 for subjects, striving to complete the coverage of the 3rd dose vaccine in January 2022 so that people can enjoy a warm Tet. Provincial Department of Health has assigned provincial Center for Disease Control to strengthen key surveillance, proactively send the samples of suspected cases with the Omicron variant to the Pasteur Institute in Ho Chi Minh City for testing and genetic sequencing; promptly isolate and thoroughly handle the outbreak of Covid-19, preventing its spread in the community.
To implement measures against Omicron variant, ensuring the successful implementation of the "dual goals", Nguyen Loc Ha, member of provincial Party Standing Committee, Vice-Chairman of provincial People's Committee said: "Provincial People's Committee has directed the health sector and the People's Committees of localities, especially at communal level, agencies and enterprises... to continue rechecking and perfecting scenarios and plans to be ready to cope with the situations of Covid-19 pandemic, especially its new strain Omicron under the "3-first, 4 on-site" motto. Sectors and localities have set up specific plans, continued improving the capacity of the healthcare system, ensuring adequate drugs, medical supplies and equipment, and having plans to mobilize and supplement health workers if necessary; continued upholding the role of the medical stations, mobile medical stations, and community-based Covid-19 groups.
Binh Duong is focusing on the main pillars of making testing, vaccination, treatment, and raising people's awareness. Under a point of view that healthcare must reach the whole people early, provincial Department of Health has directed medical units to actively set up scenarios, strengthen inspection over pandemic prevention and control at hospitals, production and business establishments, markets, supermarkets, bus stations..., ensuring safety for pandemic prevention and control in industrial parks and residential areas.
Reported by Hoang Linh-Translated by Kim Tin