Vietnamese President Nguyen Xuan Phuc spoke highly of the World Health Organisation (WHO)'s coordinating role in addressing global health issues during a meeting with Director-General Tedros Adhanom Ghegreyesus at WHO Headquarters in Geneva, Switzerland, on November 28.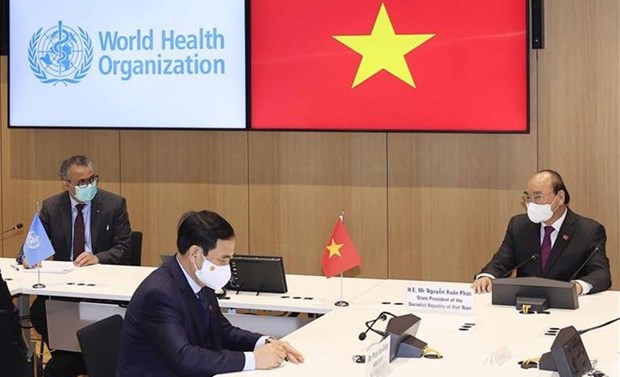 President Nguyen Xuan Phuc (right) has a meeting with WHO Director-General Tedros Adhanom Ghegreyesus (left) at WHO Headquarters in Geneva, Switzerland, on November 28
The meeting also saw the presence of Seth Berkley, CEO of the Vaccine Alliance (GAVI), and Aurélia Nguyen, Managing Director of the COVAX Facility.
President Phuc said WHO has set healthcare standards and guidelines and provided technical support for countries in responding to public health emergencies and building capacity in coping with pandemics.
The President voiced his support for the COVAX Facility and its operators, including WHO and GAVI, in promoting equitable and timely access to COVID-19 vaccines globally. He also took the occasion to announce that Vietnam will contribute an additional 500,000 USD to the COVAX Facility, raising its total voluntary donation to the vaccine-sharing scheme to 1 million USD.
He proposed WHO, GAVI and COVAX Facility to help Vietnam enhance the capacity of its healthcare system and immunization while seeking their support for Vietnam to become a hub for m-RNA vaccine technology transfer and a vaccine production base for the Western Pacific region.
The Vietnamese leader also expected WHO to offer technical assistance for Vietnam's home-grown COVID-19 vaccine Nano Covax to join its global clinical trial programme./.
VNA