President Vo Van Thuong had a meeting with nearly 400 former officials of the Ho Chi Minh Communist Youth Union (HCMYU) in different periods in Hanoi on March 25 on the occasion of the 92nd founding anniversary of the union (March 26).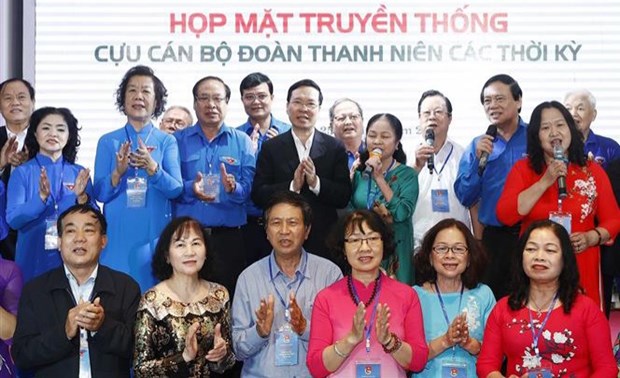 President Vo Van Thuong and delegates at the meeting
The former officials recalled the inspiring memories of their youth and their engagement in the HCMYU activities, and gave ideas for the union to further develop and become more effective.
Addressing the meeting, President Thuong expressed his delight that the former HCMYU officials, despite their advanced age, are still interested in the youth affairs and actively contribute to the union's work, inspiring the spirit of dedication, construction and protection of the Fatherland.
He lauded the efforts of the union's liaison board to conduct activities to connect former officials and educate the youth on the revolutionary tradition, inspiring them to devote themselves to the nation.
The State leader thanked generations of HCMYU officials for always supporting the President at any position.
On the occasion of the 92nd founding anniversary of the union, President Thuong extended greetings to all members of the union and youngsters across the nation, expressing his hope that they will sharpen their political mettle, deserving the trustworthy reserve force of the Parry.
The union is a communist school for all youngsters, and the place to nurture and inspire Vietnamese youth to study and practice to become good officials of the Party and State, he said./.
VNA