President of Malta George Vella highly valued Vietnam's growing stature in the region and the world, while receiving Vietnamese Ambassador to Italy and Malta Duong Hai Hung who recently came to present his credentials in Valletta capital.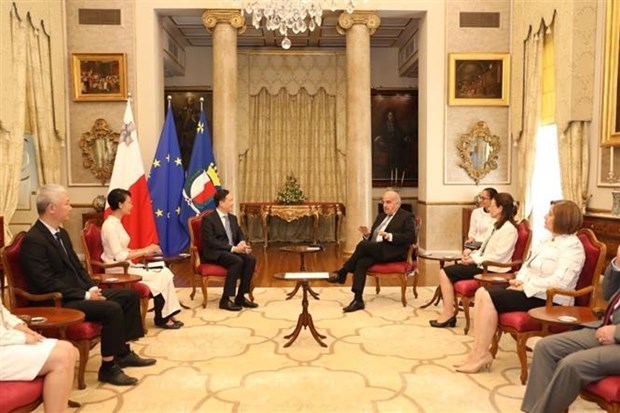 The meeting between President of Malta George Vella (right) and Vietnamese Ambassador Duong Hai Hung in Valletta capital
Expressing his honour to serve as the Ambassador of Vietnam to Malta, Hung congratulated the European country on its socio-economic development achievements, post-pandemic recovery, increasing role in regional and international issues, and recent election as a non-permanent member of the UN Security Council for 2023 - 2024.
He pledged all-out efforts to fulfill duties so as to help promote the two countries' cooperation on the basis of the sound friendship over the last nearly 50 years.
President Vella spoke highly of Vietnam's development attainments, economic potential, and growing role and standing in the region and at multilateral forums, as well as the great strides seen in the Vietnam - EU partnership.
He recommended Vietnam and Malta capitalise on existing advantages such as the traditional friendship, the two economies' dynamism, and the cooperation frameworks that have taken effect or are being completed so as to promote effective cooperation in potential spheres like trade, investment, labour and tourism, along with priority areas, including navigation security, climate change, technology, and innovation, on both bilateral and multilateral aspects.
The host leader also affirmed that authorities in Malta will support and assist the ambassador to fulfill his duties./.
VNA