Although being heavily affected by Covid-19 pandemic, province-based industrial parks (IPs) have still attracted a large number of enterprises to invest, expand factories, maintain a chain of production, business and supply activities. The province has continued attracting FDI projects, especially given priority to ones with advanced and clean technologies... into industrial parks for sustainable development.
Well-prepared infrastructure
Even during the Covid-19 pandemic period, FDI inflows have still poured into Binh Duong. This is a positive sign, showing that Binh Duong is still an attractive destination for foreign investors. The province is trying to remove bottlenecks in transport infrastructure, logistics and the quality of human resources. In addition, the province is focusing on implementing the right roadmap to build a smart city with key development orientations such as attracting domestic and foreign investment in high-tech, high-value-added industries that are less labor-intensive and environmentally friendly.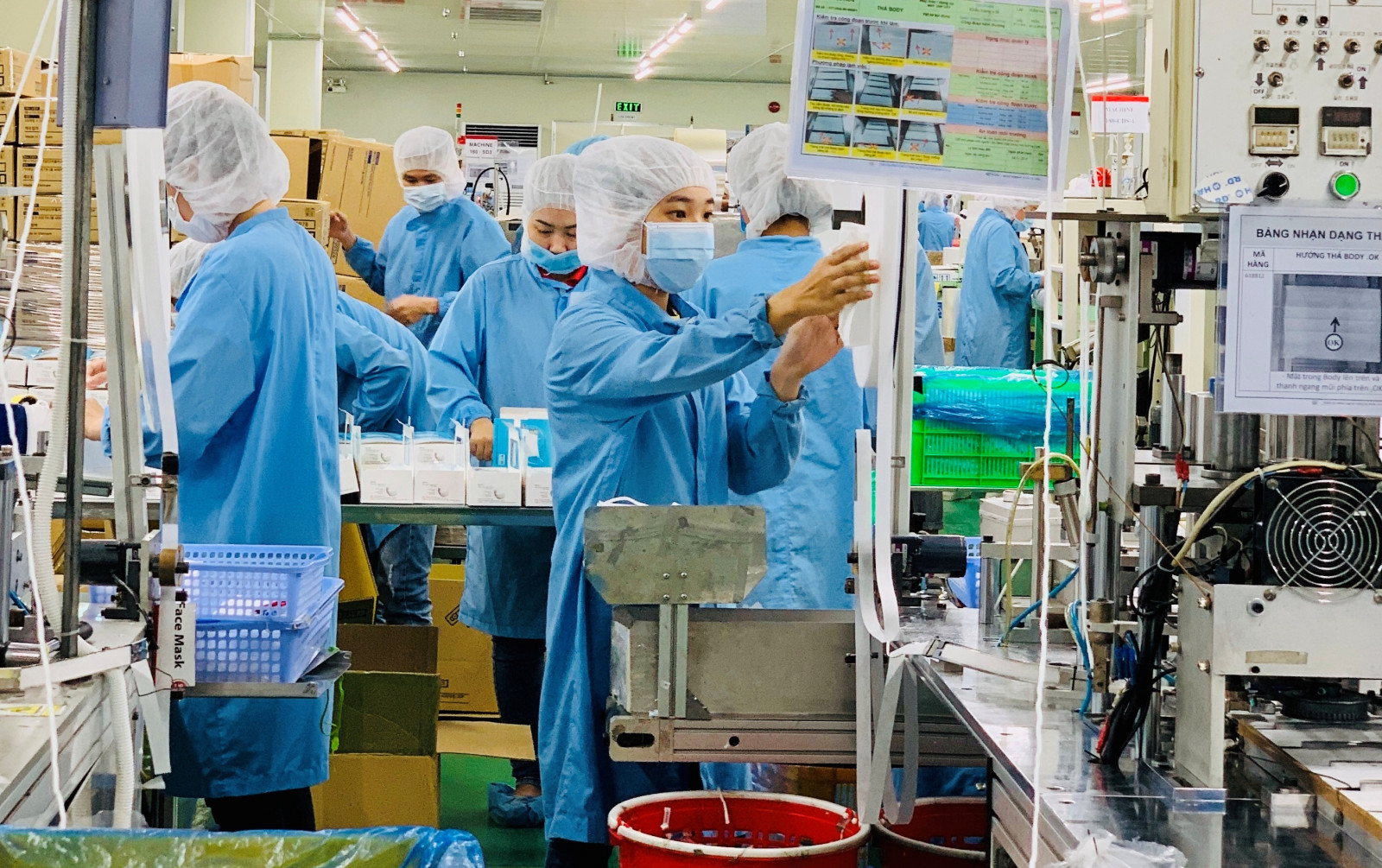 Binh Duong is creating all favorable conditions in terms of infrastructure, with many support mechanisms to attract more foreign investors. In picture: Production activities at NTI Vina Co., Ltd in VSIP II
In the first 10 months of 2021, Binh Duong attracted 59 new FDI projects, 23 capital-increasing projects and 155 investment projects of capital contribution and share purchase with a total registered capital of more than US$1.92 billion. As of October 31, the whole province lured 4,008 investment projects from 65 countries and territories with a total registered capital of US$ 37 billion, ranking second nationwide in FDI attraction only after Ho Chi Minh city.
Mai Hung Dung, member of provincial Party Standing Committee, Pernament Vice-Chairman of provincial People's Committee said that the results of FDI attraction in 2021, especially during the peak months of the pandemic have continued affirming that Binh Duong is still a safe destination for investors. Currently, Binh Duong's favorable premise is to controll the pandemic well, bringing more opportunities to welcome a new wave of investment. The province is further accelerating the progress of investment in perfecting the local Ips'infrastructure facilities in a synchronous and modern direction while researching policies on building social facilities, houses for workers, attracting and training high-quality human resources to serve the local IPs.
Many enterprises have invested in the development of factories and warehouses in order to further welcome FDI inflows. For example, Becamex IDC and its partners have fully prepared infrastructure in 5 IPs, namely My Phuoc 1, 2, 3, Thoi Hoa, Bau Bang...Along with early exceeding its FDI attraction plan plus cooperation with global brands such as Warburg Pincus, Sembcorp..., Binh Duong is becoming an attractive destination for investors. Becamex IDC has also cooperated with enterprises and organizations in South Korea, the Netherlands and Singapore to form up a sci-tech IP and a 4.0 smart production center in Binh Duong, opening up an innovative ecosystem, attacting global corporations and enterprises.
Sharing at the recent Korean investment promotion conference, Pham Ngoc Thuan, General Director of Becamex IDC said that in order to welcome the inflow of quality foreign investment, Binh Duong will aim at creating new added values, focusing on training to improve the quality of human resources, supplementing high-class service programs, boosting supply chains, logistics, infrastructure facilities, and developing diversified transportation.
Creating favorable conditions for investors
As one of Vietnam's first localities with industrial development, Binh Duong is still a sought-after destination for newly established manufacturers, thanks to having a solid foundation, including a synchronous infrastructure system and administrative procedures that are well established to support the operation of enterprises.
According to provincial Industrial Parks' Management Board, up to now, the province has established 29 Ips with a total area of ​​12,663 hectares. Among them, 27 have been put into operation with a total area of ​​nearly 10,963 hectares. The Ips have leased land with a total area of ​​6,695 ha, tenancy rate of 88.13%. There are 2 Ips, namely VSIP III and Cay Truong, under infrastructure investment procedures, with a total area of ​​1,700 hectares. Many Ips have become trademarks, helping Binh Duong attract many large-scale enterprises and multinational corporations. Investors of the local Ips and secondary investors have built infrastructure facilities with a total capital of more than VND 19.12 trillion.
Bui Minh Tri, Head of provincial Industrial Parks'Management Board said that province-based Ips' current land fund has reached a fairly high tenancy rate. In the coming time, attracting investment projects into Ips in province will have a positive change, be more selective in a specialized, ecological, intelligent direction and will create a new attraction. The local existing IPs and new ones need solutions to improve their competitiveness and attractiveness to take advantage of the growing demand. Creating all favorable conditions with many support mechanisms will absorb more investors. Binh Duong is oriented to attract scientific and technical industries, bringing high surplus value. The sci-tech IP that the province orients to develop in the project "Smart city" is to serve the above orientation.
Eliseo Barcas, General Director of Tetra Pak in VSIP II said that Binh Duong has a good planning vision when the local infrastructure facilities are continuously built and improved with orientation connecting with the Southern Key Economic Zone through the national highway 13, My Phuoc - Tan Van expressway... Most IPs in the province are planned, oriented for modern, high-quality construction. Especially, the local government has strongly pledged in accompanying investors and enterprises.
Mai Hung Dung, member of provincial Party Standing Committee, Pernament Vice-Chairman of provincial People's Committee: Binh Duong has a favorable position in the Southern key economic zone with synchronous and convenient infrastructure for goods circulation. Currently, province-based IPs are aiming at attracting in-depth investment for sustainable development. In the coming time, the province will give priority to enterprises with modern production technologies and high added values; increase export capacity, generate foreign currency revenue; restrict projects that are likely to cause environmental pollution, contributing to promoting the local socio-economic development towards industrialization, modernization and urbanization.
Reported by Ngoc Thanh-Translated by Kim Tin