Private label products with low prices of domestic retailers not only help consumers have more choices but also serve in a channel for effective consumption.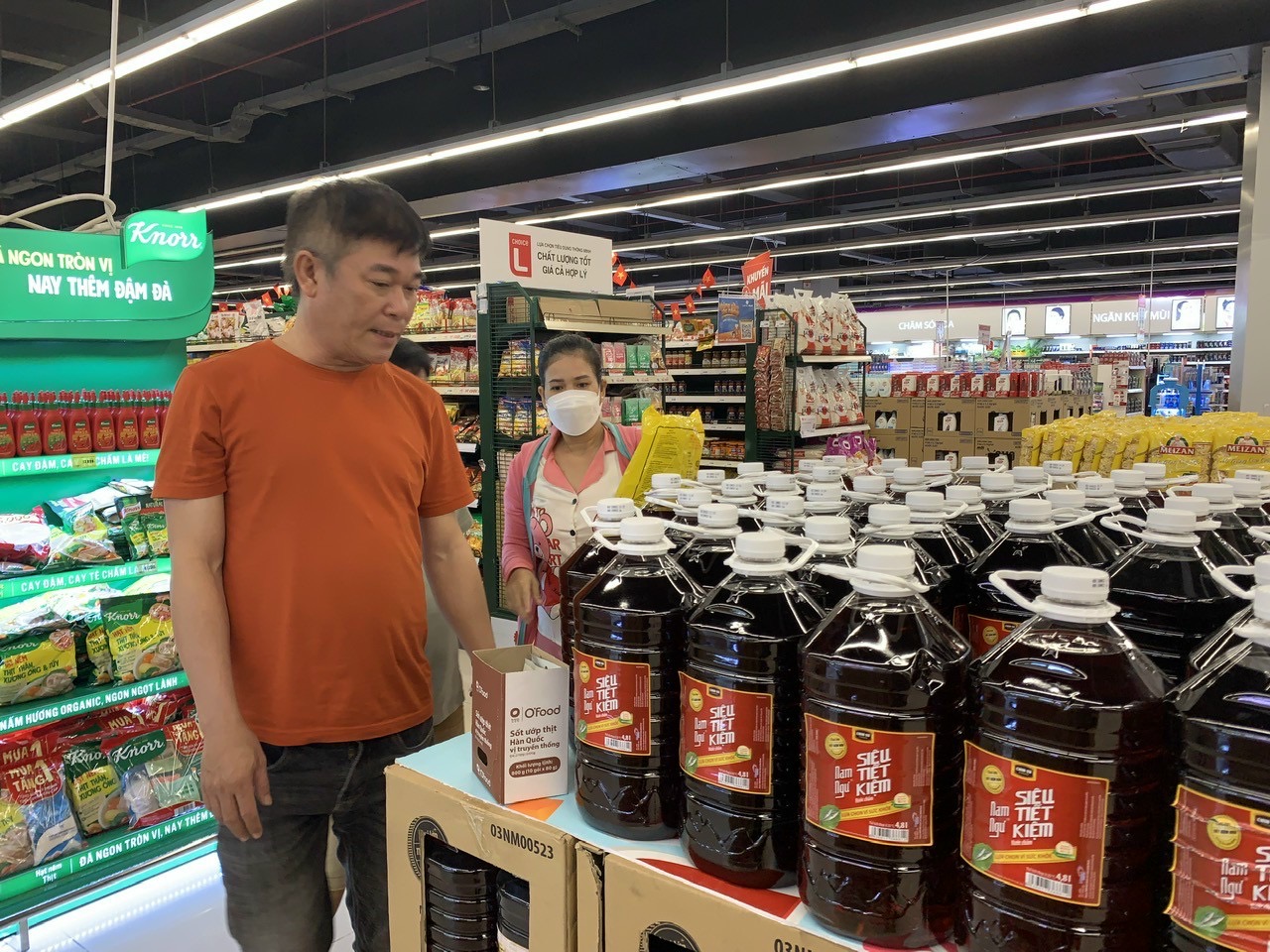 Private labels always receive the attention of many consumers. In the photo: Customers go shopping at Lotte Mart Binh Duong
The win-win benefits
In fact, consumers are more and more careful in shopping by paying attention to the labels, packaging, and quality of the products they choose to buy. Ms. Nguyen Ngoc Huong Kieu of Tuong Binh Hiep ward in Thu Dau Mot city, said that on shopping, she often chooses to buy private labels of supermarkets, especially detergent products, cosmetics, dishwashing liquid etc. whose brands offer cheap price and good quality within frequent separate extra offers, so they are more profitable in spending.
Ms. Vu Thi Xay of Di An ward in Di An city, said: "I just bought dishwashing liquid and toilet paper of private label of BigC at much cheaper prices than the similar products. Other market leading brand products are still popular, but now they have to reduce spending by choosing affordable ones, which is the common psychology of many consumers. Private label products are still unfamiliar as their appearances are not really attractive, and the low price makes customers doubt of the quality; however, after using those, they may experience the same.
It can be seen that private labels of retailers on the market are offered at low prices and no longer strange to customers. According to the general explanation from the management of supermarkets in the area, consumers really benefit from private brands because the prices offered are very affordable. By a private label, the retailer does not have to spend any advertising costs to introduce only in billboards and posters right at the supermarket, reducing the cost of intermediaries, manpower, equipment to announce product discounts at competitive prices to consumers.
Attraction of customers
At supermarkets in the province, private labels are present in almost every product category which is continuously enhanced to meet the increasingly diverse needs of consumers. Since 2020, retail sales have been severely affected by the COVID-19 epidemic, but the private label group alone still has good growth. For example, during the outbreak of the COVID-19 epidemic in 2021, the market sometimes fluctuates in prices of masks, so it was difficult for people to buy the qualified masks. Co.opmart has then promptly supplied antibacterial cloth masks to the market along with gels and hand sanitizers of a private label of the supermarket and a continual discount offering program. This has contributed to reducing the prices of masks in the area, reinforcing consumer confidence in product quality.
Ms. Nguyen Thi Hong Khanh, Director of Co.opmart Binh Duong 2, said that private labels make a difference among retailers and increase competition with similar products in the market. At the supplying stage, supermarkets order manufacturers to make their own branded products for sale with commitment and strict quality control. In addition to price incentives, supermarkets also proactively source goods, investigate consumer trends, customer tastes and clearly tell which items to invest in to attract the attention.
At Binh Duong MM Mega, private brands have a certain number of shoppers. The supermarket also has its own brand of stationery, garment products, etc. Supermarkets and convenience stores operated by Vingroup also deal in a wide range of private label products including vegetables and food, and household items although the proportions have not been published. As for BigC brand, the private label has also attracted customers as the supermarket's consumption is gradually increasing. "The supermarket is keeping on to research and understand the needs of customers in order to bring to the market products with its own characteristics, improved quality and suitable prices for all audiences in order to continuously attract customers, and increase market share in the market," said Mr. Nguyen Huu Chi - Director of Di An BigC.
It can be seen that private label development has become one of the strategies of retailers because of its competitive advantages; most of the product groups have good growth. For manufacturers, when making a private label, they might compete with their own available products. Therefore, they are forced to innovate designs and packaging, to build brands and improve quality to compete with retailers' branded products. The healthy competition will surely promote production development, creating better products to supply to consumers.
Reported by Thanh Hong – Translated by Vi Bao