At the end of the year when the world situation has been in great difficulties, affecting production and business operations, many businesses in the province are still trying their best to operate, maintain jobs, and ensure income for their workers.
Take care of employees
Furniture enterprises eyed the first half of 2022 at growth rate of about 30-50% over the same period; however, in the second half of the year, purchase orders have decreased by 50% as the market is facing many obstacles. To ensure operations and maintain jobs for workers, businesses are forced to change and seek orders from niche markets in Korea, Japan, Southeast Asia and elsewhere.
At the same time, products are diversified according to market requirements as enterprises choose to reduce working hours and relax but still keep the workforce stable. Not only do they fully exploit niche markets, businesses also seek for short-term opportunities in the domestic market despite troubling marketing and distribution, all for the purpose of maintaining production and ensuring that employees enjoy the upcoming Tet holiday.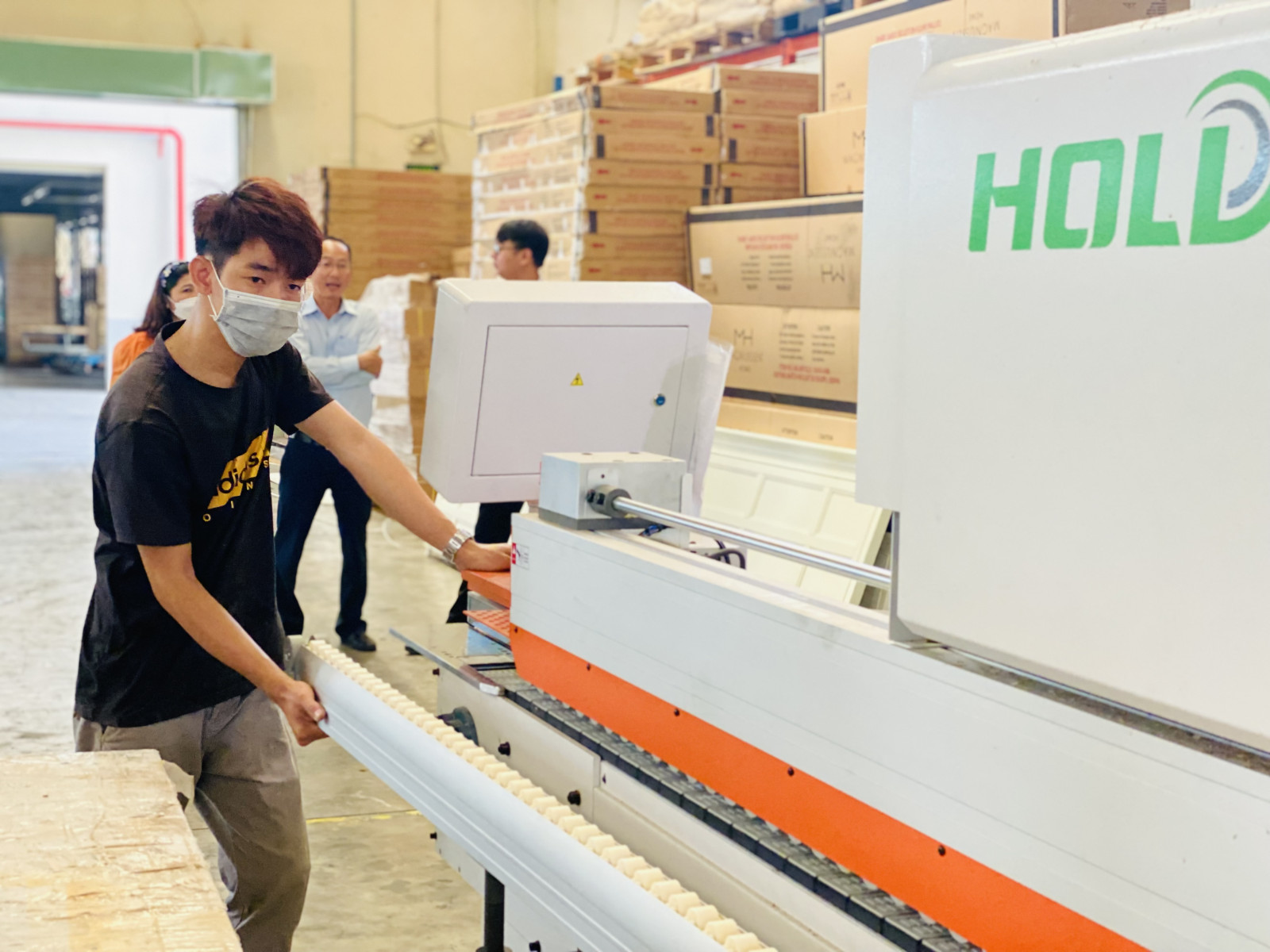 Production operations are on going at Dong Tay Group Co. Ltd. in Tan Uyen town
Nguyen Thoi Hoa Binh - Director of Dong Tay Group Co. Ltd. in Tan Uyen town, said: "Despite facing many problems, our company still tries to ensure basic salary for employees. Tet bonus is also being budgeted by the company in order to properly fulfill the employer's responsibilities to the workers. We also try to find the domestic market, specifically looking for partners who are constructing apartments and buildings to supply furniture. Our only goal right now is to maintain production and take care of workers."
Binh Duong Branch of Nhat Nam Construction Mechanical Plywood Company Limited in Ben Cat town is also making efforts to take care of 130 workers. Talking to us, Nguyen Minh Nhat, the company's director, affirmed: "We do all that we can to maintain production and ensure the lives of our long-term employees. The company does not ask about profit right now. The only purpose is for workers to have a happy Tet of fullness. We have tried our best to connect with domestic and foreign markets, accepting even the smallest purchase orders, as long as workers have jobs and stable salaries." Leaders of a number of textile enterprises in the province said that in the context of declining purchase orders, businesses are trying their best to retain workers. Some units that are producing garments have to accept to make bags and distribute to supermarkets in order to retain jobs for workers.
Although labor productivity is very low, businesses want to retain employees and pend for the opportunity to recover. Currently, the textile and garment industry is in the process of connecting the markets of countries in the Middle East - an expected factor to boost exports in the near future.
Understanding and sharing
In common difficulties, leaders of businesses and industrial associations expect ministries and branches to continue implementing policies on social insurance tax exemption and reduction during the long Tet holiday. At the same time, businesses are helped to borrow with preferential interest rates to reward their workers during Tet as inspection is lower to reduce pressure on businesses.
Trinh Thi Hong Chau - Director of Kim Chung Mechanical Company in Tan Uyen town, said that the company currently has a lot of purchase orders but the capital resources are low. "The payment progress is slower, the banks do not disburse to lend leaving us in a pile of hardship. However, in such context, workers understand and make great efforts to complete the purchase orders ahead of schedule. That is really a great encouragement for businesses to rest assured to maintain production," said Nguyen Van Phuong, a worker at a wood company in Tan Uyen town on affirming that employees understand the difficulties of the business.
Many enterprises have planned for workers to take the Lunar New Year break earlier and longer than every year in line with actual conditions. The good news is that businesses are trying to maintain beneficiary policies for employees.
Reported by Tieu My – Cam Tu – Translated by Vi Bao