At the beginning of 2023, great difficulties and challenges remain before enterprises in industrial parks which are trying their best to overcome and adapt to the new situation, contributing to the implementation and completion of socio-economic development tasks and plans in 2023, and creating momentum for development in the following years. Currently, businesses and investors in industrial parks are trying to overcome challenges, find opportunities and come up with breakthrough solutions.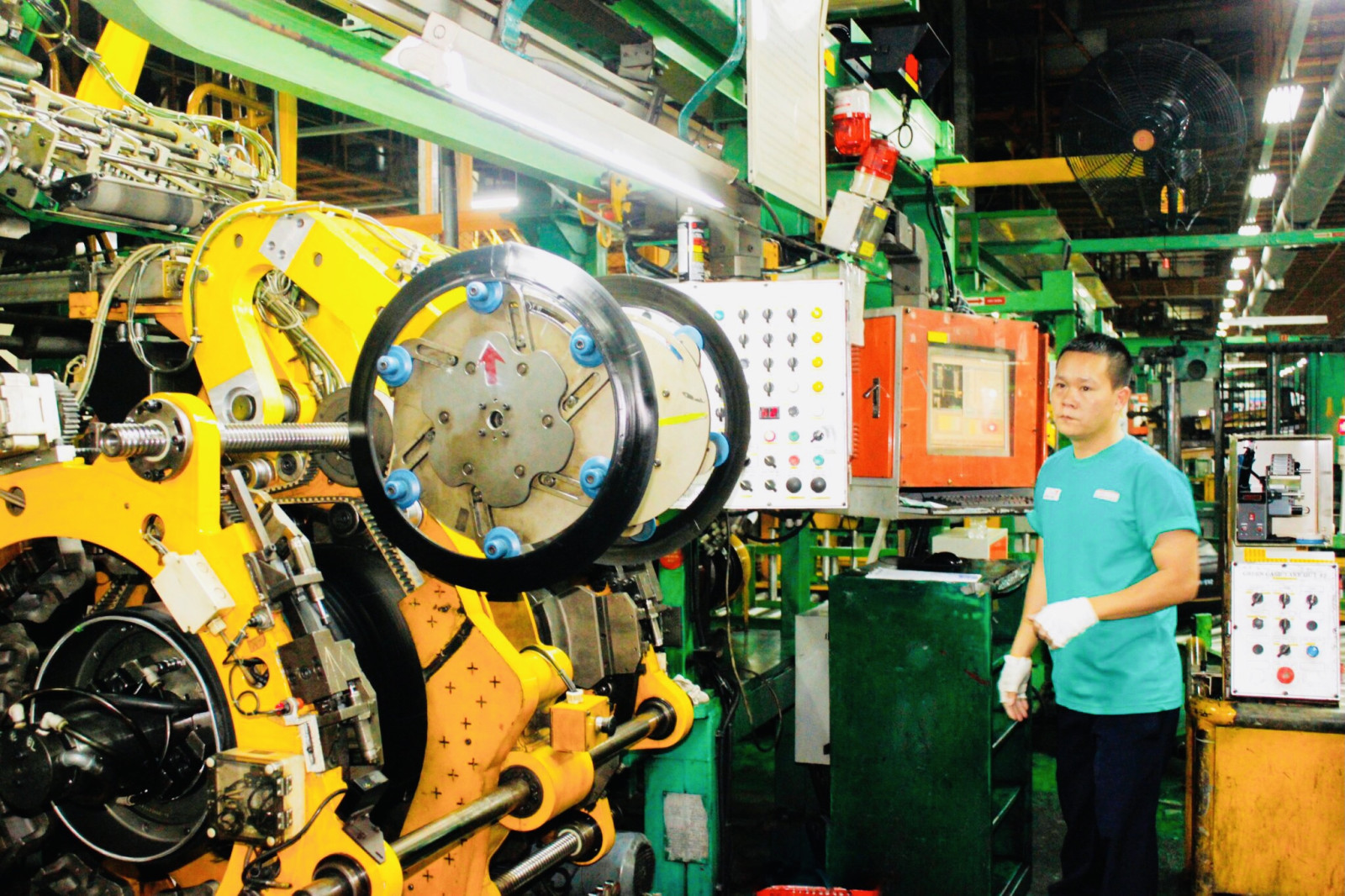 Production activities at Kumho Vietnam Tire Co. Ltd. in My Phuoc 3 industrial park
Production pace maintained
Right after the Lunar New Year holiday, workers at enterprises in industrial parks have returned to work stably. Many companies also held meetings at the beginning of the year to give gifts to all employees, encouraged morale, and created an exciting atmosphere to start production according to new orders.
Ho Huynh Thanh Thao - Deputy CEO of DADL Co. Ltd. in VSIP Industrial Park 2, shared that thanks to understanding the situation and encouraging workers' morale before Tet, the company was more proactive in solving problems of shortage of human resources, reasonable production planning to minimize interruptions in the production lines. To stabilize production and business, what the Board of Directors was most concerned about was to ensure the safety of their employees by not only bringing peace of mind but also helping the company complete the plan set out in 2023.
According to Binh Duong provincial Management Board of Industrial Parks, in 2022, the COVID-19 epidemic has been controlled, but high inflation in many markets has caused consumers to tighten their spending. The trend of increasing interest rates, narrowing monetary and fiscal policies in many countries has also affected the activities of enterprises in industrial parks. However, enterprises in the provincial industrial parks have made great efforts to overcome and quickly consolidate their organizations with more human resources, and restart some production lines. In particular, many businesses have expanded their consumption markets, seeking more orders in many different countries. Along with that, the FDI sector continues to invest in new and more modern machinery lines to expand production and business factories for more productivity.
Proactive in the new situations
In order to continue to develop more and more sustainable industrial parks, the provincial industrial parks are taking the initiatives in all solutions to attract increasingly quality and effective investment capital resources. The province is also preparing well conditions such as clean land fund, proactively planned industrial parks, technology ecosystems, human resource training, social housing to provide adequate and timely labor resources for businesses investing in the province.
With a plan to be a clean and green ecosystem attracting investment capital in selective production, Bau Bang industrial park and its expanded section have attracted many new projects in 2022 with hundreds of millions of US dollars such as Giant Manufacturing Vietnam Co. Ltd. manufacturing non-motorized bicycles with an investment capital of USD 60 million, industrial development project of BW Bau Bang 5 with a total capital of USD 109 million, BW Bau Bang 6 industrial development project with USD 129 million, Factory 2 project of Paihong Vietnam Co. Ltd. (Samoa) aiming to produce all kinds of fabrics (not dyed or washed) with an investment capital of USD 35 million among others.
Kim Hyun Ho - General Director of Kumho Tire Vietnam Co. Ltd., said that in order to complete the plan in 2023 and in addition to maintaining production shifts, the company has continued to expand production and needs to recruit 400 more. Faced with the increasing demand of tire products, Kumho Tire Vietnam Co. Ltd. constantly increases production development, invests in expanding production lines and factories. According to the 2023 plan, the company increases production output to 36,000 tires per day.
Assessing the prospect of the first quarter of 2023, many businesses also believe that the production and business situation is more stable. Among foreign-invested enterprises operating in the province, more than 67.4% forecast the situation in the first quarter of 2023 to be stable and better than that of the fourth quarter of 2022. Besides, 17.1% forecast the number of orders in the first quarter of 2023 to be higher than that of the fourth quarter of 2022. For the number of new export orders, 16.5% said that the first quarter of 2023 was higher than the fourth quarter of 2022 and 33.2% expected to be stable.
Nguyen Trung Tin - Head of the Provincial Management Board of Industrial Parks, said that with many positive and effective solutions in accompanying businesses of the province during the past time, businesses in general and in industrial parks of the province in particular still retains the rhythm of production and business operations, creating added value of products, and contributing to the overall growth of the industrial parks in the province continue to synchronously deploy solutions for socio-economic recovery and development to support businesses and turn industrial production into a growth engine, contributing to the completion of the targets for the year 2023.
In the growth scenario built from the beginning of 2023, the provincial Industrial Park Management Board aims to attract about 50-60 investment projects in industrial parks with a total foreign investment capital of about USD 1.2 - 1.3 billion, attracting VND 1,100 - 1,200 billion of domestic investment capital, construction investment capital VND 6,300 billion, lease and sublease 100 - 150ha of land, and attracting 15,000 employees. Along with that, focus on advising and promoting the establishment and development of 2-4 new industrial parks in 2021-2025, especially investment in infrastructure development of industrial parks in the province with a master plan, has been established.
Reported by Ngoc Thanh – Translated by Vi Bao