The focus on gathering and linking farming households into a collective economic model is considered as one of the effective solutions in the implementation of consumption linkage for products under the "one commune one product" (OCOP) program.
Attaching special importance to specific products
Phu Giao district has long been known as a place with high-quality agricultural products, especially fruits such as netted muskmelons, oranges, grapefruits, seedless lemons...District-based agricultural cooperatives have boldly invested in technology to developing OCOP products. Kim Long Hi-tech Agriculture Cooperative in An Binh commune's Ca Na hamlet is a typical example for this. In 2021, its netted muskmelon product was recognized at the 3-star OCOP standard by provincial People's Committee. This has helped the cooperative affirm its position in markets in and out of the province. Nguyen Hong Quyet, Director of the cooperative shared: "Since developing OCOP products, members and farmers have been more assured of sticking with local specialty crops. The consumption market is expanded with output being more secure, thereby helping the prestige and position of the cooperative being confirmed.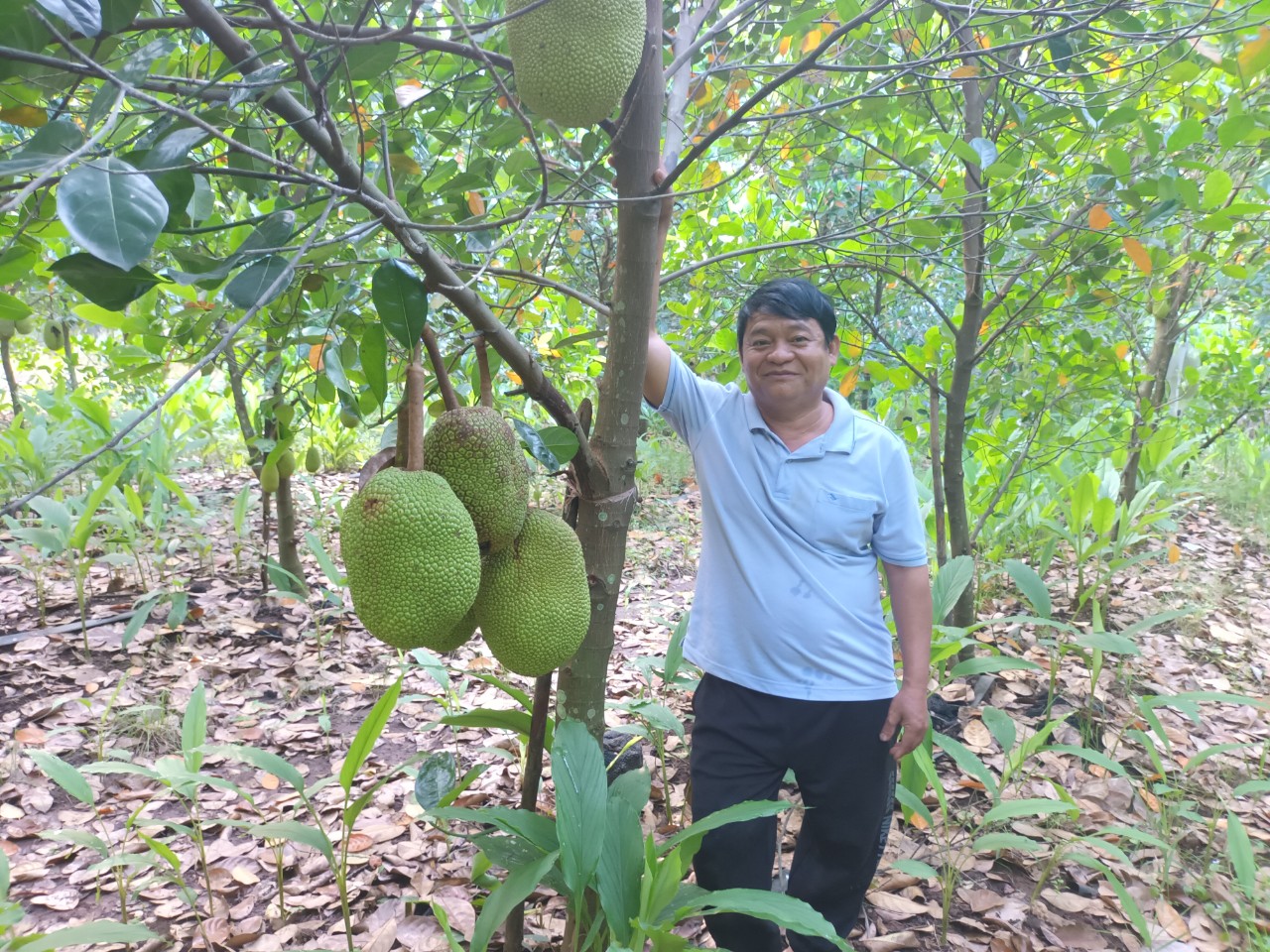 The cooperative group for growing jackfruit in An Linh commune's hamlet 7 is established in 2022, creating the linkage between farmers to support each other in production and consumption of products. In picture: Le Van Hau, head of the cooperative group and his family's jackfruit garden
Possibly speaking, OCOP products associated with cooperatives have become a driving force for people to emulate and develop production, creating products along the value chain, contributing to raising incomes and effectively serving the new-style rural construction program. At present, the potential of products participating in the local OCOP program is large, but dissemination in the locality for subjects to understand and participate in is still limited. According to Nguyen Truong Hai, Director of the district's Agricultural Service Center, there are still very few subjects who are proactively to seek guidance and support to bring their products to participate in the OCOP program.
Towards the goal of reaching the advanced new-style rural standard by 2025, the district has focuses on assigning specific tasks to functional units to accelerate the implementation of programs, including the OCOP program. Truong Thanh Hoa, Head of the the district's Economic Division said: "In order to ensure the coordination of orders to perform tasks related to the local agricultural development, the district's Economic Division proposed the local agriculture service center to realize a number of priority contents for implementation in the near future, including the OCOP program, replication of the agricultural production model under the VietGAP process... ".
Cooperative economic model promoted
Phu Giao has been identified as an agricultural district with focus on implementing national target programs, namely the OCOP program, the new-style rural construction program...Particularly, the district will continue developing high-tech agriculture models in association with production, processing and consumption of products and construction of new-style rural areas, in parallel with environmental protection.
One of the solutions considered as an inevitable trend in modern agricultural production is to gather and link farming households into a collective economic model. According to the district's Agricultural Service Center, agricultural products and services in the field of cultivation are very diverse. However, farmers are still under small-scale production models and there is no linkage to meet when there are orders from businesses. Some farmers do not follow standards on safe production and their product patterns are not really identical to meet requirements. When there is a linkage between farmers, it will be a premise to form OCOP products as well as linking product consumption, ensuring both quantity and quality for the ordering units.
Regards solutions in the implementation of linkages in the consumption of agricultural products in general and OCOP products in particular, Nguyen Van Long, Head of the district's Steering Committee for collective economic development emphasized: "The district has attached special importance to directing localities to coordinate with specialized units togather farmers to establish cooperatives groups which is a premise to develop into cooperatives in the future. The district has focused on training, supporting the development of cooperative group model...This will help form up cooperatives to transfer experience, deploy OCOP products, improving quality and competitiveness in the market.
Nguyen Truong Hai, Director of Phu Giao district's Agricultural Service Center: Under the national target program associated with the construction of new rural areas, the communes must have a product that meets the OCOP standard of 3 stars and above. The center focuses on coordinating with relevant units to transfer scientific and technical advancements in the field of agriculture to form and develop potential products to participate in the OCOP program; coordinate with local authorities to guide and complete documents for participating in the OCOP program of potential subjects in 2022 and the following years.
Reported by Tien Hanh-Translated by Kim Tin