Early March 24, provincial People's Committee held a conference to review the one-year implementation of the project "Developing the application of population data, identification and electronic authentication for national digital transformation in the period of 2022-2025, a vision to 2030" (briefly called the Project No.06), key orientations and tasks for 2023. The conference was attended by Nguyen Van Loi, member of the Party Central Committee, Secretary of provincial Party Committee, Head of Provincial National Assembly Deputy Delegation; Mai Hung Dung, member of provincial Party Standing Committee, Permanent Vice-Chairman of provincial People's Committee.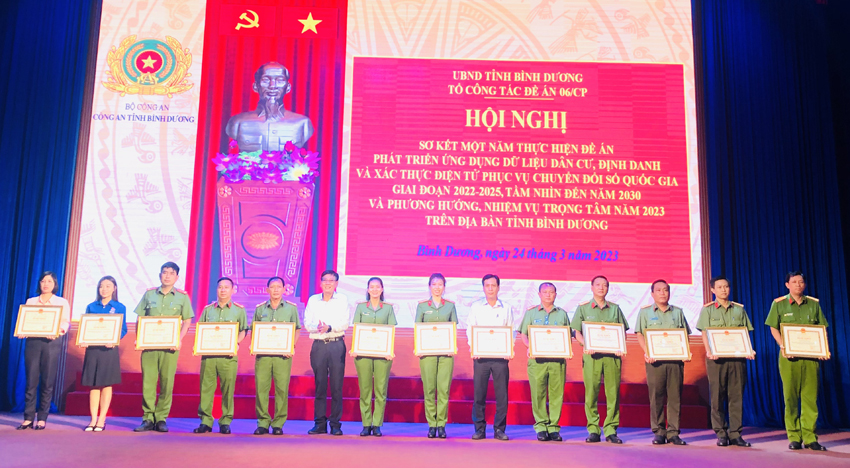 Leader of provincial People's Committee award the certificates of merit to outstanding collectives in performing the Project No.06 in 2022
In 2022, the whole province deployed all 1,290 online public services, reaching 100% of the plan. The number of accounts created on the National Public Service Portal, Provincial Public Service Portal was 139,525 accounts. The total number of online dossiers was 587,155. There were 23 out of 25 online public services deployed. The remaining 2 services are being implemented application connection configuration and completed functions for operation. Regarding the development of digital citizenship, more than 1,972,050 people aged at 14 or above were eligible for issuance of citizen identification with electronic chips. As a result, the number of people granted citizen identification was 1,919,975, or 97.36% of total.
Addressing the conference, Mr. Loi suggested members of the Project No. 06 working group to further perform their tasks with a high sense of responsibility, obvious awareness of the importance of the project serving digital transformation; strengthen propaganda about utilities, mobilize people to activate electronic identity accounts to widely use online public services to solve administrative procedures quickly, economically, effectively...
Reported by Hung Phuoc-Translated by Kim Tin