Receiving early warnings from many prestigious domestic and international agencies about the significant decline of the living environment, Binh Duong has focused on promoting environmental protection propaganda. In particular, the province has paid special importance to the supervision of wastewater treatment and discharge activities of enterprises.
Sharing efforts in environmental improvement
In mid-November, Mai Hung Dung, member of provincial Party Standing Committee, Permanent Vice-Chairman of provincial People's Committee had an online meeting with Carolyn Turk, World Bank Country Director for Vietnam. At the meeting, provincial leaders and representatives of the World Bank agreed that they would join hands and create the best conditions for the province to accomplish the local goal on environmental improvement in the coming time.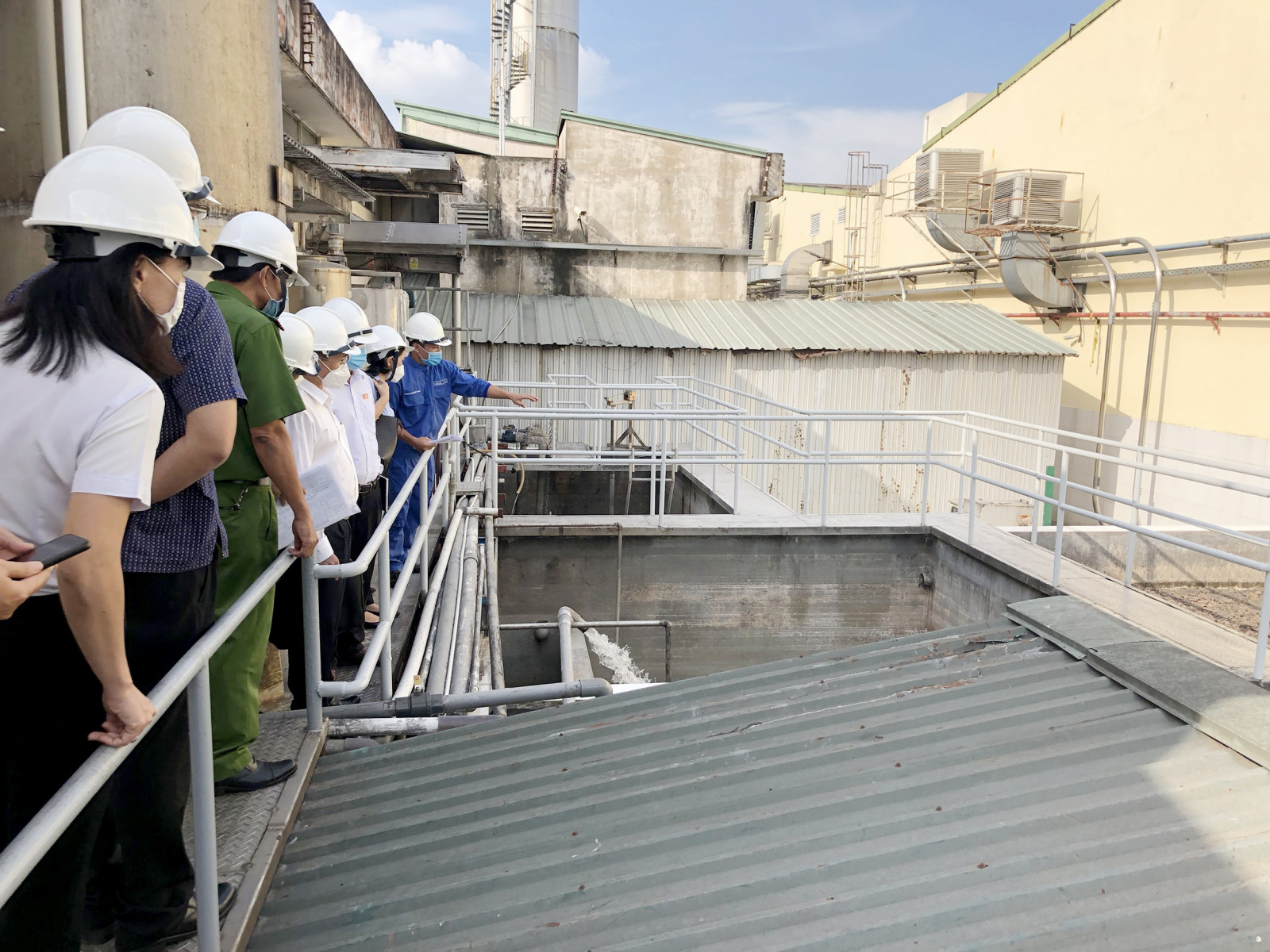 Provincial People's Council's delegation carries out an inspection tour at the wastewater treatment plant of Acecook Vietnam Company's Binh Duong Branch
The project on "Improving Binh Duong province's water environment" is jointly implemented by the World Bank, the Ministry of Natural Resources and Environment and Binh Duong province, demonstrating the above spirit. Through research results, field trips from surface and underground water sources in high-risk areas in the province, many methods have been implemented with the desire of improving and restoring the local water environment.
Speaking at the meeting with provincial leaders, Mrs. Carolyn Turk highly appreciated the efforts by the local government, enterprises and people in preserving and protecting the environment. She believed that with the cooperation and support of domestic, international agencies and organizations, the environment in general and the water environment in particular in the province will be improved significantly. In return, Mr. Dung said that Binh Duong has always created all favorable conditions for the World Bank and other domestic, international agencies and organizations to carry out relevant projects. This will be an opportunity for the province to soon achieve the local goal on sustainable socio-economic development.
Looking at environmental protection activities in localities in the province, it is easy to see that environmental protection is regularly focused on. Accordingly, most people in the province have got access to the contents of the Law on Environmental Protection. Many households have proactively classified waste at source, contributing to reducing the load on the local waste treatment plants.
Enterprises proactive in building wastewater treatment systems
In fact, there are many enterprises in Binh Duong with large-scale wastewater treatment systems. They have been proactive to invest in wastewater treatment plants with a closed treatment process under modern technologies, helping completely clean their wastewater sources.
Le Van Vinh, Director of Acecook Vietnam Joint Stock Company's Binh Duong branch in Thuan An city's An Phu ward said that the current discharge capacity of factories at the branch is estimated at 400 cu.m per day. The capacity is able to reach 650 cu.m per day. From these two numbers, it is easy to see that Acecook Vietnam has proactively invested in a methodical and large-scale wastewater treatment system. Noticeably, the company has annually upgraded its wastewater treatment system, ensuring no overload in processing.
Representative of Acecook Vietnam's Binh Duong branch said that in order to opportunely capture data on the quality and flow of wastewater sources connected to the surveillance system of provincial Department of Natural Resources and Environment, since 2017, the company has installed an automatic wastewater surveillance system at hydraulic measuring flume, including output wastewater flow, pH concentration, COD, TSS... with data connected to the central operating station for control under the requirements of the province. Also according to information from Acecook Binh Duong Branch, as of early 2021, the company has installed additional parameters, including input flow, temperature, ammonium, etc., to connect data to the central control station, helping State management agencies monitor and capture its indicators around the clock.
Ngo Thanh Mua, Deputy Director of the Environmental Protection Sub-Department under provincial Department of Natural Resources and Environment said that through its water environment surveillance system, the Environmental Surveillance Center under the Sub-Department will get real data around the clock for input and output wastewater in enterprises and residential areas. From these data, State management agencies can easily grasp the quality and flow of wastewater sources, thereby promptly alerting enterprises and localities to improve.
Reported by Dinh Thang-Translated by Kim Tin