On March 23, Vo Van Minh, Deputy Secretary of Binh Duong Provincial Party Committee, Chairman of Provincial People's Committee, chaired the March regular meeting of Provincial People's Committee to focus on evaluating the task performance of the first quarter of 2023 and some key tasks, plan for the second quarter of 2023. The meeting were attended by Vice Chairman of Provincial People's Committee, leaders of departments, branches, and localities.
Some good growth indicators
According to the draft report, in the first quarter of 2023, Provincial People's Committee focused on directing drastically, synchronously, and comprehensively in all areas of development, thus socio-economic indicators increased significantly compared to the same period last year. Namely, the industrial production index is estimated to increase by 0.15% year-on-year, the total retail sales of goods and services is estimated at VND72,514 billion, up 13.2% year-on-year. As of March 15, domestic investment attracted VND 10,782 billion of registered business capital. Accumulated up to now, the province has 60,748 domestic enterprises with a total registered capital of 641,000 billion VND. Foreign investment attracted $437 million, accumulated up to now, the province has 4,097 FDI projects with a total registered capital of $39.7 billion.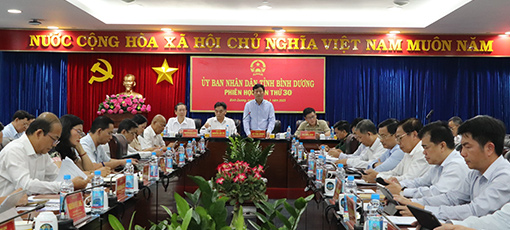 Vo Van Minh, Deputy Secretary of Provincial Party Committee, Chairman of Provincial People's Committee, speaks at the regular meeting of Provincial People's Committee in March.
The meeting also discussed and gave opinions on some other important issues: additional funding beyond the 2023 estimate for Provincial Military Command; report on some issues related to the draft resolution amending and supplementing a number of articles of the regulations on attraction and support for training and retraining to improve the quality of human resources in Binh Duong province; a report and draft resolution stipulates the content and rate of collection of revenues from services to serve and support educational activities of schools for public educational institutions in the province of Binh Duong; the plan to relocate the existing power grid in the area of road protection to serve the upgrading and expanding roads in the province...
To accelerate disbursement of public investment capital
Regarding disbursement of public investment plans, as of March 15, the total disbursement value reached VND769 billion, reaching 3.5% of the plan of Provincial People's Council and reaching 6.3% of the plan assigned by the Prime Minister. Many power grid projects are behind schedule due to problems with site clearance procedures, leading to pressure on power supply for production and business activities. Obstacles in public investment were brought to attention, but the progress of implementation and disbursement of public investment capital was low. In this regard, Vo Van Minh requested solutions to overcome limitations and difficulties, accelerate capital disbursement, consider this as one of the key political tasks in 2023.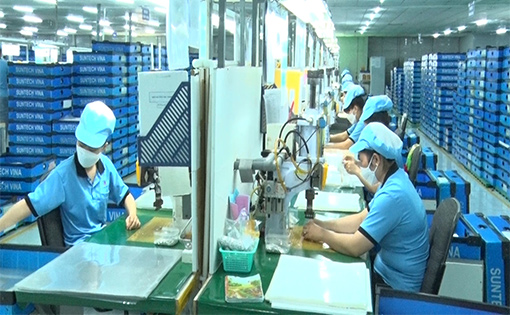 In the first quarter of 2023, some socio-economic indicators of the province increase significantly compared with the same period last year. In photo: Production activities at Suntech Vina Co., Ltd (My Phuoc 3 Industrial Park, Ben Cat Town).
Speaking at the meeting, Vo Van Minh suggested that in the coming time, all competent levels and branches need to make greater efforts and determination in directing, operating, supporting production and business, taking advantage of time to speed up the process of socio-economic recovery and development, contributing to the successful implementation of the 2023 goals, targets and tasks. In which, focus on three national target programs in the province; breakthrough programs of the Provincial Party Committee. Actively review, remove or propose competent authorities to solve problems related to land, construction, and investment procedures. Continue to closely monitor developments of the global market, take measures to maintain export momentum to existing markets and expand to new markets.
On the other hand, provincial leaders directed to continue making five-year land use plans (2021-2025) in the province; implement resettlement areas in the southern region and the plan to auction land use rights for eligible land plots. Complete regulations on policies, order and procedures for compensation, support and resettlement when the State recovers land; construction unit price, adjustment of land price list; issue specific land valuation unit prices. In addition, strengthen the inspection and examination against loss of revenue and anti-transfer pricing; strictly manage and thoroughly save regular expenses.
Besides, complete the report on investment policy proposal of Ring Road 4, Ho Chi Minh City - Chon Thanh expressway; to study the investment plan for An Tay port, to expand An Son port; implement the Ring Road 3 project… Accelerate the resettlement, site clearance, and construction investment, upgrading and expanding National Highway 13. Check the investment progress of key projects. Promptly direct registration centers to maintain normal operation, without affecting the motor vehicle inspection.
- Nguyen Tran Hieu, Director of Binh Duong Customs Department: Export turnover in the first quarter was estimated at US$7.285 billion, down 18.7% year-on-year. Import turnover was estimated at US$5.111 billion, down 14% year-on-year. The export and import face many difficulties; For key export products, our main export markets continue to reduce demand due to the effects of inflation, economic recession, and low consumer demand. However, exports in March increased gradually compared to January and February, which can be seen as a good sign.
- Vo Dinh Phong, Director of Vietnam State Bank - Binh Duong Branch: The system of credit institutions promptly deployed credit programs to support and accompany businesses and people. Total mobilized capital by the end of March was estimated at VND 274,000 billion, outstanding loans were estimated at VND 288,000 billion, up 0.9% compared to the beginning of the year and up 7.7% year-on-year. In the coming time, the State Bank of Vietnam will direct credit institutions in the area to continue collect opinions of businesses that are facing difficulties in order to have timely solutions.
Reported by Thoai Phuong - Translated by Ngoc Huynh