Part 2: Creating maximum conditions for enterprises to resume operations
In order to recover socio-economic situation in the "new normal" state, Binh Duong province determined that supporting enterprises to resume operations, maintaining supply chains, and promoting exports are key issues with priority for implementation.
Taking advantage from market
Assessing the market, Nguyen Truong Thi, Deputy Director of provincial Department of Industry and Trade said that Covid-19 pandemic has continued developing complicatedly, affecting the world's economy. However, the U.S and European countries are gradually or completely lifting the blockade order. And the demand for goods on the world market is recovering again. This is an opportunity for enterprises to boost the province's key export products. Whilst, free trade agreements are gradually being implemented in a more comprehensive and effective manner, creating favorable conditions for the province's exports to penetrate into partner markets with preferential tariffs. According to data from provincial Customs Department, exports are mainly in traditional markets. Of these, the U.S accounts for 34.6%, South Korea with 11.2%, EU with 9.7%, Japan with 8.8%, Taiwan (China) with 7.5%.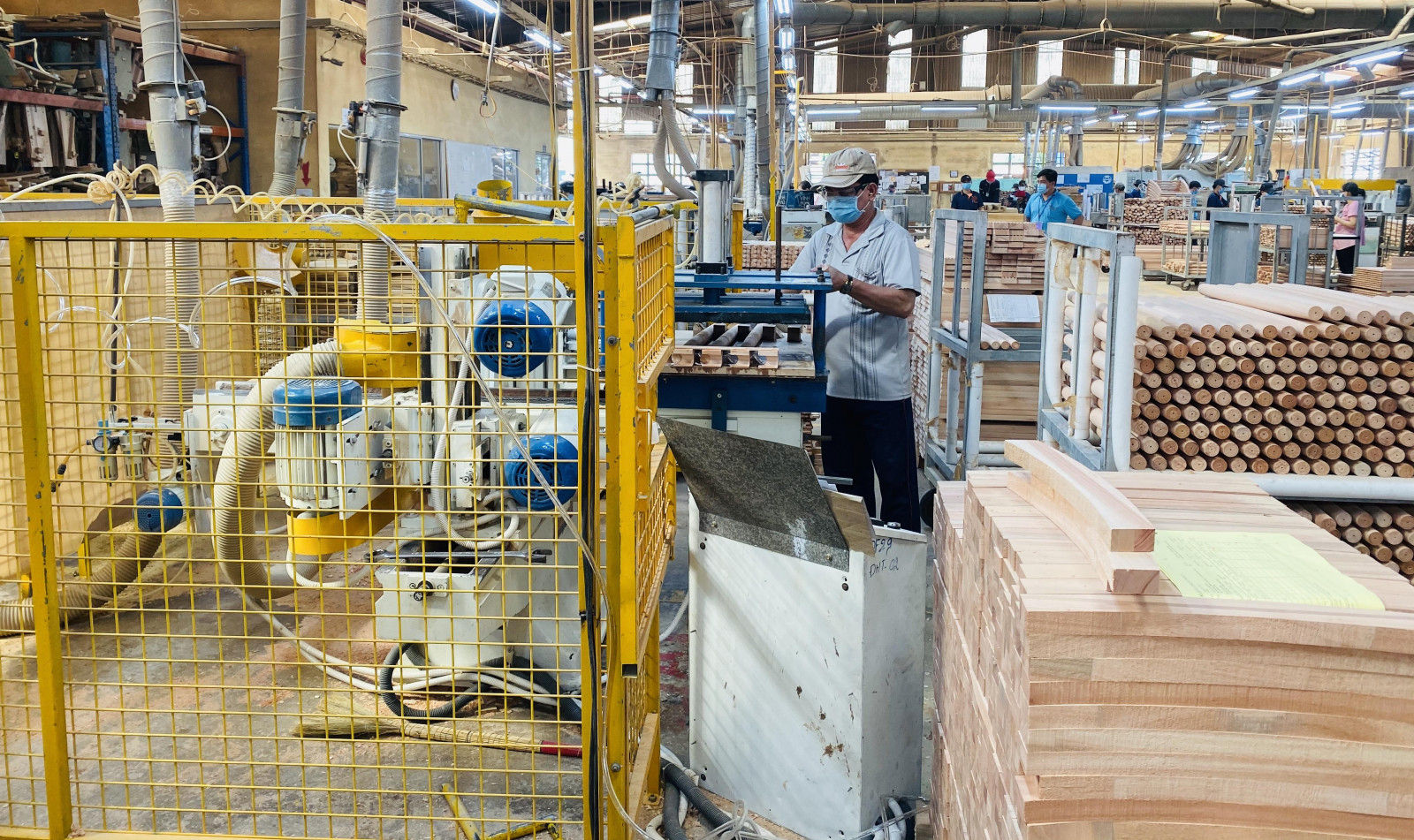 Wood enterprises are speeding up production, ensuring export orders. In picture: Production at DAFI Company in Tan Uyen town
Perhaps, this is the most difficult period for the business community when facing the pandemic. However, many enterprises have still tried to stand firmly and hoped to recover production, export activities in the last months of the year. Adrian Sua, CEO of Bowker Garment Vietnam Co., Ltd. in Thuan An city said that when the pandemic is under control, enterprises will try to reopen for economic recovery by changing working ways, flexibly adapting to current conditions, ensuring the maintenance of production and business, creating jobs for employees, maintaining supply chains.
Ha Xuan Tung, Production Director of DAFI Company in Tan Uyen town said that the orders of the wood industry are very abundant, so the company has invested in equipment and arranged its factory in accordance with regulations and directions for Covid-19 prevention and control. Defining on "living with the pandemic", the company is trying to control the pandemic from outside, organize safe production at its factory. In order to adapt to the process of production and Covid-19 prevention and control in the coming time, enterprises will continue coordinating with all-level authorities and sectors to ensure production safety, complete orders that are delayed, due to the impact of the pandemic.
Protecting production
Vo Van Minh, Vice-Secretary of provincial Party Committee, Chairman of provincial People's Committee has directed functional sectors to create conditions for economic activities to gradually reopen, recovering enterprises' production and business on the principle of "Production must be safe, safety to produce"; monitor the stockpiling and supply of essential goods of enterprises participating in stabilizing the market to promptly serve people's needs; opportunely implement mechanisms, policies and solutions to support enterprises, cooperatives and business households; set up a special task force of provincial People's Committee to quickly grasp, handle enterprises, industry associations and investors 'difficulties.
Provincial People's Committee has also directed functional sectors and localities to promptly give advice on programs, plans and solutions for safe production and business activities; focus on removing difficulties, promoting production and business, strongly stimulating 3 main growth motivations, including investment, export and consumption.
Currently, provincial Industrial Parks 'Management Board has issued initial instructions for enterprises to carry out medical activities at their factories. First of all, enterprises are required to set up steering committees for Covid-19 prevention and control. Employers must commit to employees and local authorities on how to operate and employees' rights when they come back to work. Provincial Industrial Parks' Management Board said that inter-sectoral agencies will also regularly supervise to support enterprises. Localities will also strengthen mobile medical stations in industrial parks and compounds in order to be always ready to assist enterprises when the pandemic occurs.
Nguyen Thanh Toan, Director of provincial Department of Industry and Trade: Provincial People's Committee has issued a plan on socio-economic recovery in the "new normal" state. Particularly, the province will focus on 5 main groups of tasks, including offering credit support, implementing policies on tax - social insurance and labor, getting access to the market, reorganizing production and business activities under the roadmap. The province will reopen step by step with capacity of 30% - 50% - 70% to 100%. In order to promote import and export activities, enterprises must be supported in accordance with the criterion of "production must be safe, safety to produce".
Reported by Tieu My-Translated by Kim Tin