The economic diplomacy in recent years has brought into full play its effectiveness, bringing about positive results in foreign economic relations, attracting investment projects, contributing to strengthening the cooperation relationship between Binh Duong, localities, organizations and economic groups. This has helped promoting the image of Binh Duong, connecting and successfully promoting the local specific cooperation programs and projects.
Being proactive in international cooperation
Recently, provincial People's Committee and Seoul city's Gangnam district in Korea signed an MOU online to promote international trade and cultural exchanges. Under the 'Bình Dương Innovation Region' strategy, the province has set itself a goal of balanced economic development by increasing the share of the services sector in the economy through the construction and development of the World Trade Center Bình Dương New City. This shows a concerted effort to develop Binh Duong into a new international trade destination.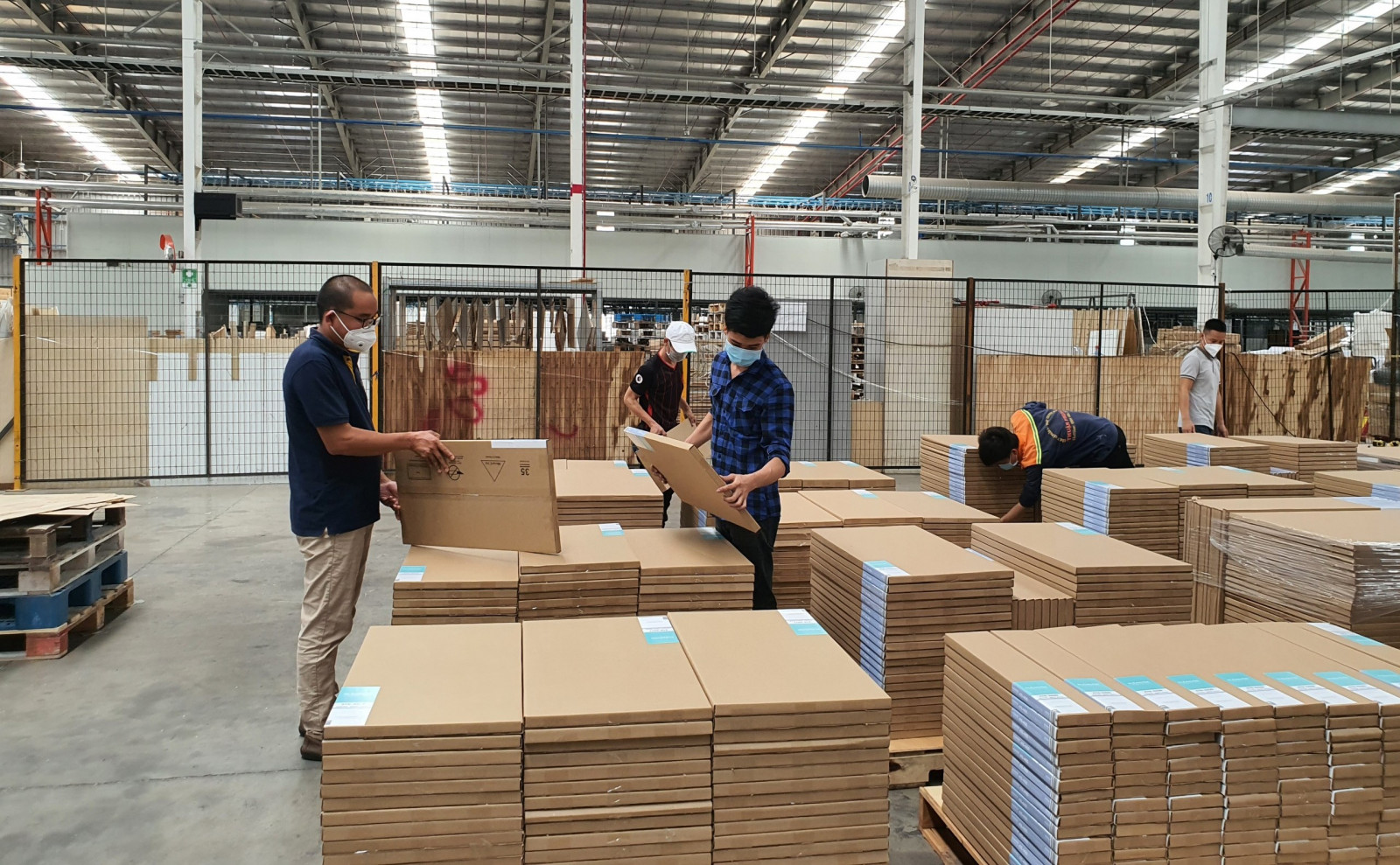 The flexibility of the province in external economic activities has helped enterprises get more conditions to recover and seize opportunities to develop production and expand markets
Speaking at the MOU signing ceremony, Nguyen Van Loi, member of the Party Central Committee, Secretary of provincial Party Committee, Head of provincial National Assembly Deputy Delegation said that the signing ceremony of the cooperation agreement was a very important milestone, creating the foundation for strengthening friendly cooperation relations, mutual understanding towards the common prosperity of the localities. The agreement aimed at establishing a strategic cooperative relationship, promote economic cooperation trade, cultural exchanges and tourism between enterprises of the two sides, contributing to enhancing the status and dynamic image of Binh Duong, Gangnam district to international friends and partners.
Amid the complicated developments of the pandemic, provincial People's Committee carried out a series of online diplomatic activities and attended events organized by the Ministry of Foreign Affairs in order to promote the local socio-economic development. In 2021, Binh Duong coordinated with units to conduct more than 20 online conferences on investment promotion with countries and territories, attracting the attention and participation of thousands of investors.
According to Le Phu Hoa, Director of provincial Department of Foreign Affairs, along with promoting socio-economic development, Binh Duong has also actively expanded bilateral and multilateral cooperation in many fields. The province has so far established bilateral cooperation relationships with 10 foreign provinces and cities and is now an official member and reliable partner of 4 multilateral international cooperation organizations, including the Intelligent Community Forum (ICF). Over the past years, the province actively and proactively implemented the Smart City Project and achieved some very encouraging results. Binh Duong is also the first locality in Vietnam to officially become a member of the ICF. For 3 consecutive years from 2019 to 2021, Binh Duong was honored by the ICF as one of 21 cities and regions with the world's typical smart city development strategies (SMART 21).
Effective investment attraction
Pham Viet Anh, Vietnamese Ambassador to the Netherlands said that Binh Duong has twinned with two Dutch provinces, so the province has understood the country very well. For many years, Binh Duong has risen to become a bright spot in FDI attraction from the local investment incentive policies and commitments on infrastructure, creating favorable conditions for investors to work. The factories of Nedspice or De Heus and Dutch enterprises that are developing strongly in Binh Duong are a demonstration on the trust of Dutch investors in Binh Duong.
Binh Duong is always interested in supporting enterprises by improving the local investment environment and enhancing competitiveness. Therefore, the province is always evaluated as one of the country's leading provinces and cities in socio-economic development, industrial development and FDI attraction. Currently, Binh Duong is ranked second nationwide in FDI attraction after HCM city with a total of 4,019 investment projects from 65 countries and territories, with a total registered capital of more than US$ 37 billion.
Mai Hung Dung, member of provincial Party Standing Committee, Permanent Vice-Chairman of provincial People's Committee said that over the past time, the organization of online trade and investment promotion conferences in the context of being affected by the Covid-19 pandemic 19 was a solution for the province to connect with enterprises and corporations, contributing to attracting FDI capital with positive results as a bright spot in the local economic development. "Binh Duong always focuses on attracting high-quality, environmentally friendly FDI projects to increase competitiveness and realize the goal of sustainable development in terms of economy, environment and 4.0 technology. In addition to strengthening trade and investment promotion activities in the new situation, the province has invested in building a synchronous infrastructure system, training quality human resources to attract high-tech enterprises from potential partners. Upon this, in addition to the strength of industrial manufacture, many FDI enterprises are further planning to invest capital in projects in terms of trade - services, real estate, energy, logistics ..., contributing to the local socio-economic development in the coming time", said Mr. Dung.
Mai Hung Dung, member of provincial Party Standing Committee, Permanent Vice-Chairman of provincial People's Committee: The province has always committed to accompanying, supporting and creating the most favorable conditions for investors. The province has also maintained regular dialogue channels with the business community both at home and abroad, promptly adjusted policies in line with the development interests of the locality and the business community.
Reported by Ngoc Thanh-Translated by Kim Tin