Morning of March 29 at the Internal Party Center of the provincial Conference and Exhibition, the provincial People's Committee held a meeting and dialogue between provincial leaders and youths in 2023 with the theme of "Youth and entrepreneurship building Binh Duong smart city." The conference was chaired by Vo Van Minh - Deputy Secretary of the provincial Party Committee and Chairman of the provincial People's Committee, Nguyen Van Loc - Standing Member, Head of the provincial Committee for Mass Mobilization and Chairman of the provincial Committee of the Vietnamese Fatherland Front. Attending the event was leaders of provincial departments, agencies, unions and more than 300 typical Youth Union officials, union members and youths representing nearly 1 million in the whole province.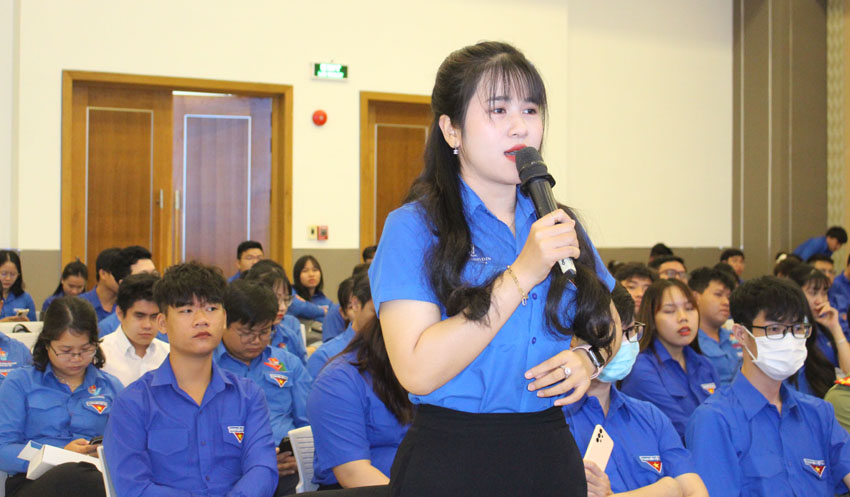 Truong Dinh Ngoc Mai, the delegation of Binh Duong University asked the provincial leaders a question about the current digital transformation problem
At the conference, the youth union members shared their thoughts and exchanged ideas related to vocational training for young people, personnel, development of high quality human resources, solutions to support youth start-ups, cultural institutions serving young people, digital transformation in units, businesses and schools, solutions on human resources to meet the operation and development of smart cities among others. The provincial leaders answered related suggestions, recommendations and aspirations of young people; at the same time, recorded a number of contents for transfer to departments, agencies, branches and functional agencies for settlement as soon as possible.
Speaking at the conference, Vo Van Minh suggested that all levels of the Youth Union of the province must constantly innovate and be creative in Youth Union work and movements, being the pioneers in the implementation of the policy of promoting youth development and strong digital transformation for the digital economy on the basis of science and technology in the process of socio-economic development of the province while accelerating the implementation of the construction of a smart city and innovation zones according to regulations and the provincial direction. In particular, the Youth Union at all levels should pay attention to the development of young human resources and high-quality human resources with orientation for young people to study, strive and train in all aspects to master advanced science and technology, modern management methods, and to arouse the desire to start businesses and organize activities to help young people acquire knowledge and skills to meet the requirements of the fourth industrial revolution.
Reported by Ngoc Nhu – Translated by Vi Bao