On the afternoon of November 16, Vo Van Minh, Deputy Secretary of the Provincial Party Committee, Chairman of the Provincial People's Committee; leaders of departments, agencies and branches, Becamex IDC received and worked with Korean consular delegation led by Kang Myongil, Consul General of Korea in Ho Chi Minh City.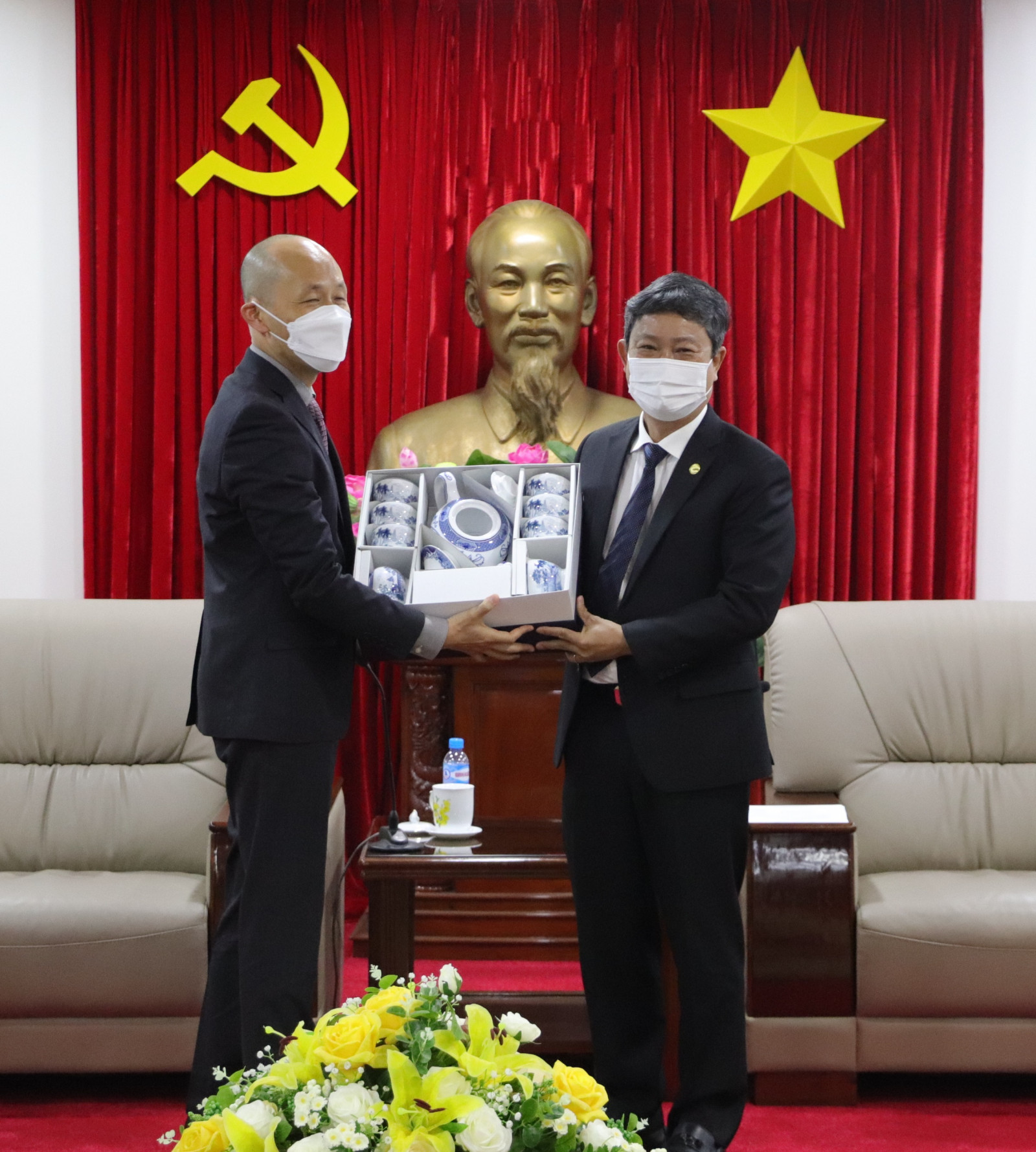 Vo Van Minh (right) presents a Binh Duong ceramic tea set to Kang Myongil.
Kang Myongil thanked the provincial leaders for the warm welcome to the delegation and wished the provincial leaders continued to overcome common difficulties caused by the Covid-19 pandemic. He also raised the current difficult problems of Korean businesses in Binh Duong, such as: Shortage of high-quality labor, cumbersome administrative procedures and public documents, and immigration problems for Korean experts… The Korean Consul General wished that the provincial leaders would continue to pay attention to, solve difficulties and support Korean businesses in Binh Duong to continue developing stably and sustainably.
Vo Van Minh thanked the delegation for visiting Binh Duong province and clearly stated that the province always attaches important to foreign investors, and answered questions of the Korean Consul General. Binh Duong will well implement policies on housing for employees in the coming time. Minh also wished that Korean businesses would continue to have a long-term bond with Binh Duong, expand economic and cultural exchanges and cooperation, especially on the occasion of the 30th anniversary of the Vietnam - Korea diplomatic relation.
* In the afternoon of the same day, Vo Van Minh and leaders of departments, Becamex IDC also received and worked with the Japanese consular delegation led by Watanabe Nobuhiro, Consul General of Japan in Ho Chi Minh City Minh.
At the meeting, Minh welcomed the delegation and briefly introduced the province's disease situation. By November 15, the province had 98% of enterprises had resumed operations, 90% of workers had returned to work. Enterprises have gradually stabilized production. The Provincial People's Committee always pay much attention to dialogue and support for businesses. Up to now, Japanese businesses have invested 5.8 billion USD in Binh Duong. The Chairman wished that Japanese businesses would continue to invest and operate stably and sustainably in Binh Duong.
The Consul General of Japan in Ho Chi Minh City was impressed with the recovery of Binh Duong after the pandemic, over 98% of businesses have resumed operations, over 75% population have been vaccinated with the second dose of vaccine. In the third-dose vaccination strategy, the Japanese Consul General wished that the provincial leaders would pay attention to businesses, experts and workers at Japanese companies. He also hoped that in the coming time, provincial leaders would continue to support football exchange activities, to be a bridge of friendship, and promote the extensive strategic partnership between the two countries.
Reported by Ho Van - Translated by Ngoc Huynh