On the afternoon of November 18, a provincial delegation led by Nguyen Hoang Thao, Permanent Deputy Secretary of the Provincial Party Committee, visited and congratulated Thu Dau Mot University, Binh Duong Provincial Medical College, and Hung Vuong Gifted High School, and Nguyen Khuyen High School on occasion of Vietnam Teachers' Day (November 20). The delegation also had Pham Van Chanh, Member of the Provincial Party Standing Committee, Chairman of the Provincial People's Council; Nguyen Loc Ha, Member of Provincial Party Standing Committee, Vice Chairman of Provincial People's Committee.
The delegation visited and Thu Dau Mot University and listened to a report on the university's activities in recent years; the change of teaching method according to the development of Covid-19; the application of information technology and digital transformation in teaching, research and training of high-quality human resources; the goal to become a smart university in the list of 350 best universities in Asia.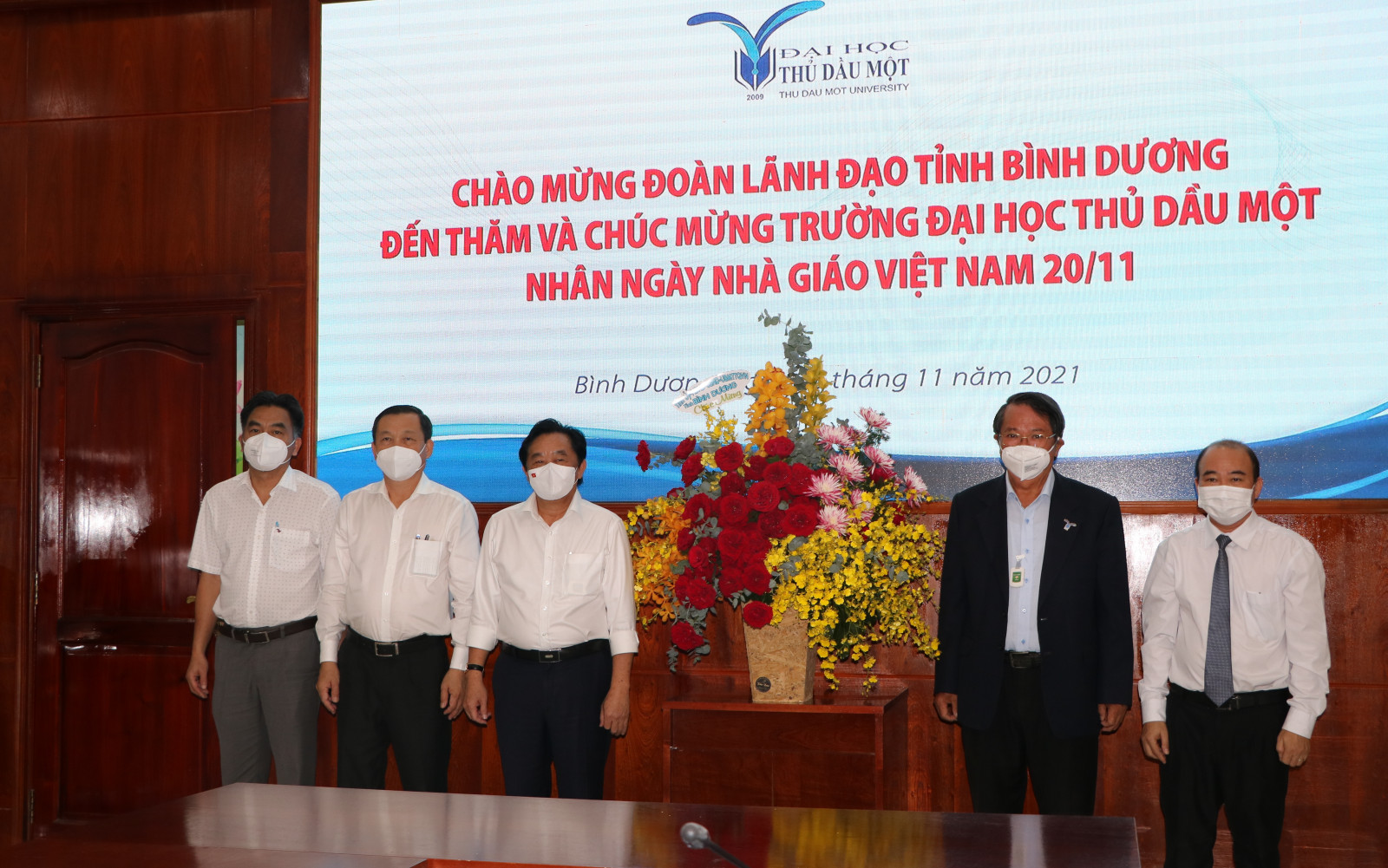 Provincial leaders give flowers to congratulate Thu Dau Mot University on the occasion of Vietnamese Teachers' Day.
Nguyen Hoang Thao affirmed that the province is always proud of the development of the university, appreciate the goal to keep pace with schools in the region and in the country for further development. Thao wished lecturers and officials good health and success.
At Binh Duong Medical College, Nguyen Loc Ha expressed his appreciation for the contributions of teachers and students who have actively participated in the prevention and control of the Covid-19. Visiting Hung Vuong Gifted High School, Nguyen Loc Ha congratulated the school on its achievements in the national exam for excellent students, high school graduation exam and university entrance examination; and hoped the school continued to promote its achievements. To Nguyen Khuyen Junior and High School, Ha acknowledged the school's contributions to the cause of human growth. Provincial leaders sent their best wishes to administrators, teachers, and school staff; hoped the school to continue improving the quality of education and training, contributing to the effective implementation of the Binh Duong Smart City project.
Reported by Hong Thai - Translated by Ngoc Huynh