On March 15, Binh Duong Provincial People's Committee held a workshop on the mid-term planning of Binh Duong province for 2021-2030 period, with a vision to 2050. The workshop aimed to listen to consultant's report and assessment of the status and strategic development orientations in the planning. The workshop was attended by Nguyen Van Loi, Member of the Party Central Committee, Secretary of Binh Duong Provincial Party Committee, Head of Provincial Delegation of the National Assembly; Vo Van Minh, Deputy Secretary of Provincial Party Committee, Chairman of Provincial People's Committee; representatives of departments, branches, localities, and Becamex IDC.
Building a constructive government, prosperous economy
Binh Duong currently has the leading industrial development pace in the Southern Key Economic Zone and the whole country. This achievement has accumulated a large infrastructure with a large space creating the foundation for the next development steps; at the same time, creating an important premise for Binh Duong to build a good integrated planning project, overcome the shortcomings, and unblock resources, create a motivation for Binh Duong to develop in the new period.
Provincial leaders and departments attend the workshop on mid-term planning of Binh Duong province for 2021-2030 period, with a vision to 2050.
At the workshop, the Provincial Planning Steering Committee listened to the consultant's presentations on the strategic framework of integrated planning in Binh Duong province, orientation of the framework and the dynamic space of the province, orientation of spatial and infrastructure development planning.
Assoc. Prof. Dr. Hoang Vinh Hung, Deputy Director of National Institute of Urban and Rural Planning, said that Binh Duong's development path in the 2021-2030 period is a development economic model based on innovation, science technology, and high-quality services to join global supply and value chains; transforming the development model into a multi-dimensional balanced economic model between industry - urban - service towards high added value; balanced allocation of dynamic space - breakthrough development, fully integrated development resources. With a vision to 2050, Binh Duong builds a tectonic government, becomes a reliable support for people and businesses, global integration, prosperous economy, and sustainable society.
Optimal, suitable, and feasible
According to development scenario and forecast of the planning project, the average economic growth rate in 2021-2030 period will reach about 10%/year; GRDP by 2030 will be 412 million VND/person (15,700 USD). Economic structure by 2030: industry - construction accounts for about 64%; service accounts for 28%; agriculture, forestry and fishery accounts for 1-2%; product tax minus product subsidies accounts for 6%.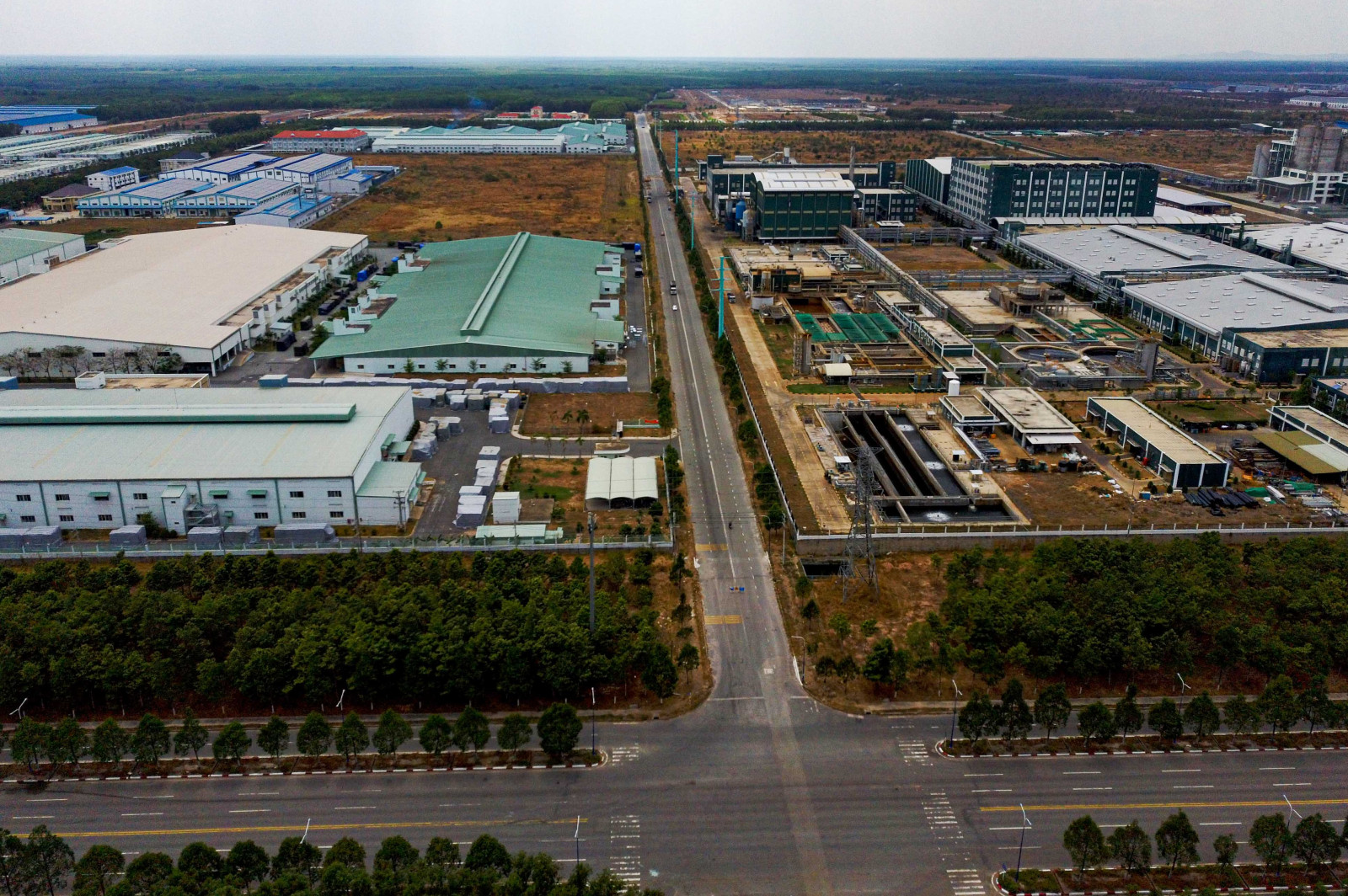 In the provincial master plan for 2021-2030 period, with a vision to 2050, Bau Bang district is well planned with a large opening scale in terms of development space. In photo: Bau Bang Industrial Park.
At the workshop, Nguyen Van Loi emphasized that the development scenario must adhere to Resolution 24 of the Politburo, and potential conditions, competitive advantages of Binh Duong to set out the most optimal, appropriate and feasible development planning scenario. Namely, the economic structure shifts towards increasing proportion of the service industry; at the same time, continue to ensure development according to the three philosophies and six pillars outlined in the strategic orientation framework.
Regarding the development space orientation of Binh Duong, according to Nguyen Van Loi, the development space should be studied according to basic areas. The southern region includes Thuan An city, Di An city, Tan Uyen town, which is the gateway center of Binh Duong to Ho Chi Minh City, Dong Nai, and seaports, focal points of traffic connections in the region; develop a livable modern urban area with housing infrastructure, high-quality services, medical and educational systems of international standards, and convenient public transport connections.
Binh Duong New City, Thu Dau Mot, Ben Cat, Bau Bang are a "magnet" to attract people even when they are working in Ho Chi Minh City, a tool to attract high-quality human resources, material resources, economic restructuring in the central and northern areas of the province. The central area of Binh Duong including Thu Dau Mot, Ben Cat and Tan Uyen, with the core Binh Duong New City becomes an innovation area, the core area of a smart city, and continues to implement eight existing ecosystems.
Ben Cat, Bau Bang, Phu Giao, Dau Tieng, North Tan Uyen (from Ring Road 4 and up to the North) will be the center connecting the Southeast region and river ports, become a new development pole to form a cultural - physical training - sport - healthcare - education complex of regional stature to support the development poles of the province and of the whole Southeast region.
Concluding the workshop, Vo Van Minh, Chairman of Provincial People's Committee, suggested relevant units continue to supplement and clarify several orientations, follow the provincial strategic orientation framework, and solve problems, and at the same time continue to inherit and promote the development achievements, advantages, and conditions of the province to solve challenges.
Reported by Phuong Le - Translated by Ngoc Huynh