On the afternoon of June 18, a delegation of provincial Party Committee, People's Council, People's Committee, and Fatherland Front Committee, led by Truong Thi Bich Hanh, member of provincial Party Standing Committee, Head of provincial Party Committee's Propanganda and Education Commission visited and congratulated press agencies in the province on the occasion of the 96th anniversary of Vietnam Revolutionary Press Day (June 21, 1925 - June 21, 2021).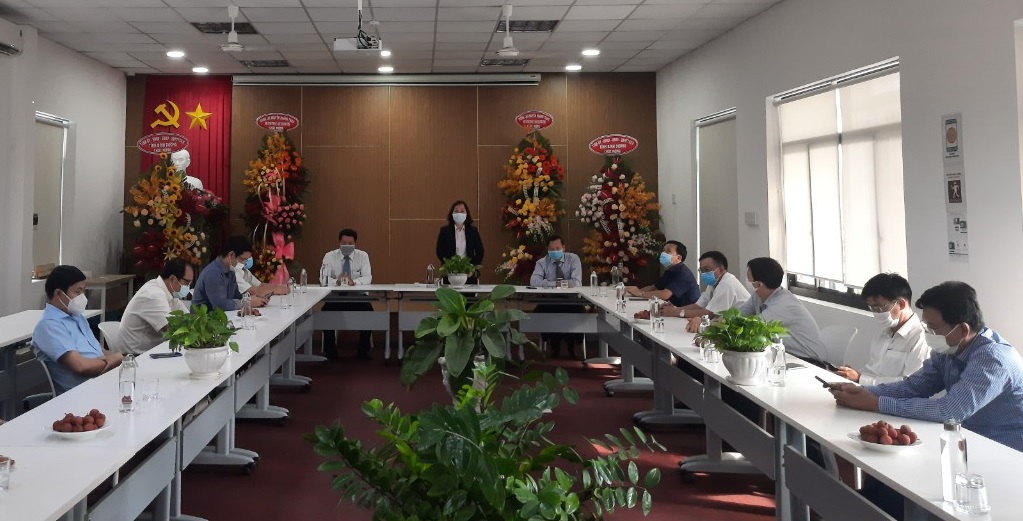 Comrade Truong Thi Bich Hanh delivers a congratulatory speech to the Journalists 'Association branch of press agencies outside the province
At Binh Duong newspaper, the delegation listened to a report by Editor-in-Chief Le Minh Tung on the operational results of the unit in the first 6 months of 2021, with focus on propagandizing the elections of deputies to the 15th National Assembly. and People's Councils at all levels for the 2021-2026 tenure; propagandizing achievements on socio-economic development in association with Covid-19 prevention and control so that people from all strata and the business community join hands with the province to repel the pandemic...
On behalf of provincial leader, Mrs.Hanh spoke highly of contributions by the newspaper and congratulated all staff of the newspaper. She hoped that Binh Duong Newspaper will continue improving the quality of its tasks, making more contributions to the local socio-economic development, especially must always keep the operational principles and purposes of the local Party newspaper, worthy of being the organ of Binh Duong province's Party Committee, the voice of the Party, the government and the people of Binh Duong province in the coming time.
At provincial Radio and Television Station, Lam Phi Hung, Director of the station also reported the delegation on the unit's propaganda work in the first 6 months of 2021. The station is currently implementing a project on job placements, setting up a development project for the period of 2021-2025, with a vision to 2030, which is seen as a basis for implementation in the coming time, to meet increasing requirements of propaganda in the new context…On behalf of provincial leaders, Mrs. Hanh acknowledged and praised the station for its contributions in propaganda work.
On the afternoon of the same day, the delegation visited press agencies outside the province. Mrs. Hanh said that despite facing many negative impacts of Covid-19 pandemic, press agencies outside the province had effective propaganda about Binh Duong province. She wished that they will continue making more effective contributions, contributing to widely promoting the image of the land and people of Binh Duong, helping the province fulfill its assigned political tasks.
Reported by Ho Van-Translated by K.T