After the Lunar New Year 2023, purchasing power at traditional markets is still quite weak while supermarkets are returning to a stable level as usual. The supermarket system is also maintaining promotions to stimulate new purchasing power.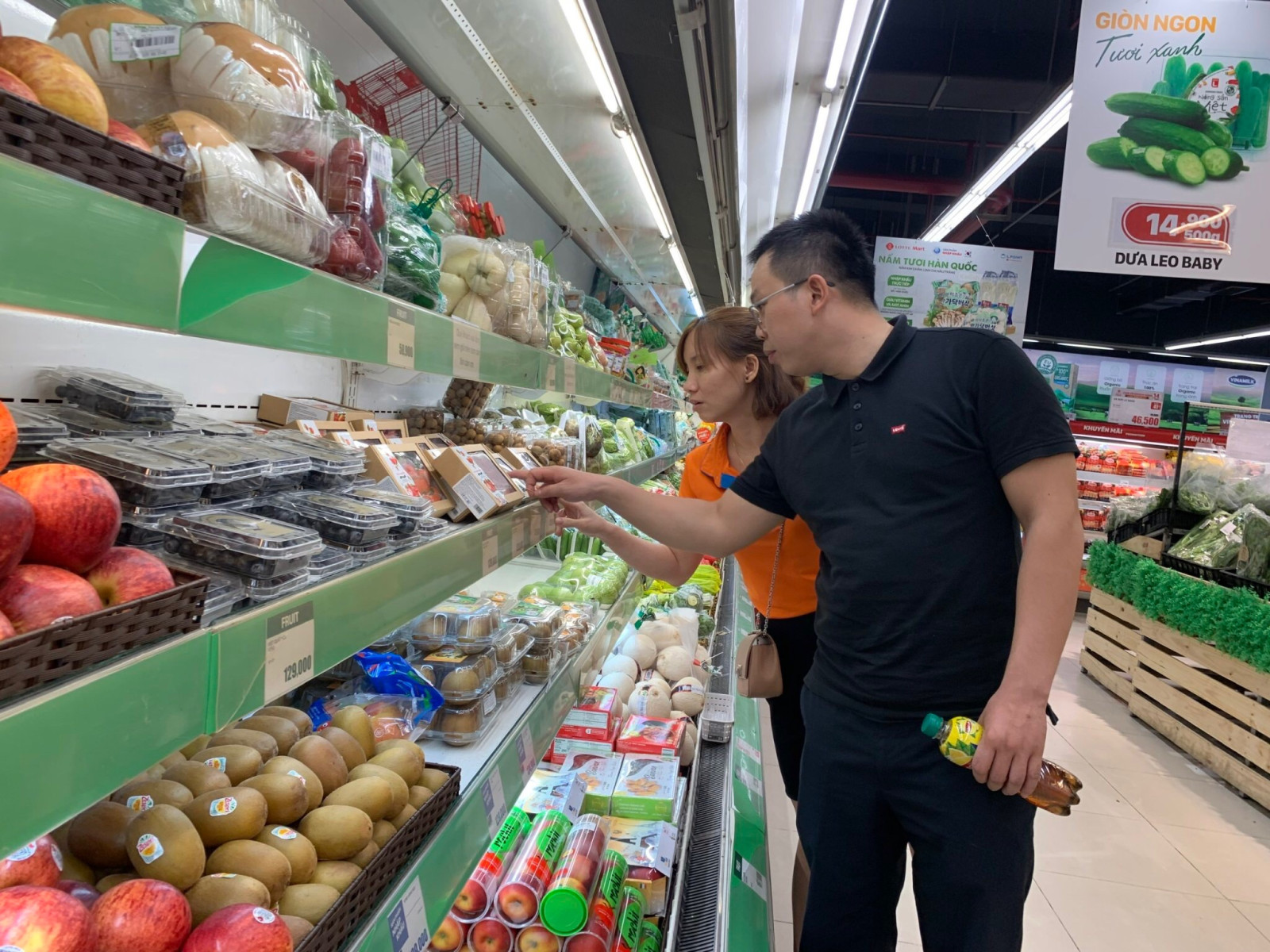 Continuing to best serve the needs of consumers is considered the business strategy of the current supermarket system. In the photo: Customers choose goods at Binh Duong Lotte Mart in the days after Tet
To stimulate consumption
Although it is the first day that many agencies, companies and units are back to work after the Tet holiday, Binh Duong Lotte Mart is quite bustling with customers shopping for goods. The most crowded area is the stalls of fresh fruits, vegetables, livestock and poultry. Many customers are also gather at the kitchen utensils and equipment counters. The springtime music and bustling atmosphere create the feeling that Tet holiday is still lingering.
Huynh Ngoc Thuy - a resident of Long Thoi neighborhood of Lai Thieu ward in Thuan An city, said: "I intended this year to spend the Lunar New Year economically, but the supermarket prices dropped deeply based on the spirit of sharing with consumers, so I considered buying a little more. Now I take advantage of going to the supermarket to stock goods for gradual use. Buying at this time is to avoid having to sweat in lines for payment like in the days before Tet."
Many consumers are attracted to and interested in a series of discounted products, which is also a factor that keeps purchasing power at supermarkets unchanged compared to the previous year. According to Le Trung Hoa - Director of Binh Duong Lotte Mart, consumers would save more in the face of harsh economic background, but unexpectedly, shopping demand has rebounded during Tet holiday. According to Le Trung Hoa's explanation, the great preferential policies for people and price stabilization have made sales during the Tet holiday increase by 30-40% compared to 2022, which is a very worthy number of excitement in the first quarter of 2023.
Similarly, Nguyen Thi Hong Khanh - Director of Co.op Mart Binh Duong 2 supermarket, said that the supermarket believes that the shopping power during Tet this year will decrease compared to previous years as many workers returned to their hometowns to celebrate Tet earlier than every year. However, after 2 years of limited festivals and meetings due to the COVID-19 epidemic, consumers still spend hard but are more careful and choose to buy quality products, which are really necessary for their living. Therefore, the value of each payment order also increases; thereby, boosting purchasing power in the 2 months before and after Tet by more than 5% over the same period last year.
To elevate competitiveness
Economic experts forecasted that the economy this year will fall into an adverse spiral, even a recession, so consumers will have to save more. However, the general opinion from the leaders of some supermarkets showed that the retail business situation in 2023 would be more prosperous compared to 2022 in terms of revenue, business scale as well as sales, transportation channels and payments. The State will continue to offer supportive policies so that the quality of business activities will be improved with jobs created for workers. Accordingly, purchasing power will be restored and grow.
According to Le Trung Hoa, promotional programs in 2023 will become a strong influence on the change of shoppers' choice of suppliers and brands. In other words, promotions help retail businesses have more conditions to develop. According to Le Trung Hoa, the more difficult it is, the more consumers demand a variety of products. Therefore, the countermeasures applied by supermarkets are still sharing with consumers, through concentrating capital and reducing profits to implement promotions and taking care of customers in order to carry out business plans for the projected sales growth at over 10% this year.
Upholding the same opinion, Nguyen Thi Hong Khanh believed that gone are the days when consumers just picked up products, put them in their baskets, and paid without any attention to the prices. Although this is a hard time, it is still a good chance for the company to improve the quality of its operations through competitiveness and focus on core business purposes. Supermarkets will be more dynamic to supply diversified products, quality goods sources, and better organization of after-sales work to meet the diverse requirements and offer suitable prices for health and safety from the vast majority of people. Along with that is the control of input costs, management of risks, and planning to delay the adjustment of prices of goods in a reasonable way for the image of good business results in the first month of the year, and a great encouragement for us to expect for more in 2023," said Nguyen Thi Hong Khanh.
Reported by Thanh Hong – Translated by Vi Bao