Amid difficulties and challenges caused by the global volatility, businesses are not passively but manage to find new directions with the expectation of establishing new values, raising the level of development, seizing new opportunities.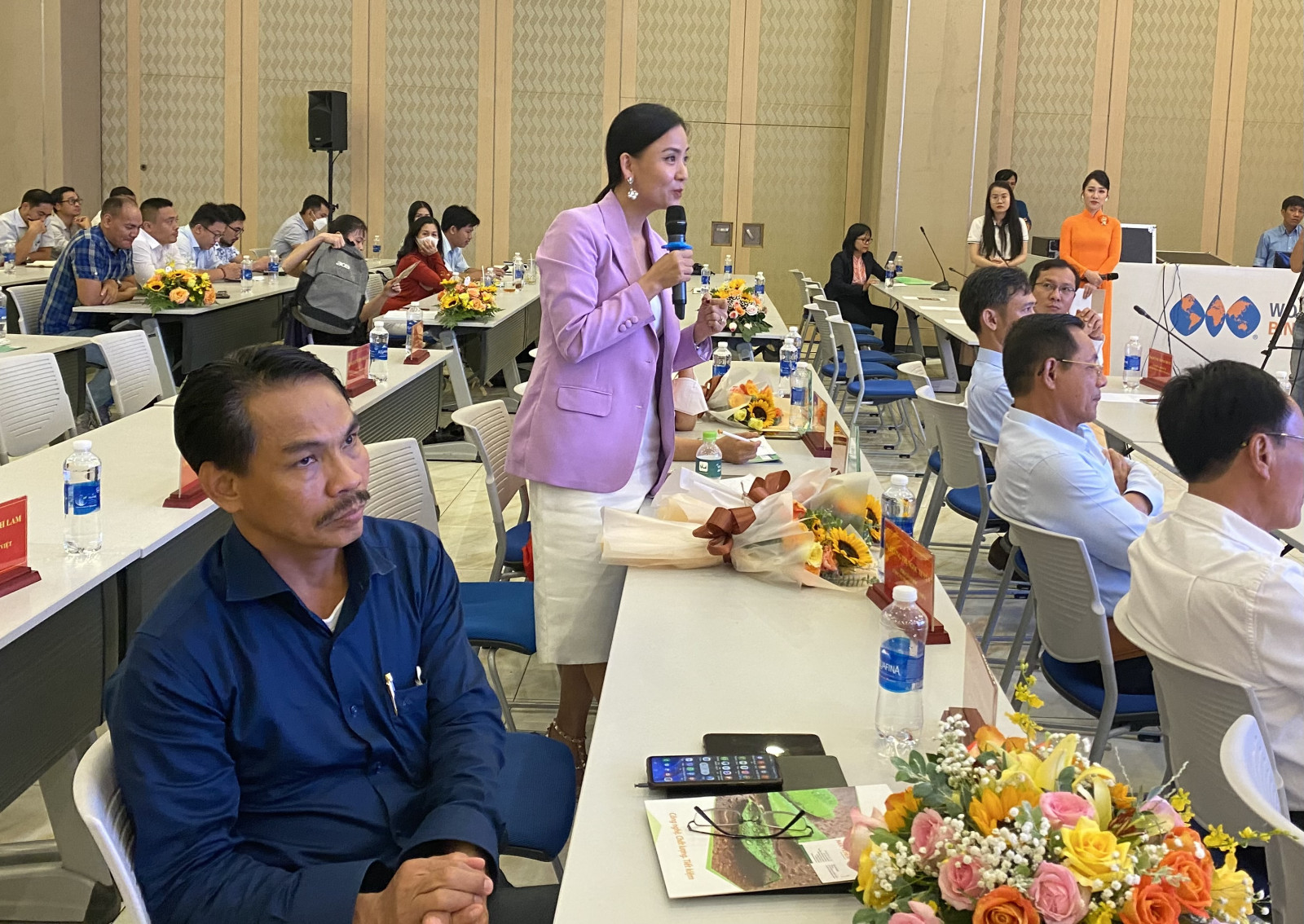 Business representatives speak at the symposium "Leadership Liberation".
Building a corporate culture
At the symposium "Leadership Liberation" held by Binh Duong Furniture Association (BIFA), Dr. Gian Tu Trung, Principal of Pace Business School, Director of IRED Institute of Education, raised some issues that interested businesses; that is how leaders can change their mindset, expand horizons and free themselves while upheavals constantly occur as it is today, in order to help businesses continuously develop.
Dr. Gian Tu Trung said that first of all, businesses must determine their core values, then build up the foundation of corporate culture, business strategies, and organize production and business activities based on the platforms obtained. "Business is a way of making money by serving society with good products and services" (Defined by Dr. Gian Tu Trung). From this definition, businesses need to have a strategy to develop and generate the best products and services for society. To do that, businesses must adapt to the new, leaders must free themselves to stimulate businesses and adapt to new heights.
"One noteworthy problem is that a business strategy is nothing if the business does not have its core cultural values. In the context of global competition, corporate culture is one of the effective tools to help businesses not only develop sustainably on the domestic market but also reach the world market while still retaining their own identities. Culture is the intangible asset of each business, determines all the success of the business. It is not only a communication culture but also includes core values, rules, management style, business methods and behaviors, attitudes of all members" Dr. Gian Tu Trung affirmed.
He also claimed that according to today social trends, resources of a business are human, corporate culture is what links and multiplies values of each individual resource. Leaders must build on core values, common development goals of the business and spread the word so that all employees believe in those common values. These values should be seen as the principles that guide all activities of all employees, which must be ingrained in the mind of every employee.
According to Nguyen Minh Nhat, Director of Nhat Nam Company (Ben Cat Town), said that the building of corporate culture in the period of continuous adaptation in the current conditions is very accurate. Nhat Nam Company has chosen human as its core value after the Covid-19 pandemic. "Nothing is more valuable than human. Even in difficult times, Nhat Nam Company spreads a culture of respect for human values to all employees. We overcame difficulties together, take care of small orders to retain customers and to build lasting relationships. That helps us overcome many challenges," Nguyen Minh Nhat said.
The recruitment must be suitable for the company, job requirements. Employees must have skills and knowledge that are consistent with the nature of the company's work. Employees must have appropriate characters, moral values in line with the overall value of the company. Employees of online companies must be people that have basic knowledge of business, IT skills, be independent, agile, capable of cooperation and teamwork.
The government serves the population
Answering a question of Pham Thanh Dung, Director of Binh Duong Center for Trade Investment Promotion and Industrial Development (Provincial Department of Industry and Trade), that in order to adapt to the new situation, how industries should work to provide maximum support for enterprises. Dr. Gian Tu Trung said that Binh Duong has set up a constructive government doing well in the role of orientation development for enterprises. In the coming time, Binh Duong needs to promote this spirit, if "it is impossible to change the wind direction but can control the sail", creating the most favorable conditions for enterprises.
In this regard, Nguyen Truong Thi, Deputy Director of the Provincial Department of Industry and Trade, affirmed that the department always accompanies all industry associations; there are always practical and meaningful support activities for member enterprises through training programs to improve management capacity, public promotion, trade promotion, energy saving, cleaner production... The Department of Industry and Trade also strengthens the close relationship between the government and the business community in general to timely convey management information, critical information on policy formulation and effective implementation of policies of the Party and State.
Reported by Tieu My – Translated by Ngoc Huynh