Provincial Labor Union has just coordinated with provincial Center for Disease Control to organize a propaganda class to raise awareness of HIV/AIDS prevention and control among workers at Yazaki Esd Viet Co., Ltd. Nam in Di An city (photo).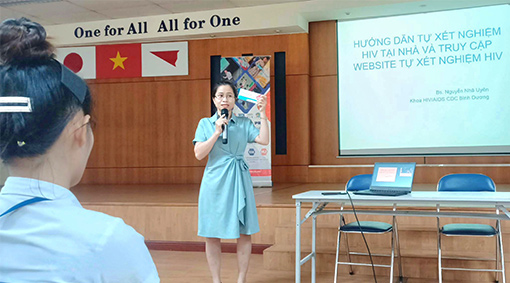 At the propaganda session, the company's workers were provided with basic knowledge about HIV prevention, HIV pre-exposure prophylaxis - PrEP; guided for HIV self-testing, asked and answered questions…This activity aimed at propagandizing and raising workers' awareness of HIV/AIDS prevention. Provincial Labor Union will further coordinate with relevant units to open training courses for Trade Union officials, organizing communication campaigns at lodging facilities, sharing communication materials, integrating communication activities and events of the company's Trade Union quarterly; hold major communication events in industrial parks.
This activity contributed to raising awareness and knowledge of HIV/AIDS prevention and control in the community.
Reported by Do Trong-Translated by Kim Tin