The upcoming May 23rd is the day when voters nationwide go to the polls to elect deputies to the 15th National Assembly Delegation and People's Councils at all levels for the 2021-2026 tenure. To ensure that the great national festival in the province takes place safely, Binh Duong has actively developed a plan to respond to two situations of the Covid-19 epidemic.
The normal situation of pandemic prevention and control
In order to ensure that the election takes place successfully in normal situations with no Covid-19 epidemic recorded in the community, the province has arranged medical staff at all polling stations in the province. Cases of Covid-19 illness (F0), close contact with F1 and F2 who are in isolation, treatment or quarantine, and home health monitoring are arranged to vote separately. The polling stations are arranged in separation; separate ballot boxes for cases with symptoms of respiratory diseases, cases with epidemiological factors, and cases of fever.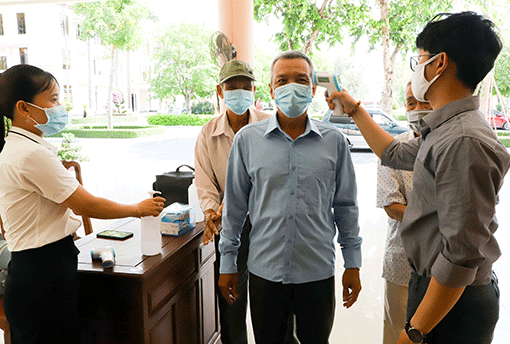 Youth's League members assist the body temperature taking and hand sanitization for locals before attending the voters' meeting. Photo: Quoc Chien
For cases of medical isolation at home, the provincial authority uses mobile ballot boxes delivered to voters' homes. This process is strictly implemented with measures to prevent and control the epidemic including masked officers on duty in safe distance. For concentrated medical quarantine areas and isolation areas for treatment of Covid-19 patients, separate ballot boxes are used and are strictly disinfected when they are brought in and out of the areas. People carrying ballot boxes in and out of the isolation area are equipped with protective equipment and disinfected according to regulations. The medical quarantine areas will use their own ballot boxes; after voting, they will be taken outside to count after disinfection steps as prescribed.
Currently, districts, towns and cities are promoting the role of community Covid-19 teams, strengthening propaganda and mobilizing people to strictly implement the "5K" message of Ministry of Health during the election process; cases of illegal entry, arrivals and departures from epidemic areas should be proactively detected early. The system of health stations in communes, wards and townships should assign 1 to 2 medical teams to monitor, receive, advise and handle cases with epidemiological factors, suspected infection, and health incidents of delegates, officials and people at the polling stations; polling stations are disinfected according to regulations at the polling stations.
Epidemic prevention and control teams at the provincial and district levels review people returning from epidemic areas and speeding up the implementation of health declaration for the entire population. Each public hospital should arrange 1 to 2 mobile emergency teams to be ready to assist in handling emergency situations at polling stations. 24/7 medical duty should be established along with full preparation for medicines and chemicals to ensure effective reception, examination, collection and treatment of patients who come to the hospital for examination and admission.
Scenario of Covid-19 infection ready
According to members of the Health, Order and Security Subcommittee under Binh Duong provincial Election Commission, when there is one or more suspected cases of infection with epidemiological factors at one or more polling stations, it is necessary to strictly carry out the "5K" message of Ministry of Health to everyone at the polling station. Streaming voting is applied for suspected and predisposed cases by promoting epidemiological review and organizing medical isolation of cases in accordance with regulations. In this case, it is necessary to apply voting by separate ballot boxes and to disinfect the voting area. In case that there is 1 or more suspected cases at a polling station, the Steering Committee for Covid-19 Prevention and Control at the commune, ward or medical station level shall immediately report to the district-level Steering Committee for Covid-19 Disease Prevention and Control.
On that basis, the district level would quickly implement the following activities: Contact the provincial Center for Disease Control and the provincial General Hospital to immediately transfer the infected cases to the provincial hospital for treatment, zoning and administering temporary medical isolation of polling stations, reviewing and tracing cases of contact with the infected cases (F1) and with the second round (F2) to promptly handle and control the spread of the disease. Units should take samples for Covid-19 testing according to regulations and arrange ways to vote regarding these cases appropriately like voting at the Covid-19 patient treatment area, concentrated medical quarantine area or medical isolation at home, implementing social distancing at some points in the locality, and voting by separate ballot boxes in the medical quarantine area. If deemed necessary, localities should immediately set up a frontline commanding committee to directly direct the epidemic prevention and control.
In case there are more cases of infection at many polling stations, the localities should immediately set up a front-line commanding committee to directly direct the epidemic prevention and control. They should immediately carry out activities including the consideration for medical isolation of many neighborhoods or the whole commune, ward or the whole district, town or city. Social distancing would then be administered in localities outside the medical isolation area in order to enhance the effectiveness of prevention and control. The spread of disease should be controlled. In case of necessity, units and localities shall expand sampling for testing in the community and hold separate voting at medical isolation areas along with regular and continual reports on the epidemic situations for advice from the superior authorities.
Reported by Kim Ha – Translated by Vi Bao