On December 2, in Ho Chi Minh City, the Government Portal cooperated with Tuoi Tre Newspaper to hold a seminar "Promoting Ring Road 3 Project - a new driving force for the Southern Key Economic Region". On behalf of Binh Duong province, Nguyen Van Danh, Vice Chairman of Provincial People's Committee, attended the seminar.
Tuoi Tre Newspaper Editor-in-Chief Le The Chu said that Tuoi Tre Newspaper and the Government Portal would like to contribute to creating forums and media channels for managers, professionals, experts, scientists, and even people come up with solutions to accelerate the project on schedule and gain high quality; through the media, to achieve consensus in the society...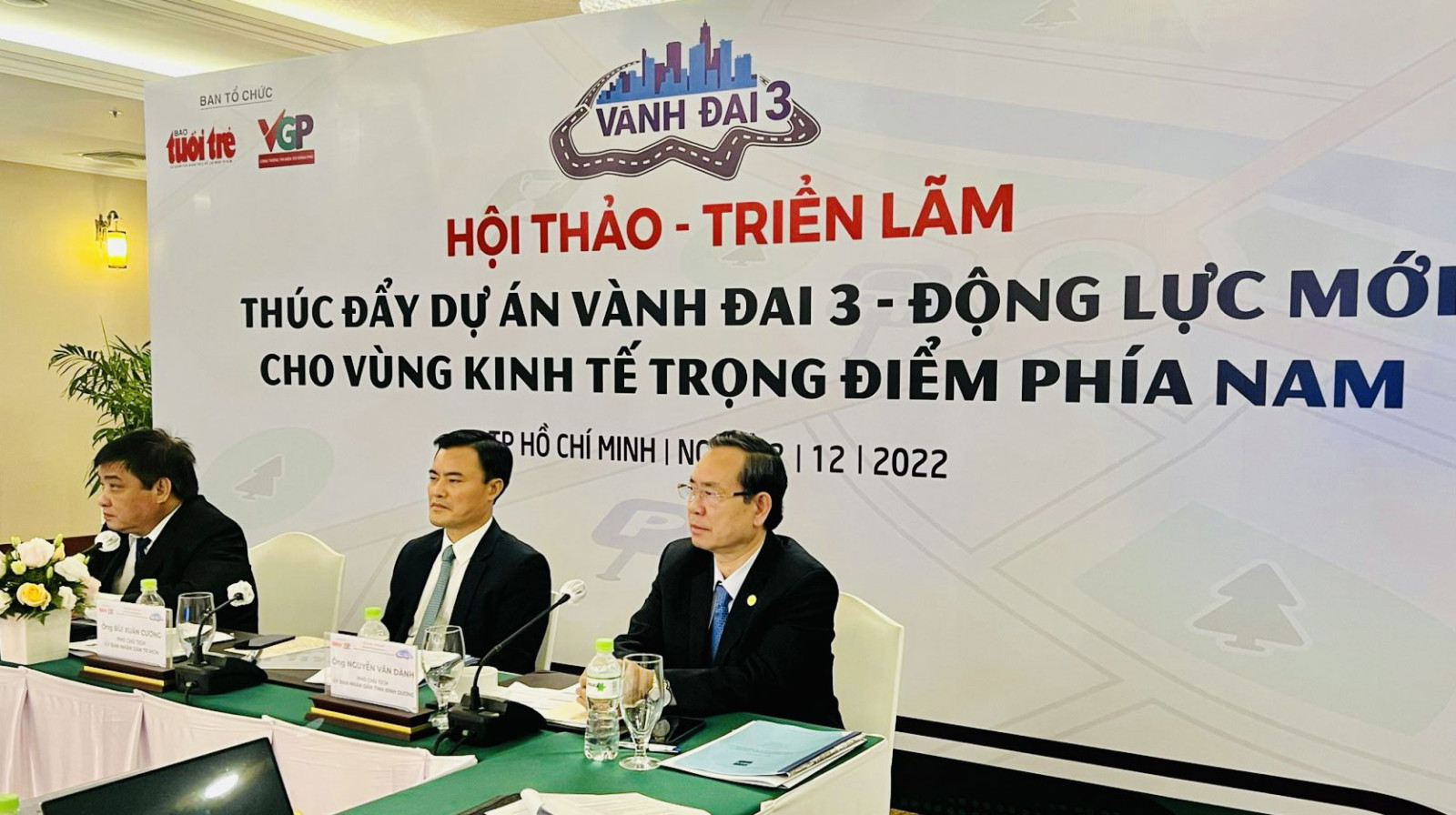 Nguyen Van Danh (right), Vice Chairman of Provincial People's Committee, attends the seminar.
Ring Road 3 project passing through Binh Duong province is divided into 2 component projects. Namely, component project no.5: Ring Road 3 section through the province, including Tan Van intersection and Binh Goi bridge; component project no.6: compensation, support and resettlement for households on Ring Road 3 section through the province.
Total length of this section is about 26.6km, of which the Tan Van intersection is 2.4km long, the Binh Chuan - Saigon River section is 8.9km long, and the My Phuoc - Tan Van Road section is 15.3km long. Total investment for the project is 19,280 billion VND. The provincial People's Council agreed to allocate the provincial budget capital for 50% total project investment. Construction is expected to start in June 2023, and the highway and parallel roads are expected to be completed in June 2026.
To ensure synchronous implementation of the project, in addition to the joint plan and coordination regulations signed by four provinces, the Provincial People's Committee issued a plan to implement component projects in Binh Duong province, and a compensation, site clearance plan. Accordingly, the Provincial People's Committee assigned specific tasks to each unit; branches, localities and Land Fund Development Centers closely follow the plan to ensure the set progress.
Reported by Tieu My - Translated by Ngoc Huynh