The project of mobilizing social resources to minimize plastic wastes in Di An city of Binh Duong province has contributed to improve awareness, reaction, and habits of trash classification at the sources in a bid to limit one-time plastic products and hard decomposing plastic bags in the communities and society. Attending the project, many have been financed to gather discards, and many flowery gardens turned from sites of wastes.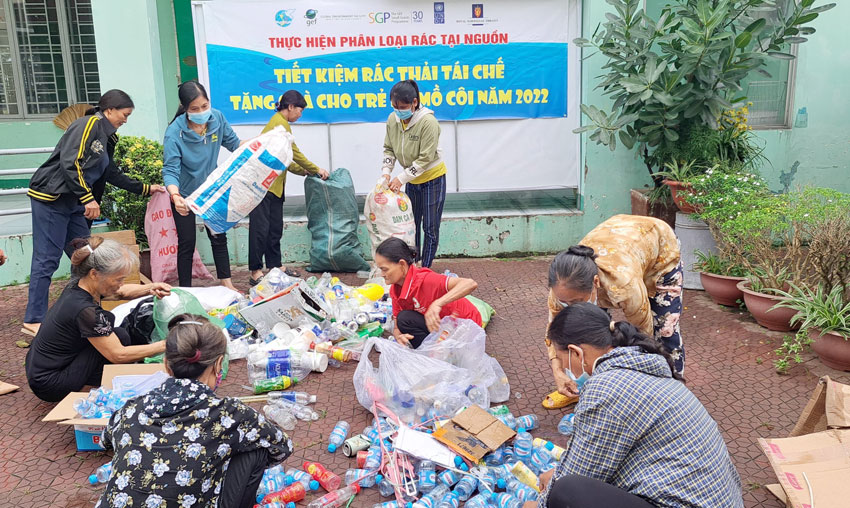 Female members of the discard collecting group at Tan Binh ward in Di An city are classifying wastes from the sources
The friendly discard collecting
Ms. Nguyen Thi Bon, a resident at Thang Loi 2 quarter of Di An ward in Di An city, was so delighted to tell us about a loan of VND 5 million offered to her from an official in charge.
"Part of the money is to repair the too old bike, and the remaining is for collecting discards. In such a hard time, the interest free loans are priceless to the poor like us. Many people and I of rent in the quarter are overjoyed by the project help," added Bon. On attending the discard collecting society, Bon has been trained on how to collect and classify trash at the sources and is equipped with labor protective gears to be safer for the job. She was from Thai Binh to Di An city for a long time on house-renting residence. Her husband works as a seller of charcoal. Their first son, who is also on extra working at the café to compensate for a part of his tuition, is in unversity term. Their youngest child is at Grade 5 now.
"That my children are learning well and I am supported to earn over VND 6 million a month is more than happiness to me," said Nguyen Thi Bon.
Evaluating project efficiency at her locality, Pham Thi Yen – Chairwoman of Tan Binh ward Association of Women, informed that the loan of VND 5 million has been given to 9 females working as trash collectors, which offers them benefits and support to ease their lives of hardship.
Ms. Truong Thanh Nga - Chairwoman of Binh Duong provincial Association of Women, said that more than 50% of the members of the waste collectors come from other provinces and cities. In addition to financial support, the project has also donated labor protective gears, soap, hand sanitizer, masks etc. worth more than VND 29 million. For the model of supporting awareness raising for women working as waste collectors, the Project Management Board decided to establish a scrap collection team and a waste collection facility in Di An city of 59 members. In the time of the complicated COVID-19 epidemic in the area, many members of the scrap collection team returned to their hometown or moved their residence, leading to a decrease in the number of team members, which is now 52 people. The Project Management Board also organized 10 training courses to guide the women regarding information for waste collectors about garbage and hazardous wastes, how to protect their health when collecting, maintaining quarterly activities of collecting in wards, keeping a daily diary of collecting according to the established form among others.
The life-supporting fund has an initial capital resource of VND 138 million donated by the project. Each member can borrow no more than VND 5 million a time. The capital turnover term is 12 months. Currently, the project's Life-supporting Fund has disbursed loans to 13 women working as scrap collectors at a total amount of VND 65 million. The borrowed amounts was used to buy bicycles and as money to purchase daily scraps.
Trash-site-turned flowery gardens
Ms. Trinh Kim Tien – Deputy Chairwoman of Association of Women in Tan Phu 2 quarter of Tan Binh ward is one of 7 members taking care of the association's flowery garden. She said that the job made people very happy as they were contributing to making the neighborhood greener and cleaner. Ms. Tien's job is to fertilize and take care of plants in a flowery garden of more than 300 square meters, which used to be a landfill. Every Sunday morning, they go out to collect garbage and clean the flowery garden. The good thing is that the people around also follow up to keep the flowery garden clean.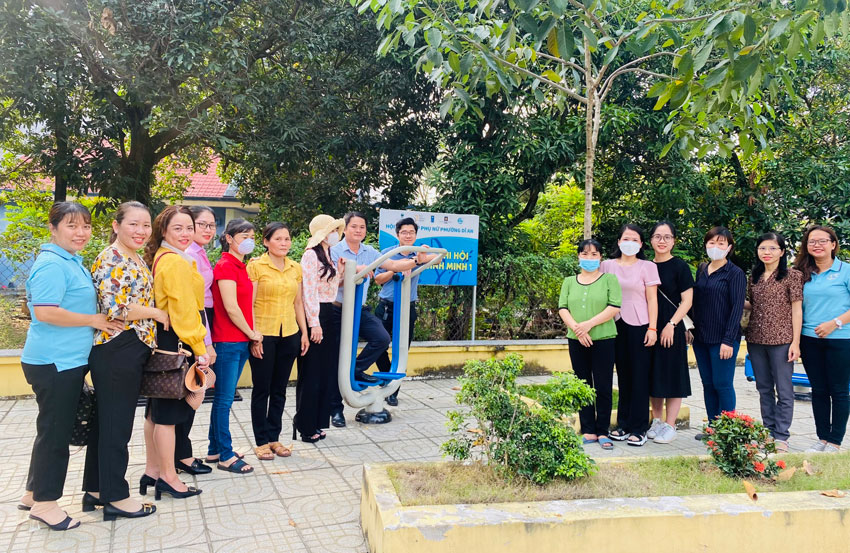 This flowery garden in Di An ward is one out of three flowery gardens turned from landfills
According to Ms. Truong Thanh Nga, the Project Management Board assigned the Di An Association of Women to host and coordinate the implementation of the model of turning landfills into flowery gardens at 3 wards of Dong Hoa, Di An and Tan Binh on a total area of 614.8 square meters. Up to now, Di An city Association of Women has completed 3 flowery gardens in these wards as clean and beautiful landscape and playgrounds for local children and people.
Another encouraging result is that, up to now, more than 80% of households in 3 wards implementing this project have practiced waste separation at the sources. The Project Management Board has organized 21 training courses to guide the implementation of waste separation at the sources for households in Biconsi residential area, Tan Binh ward and households in Song Than commercial-service urban and residential area, and Railway Residence 1 at Di An ward. At the same time, the program to reduce plastic waste has also organized many activities like training on reducing plastic waste, the contest of "anti-plastic wastes", the seminar on "garbage - an endless resource", the Recycling Festival - Exchange of Waste for environmentally friendly products among others to have contributed to raising people's awareness of environmental protection.
"Up to now, the project has completed the dissemination in 100 signed commitments to reduce plastic wastes at restaurants and eateries; environmentally-friendly alternative products such as grass straws, environmentally friendly nylon bags are donated to restaurants and eateries; hereby, contributing to the reduction of 150,000 plastic straws and 72,800 plastic bags may be discharged into the environment," added Ms. Truong Thanh Nga.
By the circular economy model, the Project Management Board has completed the design, printing and installation of 5 panels and 1,000 flyers, organized 12 training courses for 450 teachers and students, guided students at Dong Hoa Primary School and Tan Binh Primary School to experience the practical composting model, arranged 8 composting pits (4 pits a school), and transferred 300 bags of probiotics for composting to the 2 schools above. Up to now, the composting process at the school has resulted in quality compost products used to fertilize the vegetable garden in the experimental circular economy model of the two schools as a lively visual lesson for students about environment protection.
Reported by Quynh Nhu – Translated by Vi Bao