The new-style rural construction is a key task of Dau Tieng district. Up to now, 9 out of 9 communes in the district have reached advanced new-style rural standards. This is one of the province's districts with the highest number of communes meeting advanced new-style rural standards.
Prosperity in advanced new-style rural communes
With the drastic and thorough direction of the Party committees and authorities, the consensus and determination of the whole political system, the response of the people of the whole district, the new-style rural construction program in Dau Tieng district has further achieved encouraging results, contributing to the local socio-economic development. Up to now, the district's socio-economic infrastructure has been increasingly completed, with 100% of roads managed by the district and inter-commune roads covered with asphalt, 100% of roads managed by communes hardened with red gravel, of which there 40% covered with asphalt or cement concrete.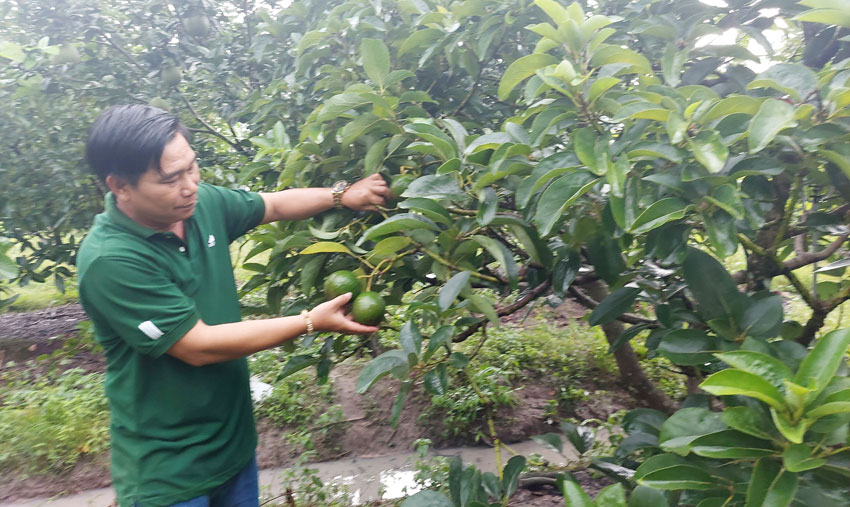 The Pooth avocado planting model of Vo Van Thanh's household in Thanh An commune's Ca Tong hamlet in Dau Tieng district gives high economic efficiency
The district's irrigation works are managed, protected and maintained regularly, ensuring irrigation for agricultural production. Natural canals and canals in the district are regularly dredged and cleared, well serving agricultural production. 100% of the local households have accessed to safe electricity. Currently, there are also 99.99% of households in rural areas in use of clean and hygienic water. Along with that, well-built schools, well-invested cultural and sports institutions have created a new look for rural areas, thereby contributing to improving the material and spiritual lives of rural people. The gap between rural and urban areas is shortened. The per capita income in rural areas is VND 74 million per person per year. The number of poor households in the district has so far decreased to only 1.31%.
The construction of new rural areas in the district is like a new breath of life, helping obviously improve the local rural appearance and people's material and spiritual lives. Nguyen Van Phong in Thanh An commune's Thanh Tan hamlet in Dau Tieng district said: "Witnessing the day-by-day renewal of my hometown makes me feel proud. In comparison with the previous period, the local people's lives have changed a lot. Thanks to fruit trees, many families have got better... All projects on infrastructure are unanimously built by people, working together to build up a bright, green, clean and beautiful homeland".
Further promoting rural economy
Identifying agriculture as a strength, Dau Tieng district has focused on agricultural development, gradually shifting towards high-tech agriculture in association with processing and restructuring, increasing added values. Accordingly, the district's agricultural production has further developed with many production models, linkage models, and models of application of scientific, technological advancements, bringing economic efficiency and income to the people.
Currently, rubber tree is still the main crop of the district, with 49,400 hectares, average yield of 1.46 tons rubber latex per hectare and current selling price of VND 35 million per ton, annual revenue of VND54.4 million per hectare. The district's area of ​​fruit trees is 800 hectares, mainly citrus trees (oranges, tangerines, grapefruits with green skin), tissue-transplanted bananas, netted muskmelons, etc. for harvest, with total revenue of VND1.4-VND1.6 billion per hectare per year, profit estimated at VND 880 million per hectare per year...
Nguyen Thanh Tung, Vice-Chairman of Dau Tieng district's People's Committee said that in order to continue effectively implementing the local agricultural - rural development in the coming time, the district has set a number of key tasks; further accelerated the restructuring of the agricultural sector in association with the implementation of the program on development of agriculture, farmers and rural areas; renovated the local growth model in association with the development of clean agriculture, organic agriculture, and high-tech agriculture in accordance with actual conditions. The district has well performed the conversion of inefficient land to the cultivation of other crops and animals with higher economic efficiency; built large-scale concentrated agricultural material areas in association with granting growing area codes, product barcodes, meeting quality management standards (VietGAP, GlobalGAP) and traceability for all agricultural products.
On the other hand, the district will focus on developing appropriate and effective forms of production organization to support farmers; attached special importance to building and replicating effective cooperative models, cooperative groups, and models of linkages between farmers and businesses; carry out trade promotion to put cooperatives' products and goods into consumption at supermarkets and markets; create more preferential mechanisms and policies to attract enterprises to make great investment in the processing sector to increase the added value of products, product consumption and non-agricultural sectors to create more jobs for laborers, increase income for rural people. In addition, the district will continue effectively implementing the One commune, One Product (OCOP) program for the 2021-2025 period in the direction of diversifying and further improving the quality associated with building brand names, creating favorable conditions for consuming products and exporting agricultural products with advantages of the district...
Dau Tieng district strives to have 1-2 communes (Minh Thanh and An Lap) by the end of 2023 meeting advanced new-style rural standards under to the new Criteria for the period of 2021-2025 of the Government and the province in a sustainable and comprehensive way; get 3 OCOP products ranked with 3 stars or more; reach VND76 million and VND88million in the per capita income of people in rural areas by the end of 2022 and 2025, respectively.
Reported by Thoai Phuong-Translated by
Kim Tin