In the context that the Covid-19 epidemic is still unpredictable, Binh Duong has always been determined that fighting the epidemic is a regular and long-term task without neglecting or being subjective in forming an appropriate lifestyle and behavior in the conditions of an epidemic. In order to actively prevent and control the Covid-19 epidemic in the "new normal state", if anyone find themselves positive to the virus, they need to comply with the quarantine and treatment of the health sector by maintaining a healthy lifestyle and well implementing the "5K" message of the Ministry of Health.
In the "new normal state", living with the Covid-19 epidemic, there are 2 cases of patients receiving care and health monitoring at home. The first case is a patient without any clinical symptoms being cared for and treated at eligible medical facilities and discharged on the 7th day and continued to be monitored and medically supervised at home and accommodation for 14 continual days. The second case is a patient newly detected in the community without clinical symptoms and risk factors or underlying disease or any other stable treated, non-obese underlying diseases, are quarantined at home within 14 days.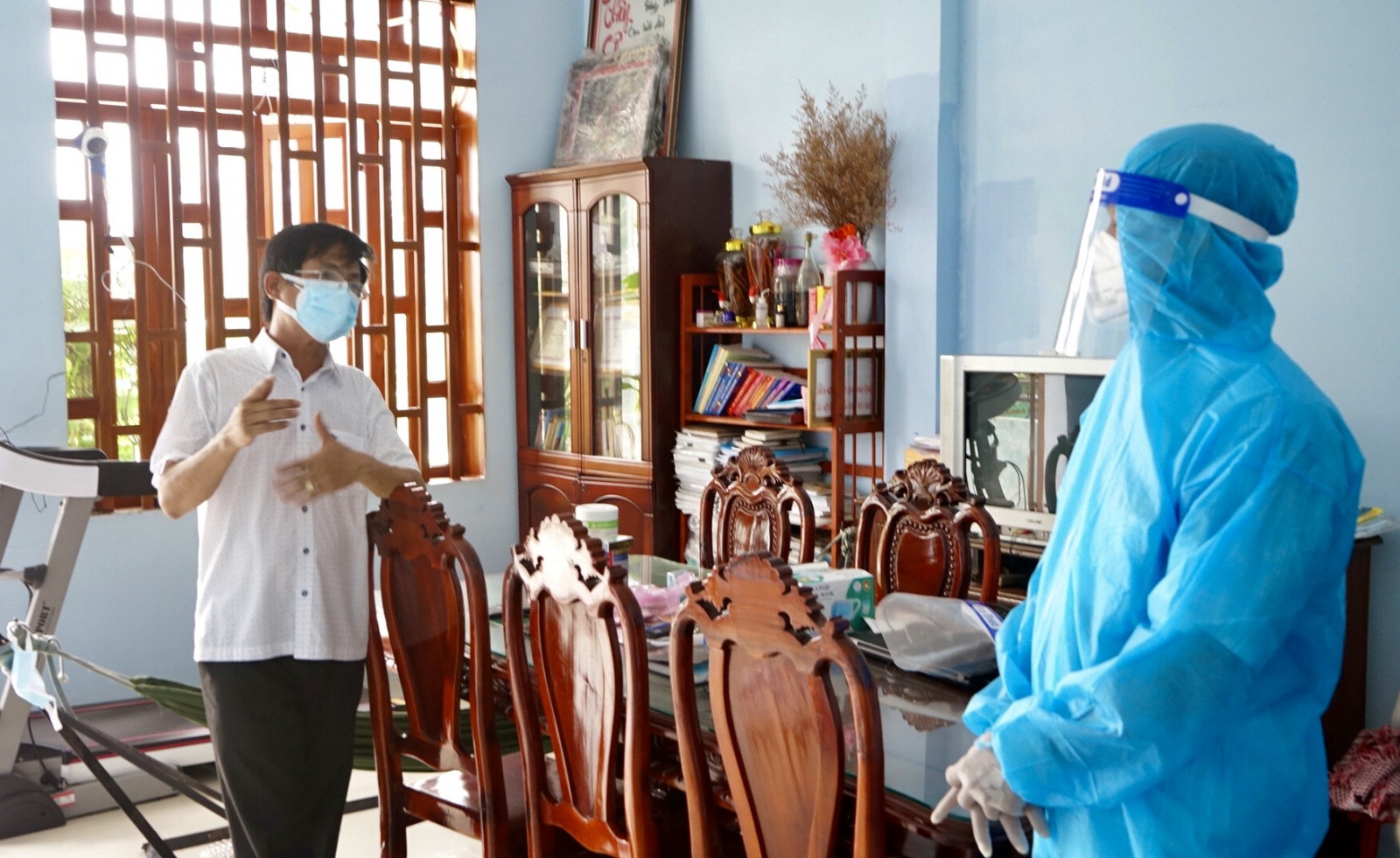 Medical staff of Ben Cat town visit and as about health status of a Covid-19 patients being treated at home
Dr. Nguyen Hong Chuong, Director of Department of Health, said that when quarantined and treated at home, a Covid-19 patient needs a well-ventilated place with windows and a separate toilet and only using fans not air conditioners. Medicines should include antipyretic, digestive, stomach, diarrhea, sore throat, lozenge, oresol, saline mouthwash, nasal spray, and the most resistant types of Vitamin C, Vitamin D3. Types of medical equipment to be equipped should be thermometers, blood pressure monitors, and blood oxygen meters (optional).
In the initial stage, Covid-19 patients are quarantined for home treatment with possible initial symptoms of fever, dry cough, fatigue, muscle pain, sore throat, runny nose, headache, vomiting, diarrhea, olfactory disturbances, and numbness of the tongue. When having a fever, the Covid-19 patient should not lie down for a long time in one position; they can lie on the body side, stomach down or sit upright to change positions every 2 hours; they should use antipyretics 4-6 hours apart depending on the types. Antipyretic drugs are effective after 1 hour, so avoid impatience and take too much of it, which can affect the liver. Never self-medicate with antibiotics. All prescription drugs must be prescribed by a doctor.
"In the case of Covid-19 patient treatment at home, if the fever is over 38.5 degrees Celsius, paracetamol is administered to reduce the fever by the dose of 10-15 mg/kg/time and not more than 60 mg/kg/day for children and no more than 2g/day for adults. Children should not drink more than 4 times in a day. A Covid-19 patient needs a daily diary of symptoms and readings of temperature, pulse, breathing rate, blood pressure and blood oxygen (optional). The Covid-19 patient should also update information via software or notify health workers of communes and wards where they live. In particular, the patient quarantined at home needs to help expand the chest, increase ventilation in and out of the lungs for better breathing, enhance mobility and respiratory organs, prevent physical deterioration, and improve spiritual status. Exercises include breathing exercises, bed movements, stretching, and strength training. In particular, during exercise, if feeling tired, short of breath or have chest pain, the patient needs to stop exercising and monitor the body stats. In addition, Covid-19 patients quarantined for health monitoring at home must ensure nutrition with no contact with pets in the house," said Dr. Nguyen Hong Chuong.
By the practice of treating Covid-19 patients, Associate Professor, Doctor Nguyen Lan Hieu, Director of Hanoi Medical University Hospital, Medical Director of Becamex International Hospital's Emergency Resuscitation Center, said, during the treatment, many Covid-19 patients show that once vaccinated against Covid-19, the risk of serious illness and hospitalization (if infected) is greatly reduced by up to 90%. No patient received 2 doses of vaccine has to be hospitalized on the 3rd floor of the triage of emergency and resuscitation for serious patients. Currently, the epidemic situation in the province is making positive changes as the province has passed the peak of the epidemic and is continuing to overcome the epidemic slope to bring people's lives back to the "new normal state". Therefore, people need to well implement disease prevention and control measures in the "new normal state" such as getting vaccinated against Covid-19 as soon as it is one's turn, strictly following the "5K" message of Ministry of Health, and conducting rapid self-test for Covid-19 antigen at home to proactively detect early cases positive for SARS-CoV-2. If there is a positive result, people need to self-quarantine without contacting other people and immediately notify the authorities for timely handling. We should also practice healthy habits of exercises to improve health by having a reasonable approach of diet, work and rest. If you find yourself becoming a Covid-19 patient, stay calm, notify the authorities and follow the quarantine treatment according to the instructions of the health sector.
Reported by Hoang Linh - Translated by Vi Bao