In the face of the outbreak and spread of Covid-19, Thuan An City Police together with all levels of Party committees and local authorities have focused on effectively implementation of solutions to ensure security and order in association with Covid-19 prevention and control.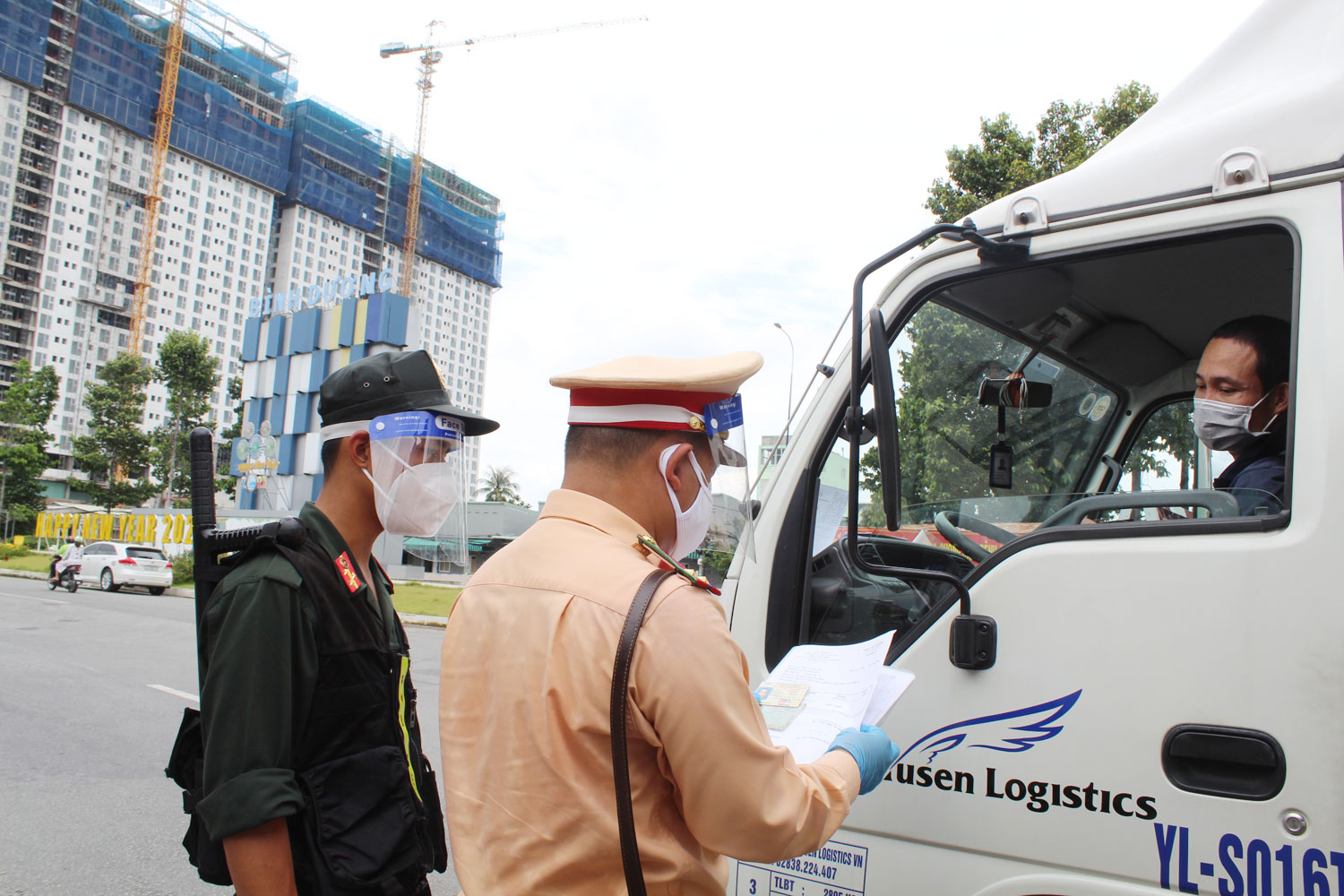 The functional forces at Vinh Binh bridge checkpoint at Vinh Phu ward strictly control vehicles and people entering and leaving the locality to prevent and control the spread of Covid-19.
In the past time, the situation of political security, social order and safety in Thuan An city has basically been stable as no complicated cases have been detected. However, the re-emergence of Covid-19 and its spread in the province had a negative impact on the production activities of enterprises and people's lives in the area, especially on workers. Facing the situation, the police of Thuan An city has focused on synchronously implementation of many solutions to ensure security and order in association with Covid-19 prevention.
Accordingly, the city police have advised the local Party Committee and People's Committee to strictly implement the regulations on staying put; to review and immediately provide enough food and essential goods for all employees who have lost income and have difficult circumstances; absolutely not to let people, especially workers away from home, in the area have no place to live and lack of food.
In order to tighten Covid-19 epidemic prevention measures, the city police have arranged 14 checkpoints at the city's entrances and exits and 374 inter-commune and ward checkpoints to check and strictly handle those who do not observe social distancing according to Directive 16 of the Prime Minister. Through inspection, the functional forces at the checkpoints checked more than 113,000 turns of people and vehicles to record more than 1,000 cases of violations of regulations on Covid-19 epidemic prevention and control and asked 9,300 to U-turn. In addition, the city police also set up 32 patrol teams and 2 quick responding teams with the task of patrolling and controlling to ensure security and order in association with Covid-19 prevention during the implementation of social distancing. As a result, patrol teams organized more than 3,000 patrols with nearly 19,300 participants, thereby detecting and recording 4,928 cases of violations of social distancing and traffic safety.
In crime prevention and control, the city police have focused on implementing solutions to reduce crime and ensure social order. In which, the object management is maintained by making a list, calling to ask and deterring 281 turns of the subjects showing signs of crime, disbanding the active gangs not to incur "hot spots" causing insecurity and order in the area.
To ensure security among workers
According to Senior Lieutenant Colonel Nguyen Thanh Hai, Deputy Chief of Police of Thuan An city, although the epidemic situation in the area has been controlled, there are still many potential complex and unpredictable factors. The prolonged epidemic has had a significant impact on businesses and workers. In addition, some subjects also took advantage of the epidemic situation to incite people, especially workers, to violate the laws. Through the review, it was discovered that in the city, there are 7 groups operating on social networks that have agitated, entice people to gather to their hometown spontaneously, causing insecurity and potential risk of Covid-19 spread. Faced with the above situation, the city police actively grasped public opinion information on social networks to promptly handle the cases not allowing complicated cases to arise. Particularly in the first days of October, the city police and functional units have satisfactorily handled for more than 20,000 people to return to their hometown, ensuring regulations on Covid-19 prevention.
"It is forecasted that when businesses return to operation under the "new normal conditions", they will face many difficulties, especially the shortage of labor resources and ensuring safety in Covid-19 prevention and control. Therefore, the city police and functional units continue to strengthen epidemic prevention measures in enterprises when returning to the "new normal state"; to proactively grasp the situation of public opinion in cyberspace to advise and coordinate in timely handling of bad information that affects security and order and Covid-19 prevention; to strengthen the work of grasping the situation, not to let anyone take advantage of the epidemic situation to complicate the political security," said Senior Colonel Hai.
Meanwhile, Mr. Nguyen Thanh Uy, Deputy Chairman of Thuan An city People's Committee, said: "In the last 3 months of the year, the city will continue to focus on effectively implementing Covid-19 epidemic prevention and control measures to step by step restore socio-economic activities. On such basis, the city People's Committee proposed the city's police to advise the Party committee and government to deploy solutions to ensure security and order in the new situation, in which focusing on preventing and fighting crimes; to strengthen patrol and control to ensure traffic safety and urban order; to continue to maintain checkpoints in bordering areas to strictly control the movement of people and vehicles in and out of the city.
Reported by Nguyen Hau – Translated by Vi Bao